Don't compel to file fresh RTI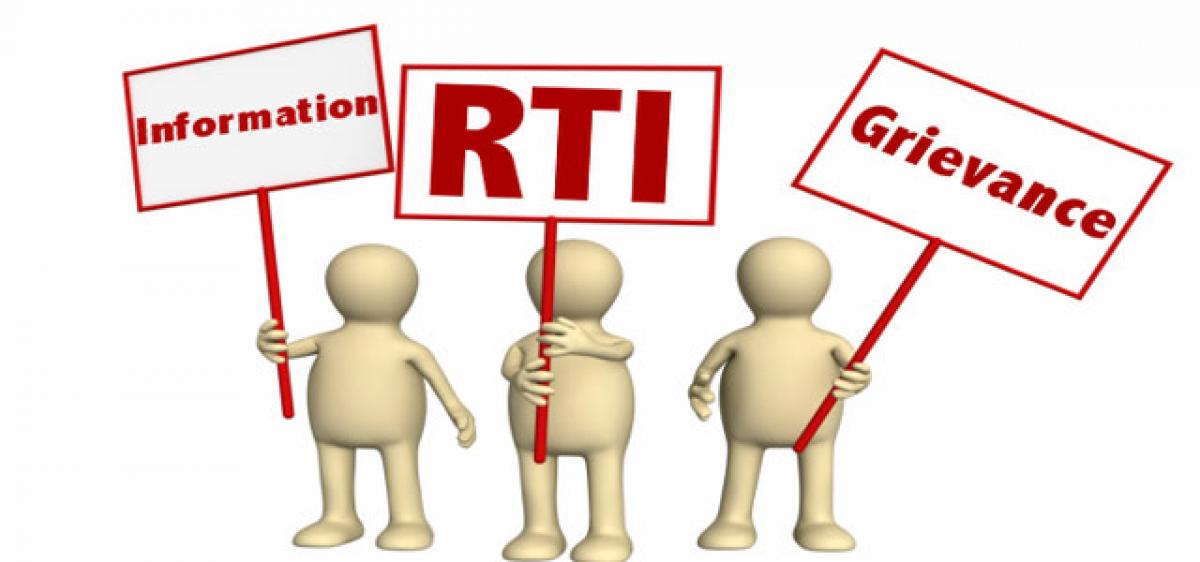 Highlights
Labour Union leader Rathod filed an RTI application, seeking information about amount payable by establishment, date of implementation for deduction...
​The public authority is not correct and legal to force the appellant to file a fresh RTI application for seeking additional information arising out of inspection and the CPIOs in general are advised to answer information requests arising out of inspection as that will be continuation of the RTI application. They should understand that fresh RTI application will not yield any benefit for the public authority and instead it will increase the work load. Providing information sought after inspection will deliver information justice quickly and prevent multiple applications and appeals on the same subject
---
Labour Union leader Rathod filed an RTI application, seeking information about amount payable by establishment, date of implementation for deduction of PF, FPF and other payable amounts, amount credited in accounts of individual workers, date from which interest credited up to withdrawal, procedure withdrawals etc.
In his second appeal, he explained the problem:
1.Due to slow and delayed tactics of Shyam Gokul T.B. Hospital, Chavand, District Amrely, most of PF Members could not file their claims like withdrawal benefits, scheme certificate, etc.
2.Information given was: 'the information sought is not clear, kindly clarify.' This reply is not proper in the first instance.
3.On inspection they did not give complete information and advised us to file appeal.
4.Application of Review was rejected saying there is no provision for review by first appellate authority.
5.Evidence of the Appeal: The copies of all evidences/communications are enclosed herewith as per Ex-I to VX. Please consider it.
6.We herewith declare that the draft of this second appeal is true to the best of our knowledge and belief.
7.Information/particulars which may be deemed fit and proper to decide the appeal by the Hon'ble Commissioner are as under: That the records of PF etc are maintained by the respondents and the information sought is available with the respondents and hence information sought must be given.
Reasons for appeal
i.That the respondent has not supplied the information though it is with respondents.
ii.The First Appellate Authority did not consider the facts and circumstances of the appeal and that has to be set aside.
iii. The employees could not submit their claims due to respondent's non-regularisation and non-supply of information.
iv.Consider our evidence and exempt from presence.
Appellants pray as under:
a.Order appeal is maintainable and direct information to be given free of cost.
b.order penalty
c.order to give costs and compensation.
d.Any relief as deed fit you sir pass necessary order. Place: Bhavnagar, Dt: 1st October, 2015"
This is perfectly drafted and presented second appeal, and deserves all appreciation.
It is also clear that appellant is a trade union leader and the establishment collected contribution from employees towards PF and FPF but no amount was credited into their accounts. The appellant sought copies of the forms of claims made by 17 persons. Basically, the appellant is challenging the inaction and non-performance of duties by the office of public authority.
The appellant represents a trade union of employees and PF members. The establishment is statutorily bound to submit necessary forms and documents and returns to credit the amounts of PF, EPF and other dues under various Forms 3, 6-A, 12-A, with specimen signatures duly filled, signed and attested, which they violated.
The PF office did not perform their duty to ensure the fulfilment of mandatory submissions and crediting of PF contributions from workers, by the hospital and failed to take action against that establishment.
The appellant claimed that because of this inaction the workers were not in a position to submit their claims for withdrawal of PF amount or scheme certificates etc. Appellant complained that the PF office has not given documents sought for. The appellant in his RTI application and appeals presented the case very clearly, but the PIO found it 'not clear'.
It indicates deliberate mischief by the public authority, as their sole function is to enable the workers to take benefits of PF, which is their money, and if the managements of establishment fail to credit the amount in the accounts of the workers, each worker will be deprived of their statutory right and the management will be liable for penalty in each case of violation of right of a worker. The public authority is legitimately expected to initiate penalty cases against the establishment as many as number of workers whose PF was not credited to their accounts.
The workers are forced to use RTI to make irresponsible officers perform their responsibilities. If PIO pleads 'lack of clarity' as an excuse, it could be a blatant lie and misuse of authority to deny the information in addition to denial of statutory rights of the workers. It also shows that regulatory office is hand in glove with establishments which deliberately violate laws and misuse the amount of contributions from the workers towards PF. It also amounts to crime of misappropriation of worker's money.
Ankit Soni, Assistant Commissioner, says he could not give the copies of forms because workers have not submitted them, but was silent when asked how they could submit the claims without having information to be submitted by the establishment. He could not answer what action was taken to collect the mandatory forms and documents to be submitted by the establishment.
The Commission finds that most of the workers are forced to approach the public authority for information under RTI Act, with their grievance that their own contributed amount was not being credited to their account by the establishment.
Surprisingly, the public authority is not recognising the serious problem of workers and legal wrongs of establishments and dealing with RTI applications with a closed mindset. It is raising lame excuses like 'not clear' and rejecting the disclosure compelling the workers to appeal. Unfortunately, the first appellate authorities, who are their own senior officers, are simply upholding the denials forcing the workers to approach this Commission.
Subscribed Failed...
Subscribed Successfully...