People's RTI vs State's RTI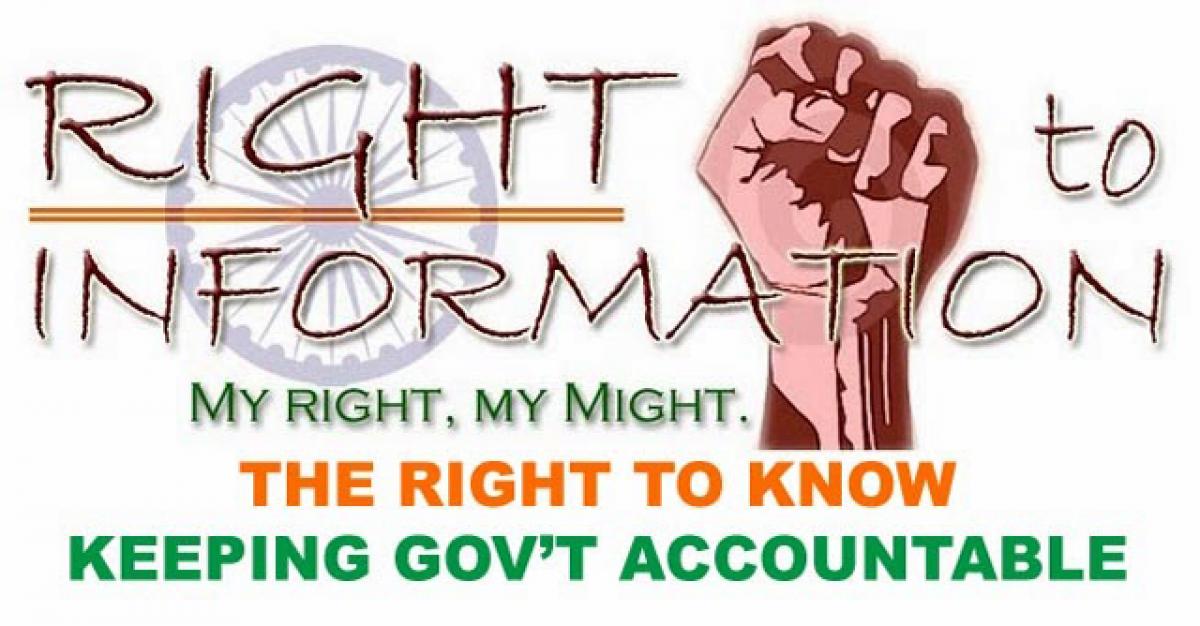 Highlights
Right to information is people's right ever since Evidence Act was passed in 1872 as its Sections 74 and 76 provided access to public records on...
Right to information is people's right ever since Evidence Act was passed in 1872 as its Sections 74 and 76 provided access to public records on payment of copying charges. This right was constitutionalised in 1950 under Article 19(1)(a) and then legally facilitated in 2005 through Right to Information Act.
While right to vote made India democratic with equal chance of exercising its choice of governors, the RTI took a step forward to empower the citizen with information. If liberty of thought is basis for expression right which included right to vote, the right to information formed foundation for free speech. People have right to know and right to information from the government.
The Aadhaar Act, 2016 is exactly in juxtaposition to the RTI Act, as that gives 'authority of Government to secure the information of the people. Interestingly, the privacy holds these two Acts in two hands in opposite directions. While the RTI of the people about state is denied practically by the PIOs of public authorities on the wrongful claim of privacy, the state's Aadhaar law and scheme has every danger of invading the privacy of the citizen.
Misuse of privacy clauses
With rigid mindset of babus and their agents to defy RTI Act supported by a few anti-transparency orders of judiciary, the privacy is being used as an excuse to block the information flow to people, whereas, the 'state' through UIDAI is sucking the demographic and biometric information of the people through high power-houses and bore wells.
Aristotle said man is a social animal. His social life demands sharing of information not hiding, except some core family related information. Marriage, social association with people and man's relationship with the state, makes his information 'public' and the information of public servant, mostly should be in public domain.
The balance of protecting privacy and need to publish public servant's information related to public affairs is prescribed in RTI Act through 'public interest' clauses. The Supreme Court upheld this balance in its historic privacy judgment in August 2017.
Official secret: An oxymoron
Official secret is a self contradiction by itself. It could be even an oxymoron. If it is official how that could be personal or secret? We still are being ruled by British legacy of Official Secrets Act 1923, which leaders of independence movement demanded to be repealed. Right to information in theory overrides the OS Act. But enough scope was created in the exceptions for survival of Official secrets. Official secrecy survives the RTI!
Civil death
The law in general provided for presumption of civil death. If a man is unheard of for seven years, law presumes him to be dead, which of course can be rebutted by his existence. Secondly when a man converts into a different religion, he suffers civil death as far as his original religious group is concerned and the wife gets a right to relinquish him. The third way of civil death presumption is when a person renounces the world.
Now the Aadhaar Act adds a fourth dimension to presumption of civil death, i.e., a person devoid of Aadhaar will be denied all benefits, pension, account, certification etc. If the crematorium wants Aadhaar before a dead body is allowed inside, or darshan of Lord Venkateshwara in Tirupati mandates the furnishing of Aadhaar number, or if someone wants to recommend some eminent person for Padmashree award, should necessarily quote Aadhaar, is that in consistent with the Constitutionally guaranteed freedoms?
Niraadhaar
Aadhaar in Sanskrit, Hindi and Telugu means the basis or lifeline. Niraadhaar means devoid of lifeline. Now, Aadhaar is a 12-digit number called the unique identification (UID) number that is assigned to all residents. This programme is called the world's largest biometric ID system, with over 119 crore enrolled members as of 30 Nov 2017. Fear of becoming Niraadhaar was spread and enrolment touched 98 per cent. Current population of India is 135 crore and 16 crore are yet to be enrolled.
It is reported that 9 crore were excluded for reasons not explained. Then, what is the fate of these 25 crore residents? Without Aadhaar, do they suffer civil death? Can any duly elected government exclude 25 crore of its population from welfare schemes simply because Unique Identification Authority of India (UIDAI) failed to enroll them?
The Aadhaar (Targeted Delivery of Financial and other Subsidies, Benefits and Services) Act, 2016 made it mandatory for UIDAI to assign Aadhaar, but in practice it is mandatory for citizens to enroll for Aadhaar number. As Aadhaar has been linked with every aspect of social life, lack of it means denial of that 'social life'. It raises a doubt: are they not included in 'we the people of India…" or excluded from application of right to life in Article 21's or Article 14's right to equality? Will they be considered to be living, at least? They have right to life, but do they survive, without pension or ration card?
The issue involved is more serious than right to privacy; it is an issue of dignity, too. The basic right to life of people has to be decided by the Supreme Court. Though Aadhaar Act apparently, did not make it compulsory for citizen, the citizen has no choice to be out of it, as that means no access to social life, and once enrolled, no scope of opting out of it.
The flaw of the law is that there is no alternative to Aadhaar, and if UIDAI denies the enrolment for any reason, it amounts to denial of living resources for him. For any reason if citizen does not enroll, or Aadhaar is denied, or cancelled after enrolled by UIDAI, that citizen does not have any means of existence and no remedy at all. Aadhaar Act did not provide a remedy for wrongful denial of Aadhaar card.
The bench waited for the decision on right to privacy and the Supreme Court emphatically declared it as fundamental right and advised the Centre to pass a law. Till today, the Center did not enact any law on privacy and data protection. Is it possible to decide constitutionality of Aadhaar without having such a law?
What this number means?
Aadhaar neither confers citizenship nor guarantees any rights, benefits, or entitlements nor aims to replace any existing identity cards. Aadhaar is a random number, not loaded with profiling or intelligence into identity numbers that makes it insusceptible to fraud, theft and provides privacy in such perspective.
The state and state bodies declared that it qualifies as a valid ID while availing various government services, like an LPG connection or subsidised ration or kerosene from PDS or benefits under NSAP or pension schemes, e-sign, digital locker, besides being a Universal Account Number (UAN) under EPFO and also for some other services, like a SIM card or opening a bank account or securing a caste certificate.
The Center has declared that Aadhaar card will be mandatory for opening new bank accounts and for transactions above Rs. 50,000. All existing account holders will also have to submit their Aadhaar details by March 31, 2018, failing which accounts will be deemed invalid. A five-judge bench on December 15, 2017 agreed to the Central government's decision to extend the deadline of linking of "everything", including mobile phones and bank accounts, to Aadhaar card till March 31, 2018. But SC also ordered that an Aadhaar card holder opening a new bank account will have to furnish his Aadhaar card to the bank.
Data theft or leakage
Is the biometric data of a billion people safe? It was reported by The Tribune on January 4, 2018 that for Rs 500 an access to a billion identities on UID database is possible. It was also reported that there are one lakh illegal users of UID data, including anonymous groups created on WhatsApp. Government websites and educational institutions displayed personal information along with UID numbers in November 2017.
Around 36 per cent people are excluded from PDS in Rajasthan, because they could not authenticate due to finger print failures. In Jharkhand, many starved to death because they could not link UID numbers with their ration cards. When data has already been breached what is the purpose of Data Protection Laws and Aadhaar Act?
Biometrics is known as untested technology even by the UIDAI's own admission. Critics question the imposition of such technology on entire population exposing the citizens to tracking. RTI Act mandates the state to be transparent to its people, but most of the information is denied under privacy clause, whereas the UDI allows every individual to be profiled and tracked by state and private companies.
(Based on the Key Note address at a seminar on RTI, Privacy and Aadhaar in Pune, on February 10, 2018, organised by MoneyLife Foundation)
By Madabhushi Sridhar
Subscribed Failed...
Subscribed Successfully...