An RTI for Kohinoor and other artifacts!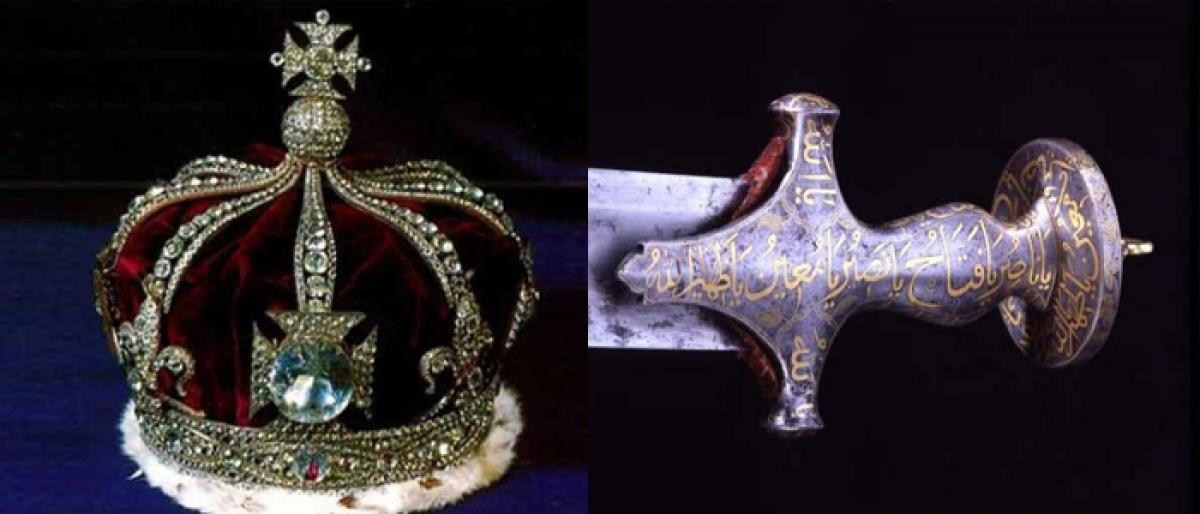 Highlights
BKSR Ayyangar filed an RTI application seeking information action taken by the Government of India along with the related documents and correspondence...
BKSR Ayyangar filed an RTI application seeking information action taken by the Government of India along with the related documents and correspondence for bringing into India back: (i) Koh-i-Noor diamond, (ii)Sultanganj Buddha, (iii) Nassak Diamond (iv) The Sword and ring of Tipu Sultan, (v) The golden throne of Maharaja Ranjit Singh (vi) Royal Jade wine cup of Shahjahan, (vii)Amaravathi railings and Buddhapade (viii) Saraswathi Marble idol- Vagdevi (ix) Mechanical Tiger of Tipu etc.,& certain jewels.
Historic Koh-I-Noor: Some people believe that the history of Koh-I-Noor diamond goes back more than 5000 years and its original name was Syamantaka Mani during the age of Lord Krishna. Later, they claim, it changed hands in 1304 from Rajas of Malwa to Emperor of Delhi, Allaudin Khilji, came to Samarkhand in 1339, where it stayed for 300 years, before it was mentioned in Baburnama in 1526, said to be gifted by Babur to Sultan Ibrahim Lodi, which came back to Mughal Sultans, passed on to Persian General Nadir Shah in 1739, who believed to have given the name Koh-I-Noor (="mountain of light"), from whom it reached his General Ahmad Shah Durrani, who brought it back to India in 1813 to gift to Ranjit Singh in exchange of throne of Afghanistan. After conquest of East India Company forces in 1849, it went to their treasury in Lahore, finally shipped to Britain to adore the crown of Queen Victoria in 1850. Hence the people have high sentimental attachment with this Diamond. Similarly other artifacts also have checkered history.
Nassak Diamond is believed to be a unique blue diamond that graced the crown of Lord Shiva at Triambakeswar in Nasik during 15th century and disappeared during third Anglo-Maratha war in 1817. Also called 'eye' of Shiva, Nassak is a large diamond weighed 43.38 carats (8676 gram) when it was found in the Golconda mines of Kollur. The British East India Company captured the diamond and sold it to British jewelers Rundell and Bridge in 1818.
Rundell and Bridge recut the diamond in 1818, after which it made its way into the handle of the 1st Marquess of Westminster's dress sword. It was imported into United States in 1927 and was considered one of the first 24 great diamonds of the world by 1930, and it was sold in auction in New York in 1970. Trustees of temple recently requested President and Prime Minister Modi to bring it back from private museum in Lebanon.
Sultanganj Buddha: When Railway Engineer EB Harris was excavating for building a Railway Station at Sultanganj, contractor Mr. Samuel Thronton has discovered Buddha statute in 1862. He shifted it to Birmingham Museum in 1867. It is a splendid example of Gupta-Pala transitional sculpture, the largest substantially complete copper Buddha figure known from the time. The archaeologists dated it back to between 500 and 700 AD. The Buddha's Sangathi (monastic robe) clings so closely to the body that it is almost invisible, but for a series of string-like folds, giving the figure a wet-looking appearance.
Tipu's mechanical Tiger: Tipu Sultan is most popular ruler of Mysore who died defending independence from British soldiers. Tipu's Tiger is a mechanical tiger created for him. It is an 18th century automaton or mechanical toy.
Mechanisms inside the tiger and man's bodies make one hand of the man move, emit a wailing sound from his mouth and grunts from the tiger. In addition a flap on the side of the tiger folds down to reveal the keyboard of a small pipe organ with 18 notes. The carved and painted wood casing represents a tiger savaging a near life-size European man. It is on display in the Victoria and Albert Museum, London.

Tipu's Sword: The last sword used by Tipu in his last battle, at Srirangapatnam, and the ring worn by him were taken by the British forces as war trophies. Until April 2004, the sword was kept on display at the British Museum London as gifts to the museum from Major General Augustus W.H. Meyrick and Nancy Dowager. When the legendary sword was auctioned in 2004, Rajya Sabha MP and economic offender Vijay Mallya purchased it. This is considered to be one of the world's rare artifact. The curved steel blade made of fine steel has inscribed with verses from the Holy Quran. It has wooden sheath covered with maroon velvet.
Tipu's Ram ring is 'an Indian antique gold ring' with 'Rama' in raised Devenagri script surrounded by chased floral buds to the octagonal base and ornate shoulders and hoop, the inside of which is engraved Major General Lord FitzRoy Somerset KCB, late 18th century. It has been weighed to be of 41.2 gms.A catalogue dated 1908 of the Royal United Service Museum, Whitehall described as '3064. Ring was taken from Tipu's finger by Colonel Honorable A.
Wellesley (Duke of Wellington) in battle field of Seringapatam, 1799, and given by him to his niece, Lady FitzRoy Somerset.' Marble Vagdevi: The most beautiful marble statue of Vagdevi- Goddess Saraswati was taken from BhojSala of Madhra Pradesh. Raja Bhoj was king in 1034 reputed for have nine gems of literary personalities in his royal court. It is said Lord Curzon looted it and shifted it to England.
Singhasan of Maharaja Ranjit Singh made of wood and resin core with sheets of repousse, chased and engraved gold by goldsmith Hafez Muhammad Multani. It was made between 1820 and 1830, reflecting splendour of Ranjit Singh. When British annexed Punjab after second Anglo-Sikh war in 1849, the throne was taken over as one of the state property, displayed with other looted treasures at the Great Exhibition in 1851. It is kept in the V&A Museum with inventory number 2518(IS).
Wine cup of Shah Jahan is of white nephrite Jade, inscribed with his title, "Second Lord of the Conjunction" as per Persian titulature convention. It specially alludes to Timur, the central Asian ruler from whom the Mughals descended. It belongs to year 1657 CE. Colonel Charles Seton Guthrie of 19th Century acquired most probably after the Indian Rebellion of 1857. It changed several hands and finally acquired by the Victoria and Albert Museum in 1962.
These precious artifacts reflect India's glorious culture and valiant history cannot be in the hands of looters, offenders or lying in foreign government and private museums. Deep sentiments are associated with these heritage objects as some of them are religiously considered sacred. Can Government ignore these sentiments and RTI requests about them?
Subscribed Failed...
Subscribed Successfully...