Rebuilding Psychological Assets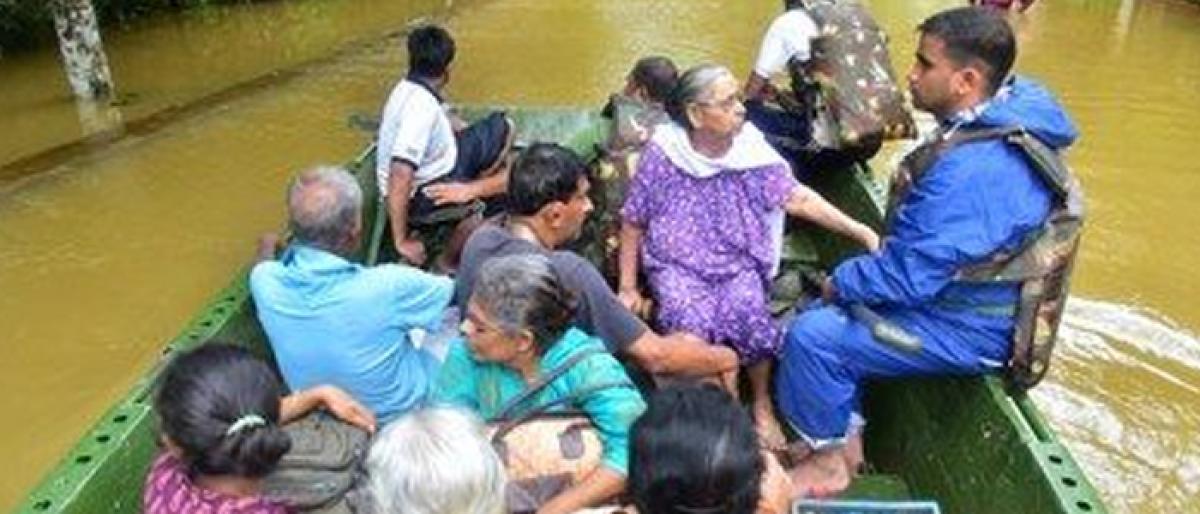 Highlights
In July 2016, at a colocated event of the WORLD CITIES SUMMIT, Singapore, the Mayor of Christchurch, Lianne Dalziel and I shared our experiences as...
In July 2016, at a co-located event of the WORLD CITIES SUMMIT, Singapore, the Mayor of Christchurch, Lianne Dalziel and I shared our experiences as keynote speakers. Her city, Christchurch, New Zealand's second largest city, was devastated by an earthquake on February 22, 2011 killing nearly 200 people.
Thousands were made homeless and an area more than four times the size of London's Hyde Park was deemed uninhabitable. Her speech was electrifying. "Rebuilding a city is extremely complicated but it gave me an opportunity to revisit our priorities," she said – a perspective that is required today for rebuilding Kerala.
In 2011 October, as a guest of US Department of State, I had a conversation with Frederic Schwartz, the architect selected by the New Orleans City Planning Commission, to develop a plan to re-build New Orleans after Katrina devastated the city. He explained that rebuilding the city was also about 'getting another chance' to strengthen social justice. A great perspective here again!
Kerala has experienced the worst floods in a century that left nearly 400 people dead and nearly 14 lakh displaced. While financial and technical aid is pouring from all around the world, isn't it time we understood how multifaceted disasters tend to be and what it actually takes to rebuild Kerala?
Disasters are multifaceted and they can profoundly impact people. If economic damage can be assessed easily, it's impossible to gauge loss at a personal level as disasters disrupt all that people hold dear. The survivors may find the people they shared their lives with are killed, displaced or incapacitated, physically or emotionally. It's not only destruction of infrastructure, but social structures no longer function and old roles in the community become irrelevant.
Loss of Psychological Assets
Post disaster, there will be a sense of disempowerment; people no longer feel in control of their own destiny. A 19-year-old student in Kerala ended his life after flood waters destroyed his documents. Another 54-year-old went back from the relief camp to find his house in ruins and hanged himself. Post-traumatic stress disorder (PTSD), depression and anxiety are all realities that a natural disaster brings with itself. The 2001 Gujarat earthquake, 2004 tsunami, 2005 Mumbai floods and the 2010 Chennai floods are all testament to that.
It is believed that 80 per cent of people may have some psychological symptoms and 15-25 percent may actually suffer psychiatric disorders post disaster. Damage to critical assets such as hope, trust and security will become much more difficult to deal with. 'Repairing the roads and buildings would actually be the easier part' was how Mayor of Christchurch explained it.
Rebuilding Is Complex
Restoration of the damaged physical, social, economic, and environmental impacts of disasters is a complicated and drawn-out process. Add psychological damage to it and the complexity multiplies. But reconstruction and recovery projects are unfortunately notorious for quick fix solutions.
The state's understanding of what is 'good' rebuilding may not match the views of the survivors. For some, rebuilding may look and feel like ongoing destruction that takes them further away from their treasured past and can keep the emotional wounds open, causing more problems and impeding recovery.
The Tsunami Evaluation Commission Synthesis Report in 2007, after the 2004 Tsunami mentions that cosmetic solutions create long-term problems. Post-disaster recovery often focuses on providing fast solutions in an attempt to re-establish a sense of normalcy. The lack of community consultation and participation leads to the provision of recovery solutions that are not suitable.
For example, locals were unhappy with the reconstruction of homes following the 1999 Marmara Earthquake in Turkey as their local life, culture, and aesthetics were not considered. Insufficient attention to social, cultural, and ethnic facets of communities during recovery can exacerbate pre-existing vulnerabilities.
Phases of recovery: Psychological studies on the subject of disaster recovery say that there will be stages in
recovery:
Heroic phase: Great feats of altruism can occur and adrenalin allows people to achieve great things, in particular, rescuing their friends and neighbours and making exceptional efforts to help others.
Honeymoon phase: People are pleased just to be alive.
Disillusionment phase: Anger, resentment and disappointment come to the fore, often directed at the authorities and the authorities' agents who are helping with the rebuilding. Rebuilding phase: People come to terms with what has happened to them and can work through their grief.
Rebuilding an Opportunity
Any disaster offers a unique opportunity to rethink – it gives a chance to redefine priorities and to reassert values of environmental care and social justice.
In Christchurch, the government established a single body, the Canterbury Earthquake Recovery Authority (CERA). It was solely responsible for managing the rebuild.
CERA was tasked with developing the city's first urban blueprint plan taking in 106,000 ideas from across the city. Every citizen was involved in the process. A team of local and international architects and designers created the plan, which involved 70 projects being constructed over the next 20 years. Today, the new Christchurch is greener, more compact, more accessible and safer city than what it was before the earthquake!
In New Orleans, resident-leaders from communities across the city established an information-sharing network called the Neighborhoods Partnership Network (NPN). They shared lessons learned through the rebuilding process with each other as well as information about important aspects of collaboration.
Psychological support and counselling are extremely important apart from establishing information centers. Improving community cohesion through organised group activities has proved to be extremely useful too. Technology and innovation can be invaluable in disaster recovery. In the United States, the White House Innovation for Disaster Response and Recovery Initiative is strengthening its national preparedness and resilience.
Rebuilding Spirit
Spirit, sadly, promises to raise spirits of people during crises. The fact that Keralites consumed liquor worth over Rs 500 crore in just a 10-day period has elicited many a laugh. But this is in fact the dimension that needs attention. After Katrina, bars were the first businesses to reopen in many areas, especially in the French Quarter. Most other businesses, such as gas stations, appliance stores and supermarkets followed somewhat later; and, in Church Christ, apparently depression, domestic violence and alcohol and substance abuse skyrocketed after the quake!
Rebuilding psychological assets like hope, trust and security of Keralites is as important as building physical assets. I hope the leadership of Kerala is listening.
Subscribed Failed...
Subscribed Successfully...