Sardar's India – An architectural marvel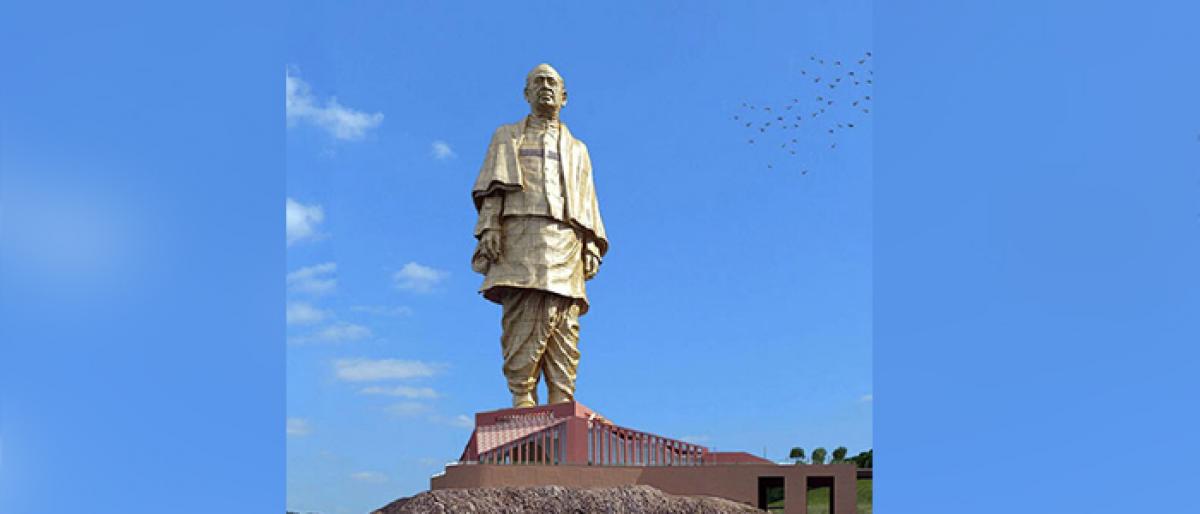 Highlights
Prime Minister Modis unveiling of the statue of Sardar Patel, considered an architectural marvel by the world is symbolic in a way it is exhorting Indians to see Sardars India as an architectural marvel representing his genius
Prime Minister Modi's unveiling of the statue of Sardar Patel, considered an architectural marvel by the world is symbolic - in a way it is exhorting Indians to see Sardar's India as an architectural marvel representing his genius.
Never before in our long history of 5000 years was the whole of India shaped into one united administrative and political entity. What Sardar, with his iconic efforts gave us is a nation that is integrated geographically, politically, administratively, culturally and emotionally! It is believed that whenever you recall your wedding, you are bound to fall in love all over again with your spouse and I am afraid that it is no different when you reminisce about robust leaders like Sardar, the 'Iron Man of India'.
A united and integrated India
In this day and age where the political discourse is largely confined to 'balkanisation' of India, it is but a refreshing change to write about 'unification' of India. Rugged in appearance and indifferent in dress this strong leader of India created a nation – a nation that is cohesive and very different from its scattered past.
Sardar Patel who was India's first Deputy Prime Minister after Independence, had the onus of merging 565 princely states into the Indian Union. According to the Indian Independence Act, 1947, the Indian States were free to merge either with India or Pakistan or remain independent.
On 6 May 1947, Sardar began his earnest efforts – he invoked the patriotism of India's monarchs, asking them to join the Union and act as responsible rulers who cared about the future of their people. He persuaded, negotiated with the princes and proposed favourable terms for the merger, including creation of privy purses for the descendants of the rulers.
Realising that some stubborn and recalcitrant rulers will stay out of the union, Sardar did not rule out force, setting a deadline of 15 August 1947 for them to sign the instrument of accession document. His way was that of a true leader - fair, persuasive, tactful and not hesitating to crack the whip where necessary especially in the larger interest of the nation.
A man of iron will and absolute fearlessness, Sardar Patel tackled the problem in such a manner that his greatest critics too had to acknowledge his vision and strategy. Almost within a year he redrew the map of India with every princely state joining the Indian Union. No wonder Gandhiji was known to have said to Sardar "the problem of the States is so difficult that you alone can solve it".
Sardar the 'dhoti clad' khadi ambassador of united India, elicited the finest compliments from Nikita Khrushchev, who accompanied Soviet Prime Minister to India in 1956 - "How did you manage to liquidate the princely states without liquidating the Princes?". His admiration for Sardar Patel's statesmanship was such that he rated his leadership higher than Chancellor Bismarck's, who united Germany. For the benefit of those who do not know the finer details, Bismark believed in shedding blood whereas Sardar's approach was diplomatic, incentive driven and mostly peaceful in nature.
Mountbatten too is known to have said "I am glad to say that Nehru has not been put in charge of the new states department as he would have wrecked everything. Patel, who is essentially a realist, is very sensible." In the globalised corporate world, I believe that Sardar's four step integration – Merger, Democratisation, Centralisation and Re-organisation have in a way set precedent for modern day Mergers and Acquisitions (M&A).
Who owns Sardar's legacy ?
With BJP building the statue of Sardar in Gujarat and demonstrating its respect for his legacy sparked a new debate about who owns or who should own the legacy of Sardar Patel. The Congress accused BJP of attempting to appropriate Sardar's legacy to fit with its own narrative. Sardar was, after all, a key member of the Congress party, and was in fact the one to ban the RSS, BJP's parent organisation, in the aftermath of Mahatma Gandhi's assassination.
But the question is, did Congress really own Sardar's legacy in the past?
It is common knowledge that Congress insulted the great leader by not conferring the Bharat Ratna on him – much later, decades after his death in 1991 it was given posthumously. Most of his contemporaries such as Jawaharlal Nehru, Dr Rajendra Prasad, C Rajagopalachari and even those leaders who could not reach his status were the recipients of this honour before him. A party that aspires to own his legacy should have known tenets of propriety.
It is well documented that Sardar was not in favour of Nehru's socialistic economic theory. He stood for 'Maximum Production' – "Let us build our nation, lets us consolidate and let us have bountiful production and let us distribute it evenly and judiciously" he is known to have said. JRD Tata's interview in the Time magazine spoke of Nehru's economic dictatorship and license raj. The economic reforms of 1991-92 under the Prime Ministership of PV Narasimha Rao reflect the ideology of Sardar Vallabhbhai Patel i.e. Industrial Development, Promotion of Private Entity and Liberal Government Policies. If his vision were implemented in 1951 itself, India would have been a developed nation by now.
Needless to add that Indian economy has grown far slower, 40 years of delay meant unutilised entrepreneurship skills of two generations. From the data of World Bank, currently India is at the 6th position in terms of GDP (USD). If reforms were brought in earlier, Indian economy would have been far robust and that would have put India in the developed world league instead of current status of 'developing economy'. That would also have given every citizen a better standard of living. Recently, Rahul Gandhi who leads the Congress party blamed Sardar Patel for dividing India - this successfully closes the debate on who owns or who should own Sardar Patel's legacy.
Sardar's India
But for Sardar's statesmanship and political sagacity, the history of India would have been totally different. But if his "economic genius" was given a chance the history of this nation would have been far far different. India's statesman, C Rajagopalachari was known to have said "Undoubtedly it would have been better if Nehru was asked to be the Foreign Minister, and Sardar Patel made the Prime Minister. Had he lived longer and had he occupied the position which he rightly deserved, perhaps there would not have been such big problems as those of Kashmir, Tibet, China, and religious conflicts. In the economic sphere too, India would have progressed".
Today's architectural marvels my friends, are mostly buildings, bridges and monuments but in my opinion, Sardar's India, which was built with his monumental efforts bridging differences among people and various states is the tallest example of an architectural marvel. Those who wish to own his legacy should strive to make Sardar's India more robust, more dignified and unconquerable!
(Writer is President, Futuristic Cities, Global Thought Leader, Advisor on Smart Cities, Governance & Policy)