Purpose of Dashara Or Dasara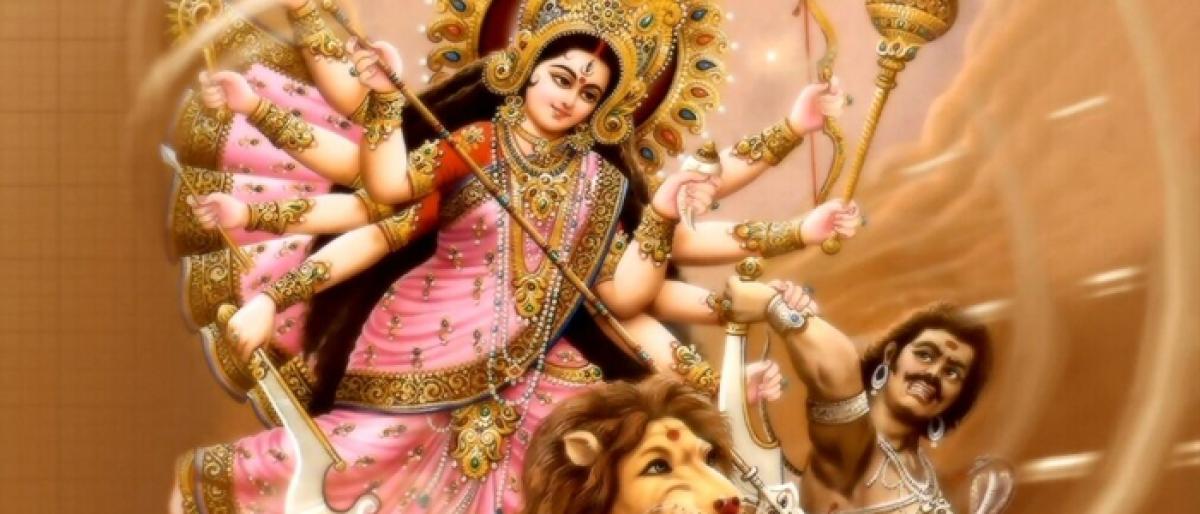 Highlights
Festivals like Dasara are designed to make man aware of his divinity, to endow him with purity, to become aware of its holiness, to imprint on his heart the wisdom won by sages after years of yearning Dasara is the festival that celebrates the victory of the forces of the good over the foes that resist the progress of man towards light
Festivals like Dasara are designed to make man aware of his divinity, to endow him with purity, to become aware of its holiness, to imprint on his heart the wisdom won by sages after years of yearning. Dasara is the festival that celebrates the victory of the forces of the good over the foes that resist the progress of man towards light.
The sages who have decided on these festivals have a high purpose. They want us to imbibe the inner meaning and use each day as a step in Sadhana, as a reminder of the journey, which each person has to undertake alone to the Feet of the Lord. The forces of good (Devas) are combating with the forces of evil (Asuras) in every living being and if they only rely on Mahashakti, the great Divine Force that fosters and fends the universe, they can easily win and reach goal.
Importance of Dasara
During the Dasara festival, the three Goddesses - Durga, Lakshmi and Saraswati - are worshipped according to certain traditional practices. The tenth day of the festival is celebrated as the victory.
The celebration has its roots deep in ancient history of Bharat. In the Dwapara Yuga, when the Pandavas had to spend one-year incognito, they hid their weapons on the advice of Krishna, in a Jammi tree which is thick in foliage and whose branches are filled with latent fire. Vijayadashami was the day on which they retrieved their weapons from the tree and used them to win victory over the Kauravas. In the Treta Yuga, Sri Rama's coronation, after his victorious return to Ayodhya from Lanka, was performed on the Vijayadashami day.
Inner meaning of Dasara
The term 'Devi' represents the divine power which has taken the Rajasic form to suppress the forces of evil and protect the Satvic qualities. When the forces of injustice, immorality and untruth have grown to monstrous proportions and are indulging in a death-dance, when selfishness and self-interest are rampant, when men have lost all sense of kindness and compassion, the Atmic principle, assuming the form of Shakti, taking on the Rajasic quality, seeks to destroy the evil elements. This is the inner meaning of the Dasara festival.
Inner meaning of Devi worship on Dasara
When the Divine Goddess is in dreadful rage to destroy the wicked elements, she assumes a fearful form. To pacify the dreaded Goddess, Her feminine children offer worship to her with red kumkum (sacred red powder). The Goddess, seeing the blood-red kumkum at her feet, feels assured that the wicked have been vanquished and assumes her benign form. The inner meaning of the worship of 'Devi' with red kumkum is that thereby the Goddess is appeased. During the ten days of Dasara, the demons (Raakshasas) in the form of wicked qualities have been routed. Raakshasas do not mean demonic beings. The bad qualities in men are the demons. Arrogance is a demon. Bad thoughts are demons.
Satya Sai Baba