A peek into Leander Paes Olympics career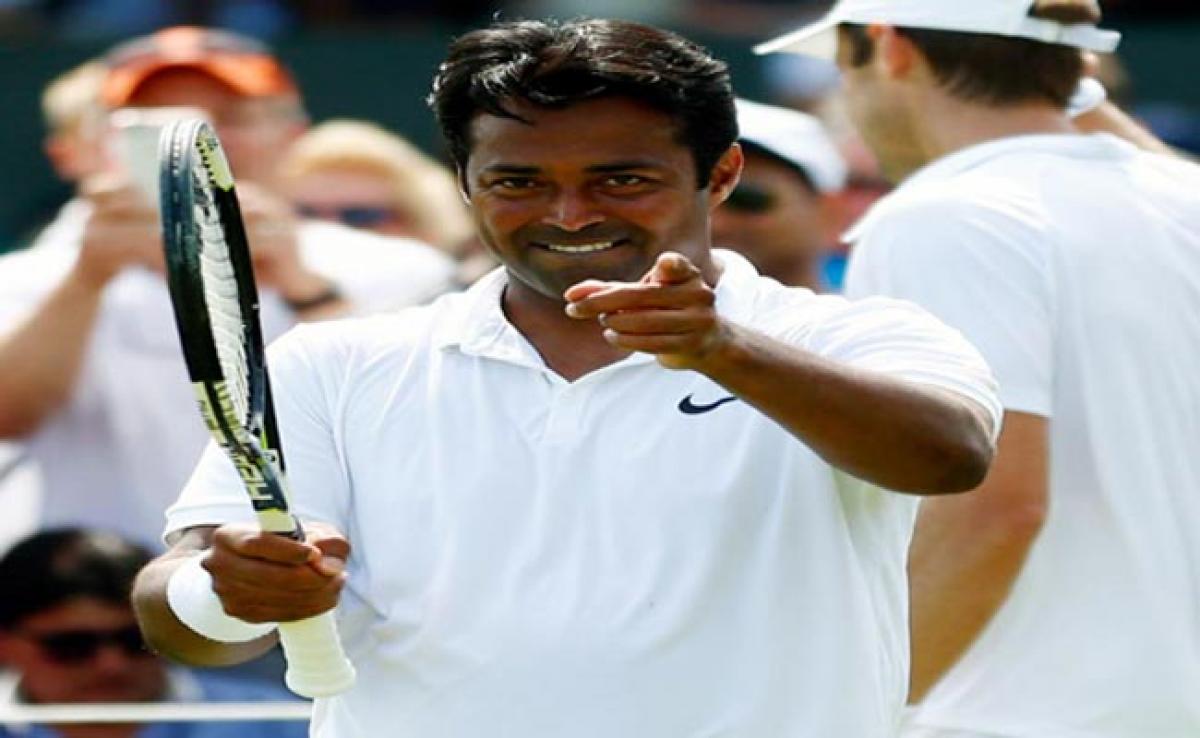 Highlights
It is as simple as that for the 43-year-old Indian tennis legend. But to do it for 25 years is not that simple. It takes character to sustain for that long, it takes guts to compete every single day and it takes courage to believe you can still go on.Leander Paes is an inspiration. He is a role model for all the children growing up in India and a success story for all the tennis players around the
"All I can promise is that every time I go on court I will give my best effort."
It is as simple as that for the 43-year-old Indian tennis legend. But to do it for 25 years is not that simple. It takes character to sustain for that long, it takes guts to compete every single day and it takes courage to believe you can still go on.
Leander Paes is an inspiration. He is a role model for all the children growing up in India and a success story for all the tennis players around the world. His fighting spirit is unparalleled and his love for the game goes beyond imagination. His on-court aggression and his trademark smile off court are two different sides of this brilliant athlete and beautiful human being. He is a pillar of strength that melts at the touch of love.
He is the epitome of greatness and a man who strives to learn even when he has learned everything. To watch Leander play is a treat. He is bouncing here and there on the court just like a small kid who has been gifted a new racquet. There is some energy about him. It seems as if it is his first day on the court and he cannot wait to get started. It feels like watching a small boy who is scripting a story to tell his friends when he reaches home. Tennis is Leander's life and Leander is a child of this beautiful game.
Leander has never really grown up. His eyes and his smile still have the same rawness about them. Untouched by fame, Leander is still a kid. But for the tennis world, he is nothing less than a legend.
In a few days' time, Leander Paes will compete in his seventh Olympic games, an all-time record for any tennis player in the history. He will team up with Rohan Bopanna to compete in the men's doubles category. With this Olympics probably being his last, it is perfect time to remember this great man's Olympic career.
His Olympics journey started in 1992 Barcelona Games when he teamed up with Ramesh Krishnan to compete in men's doubles category. Although he exited the singles in the first round, he and Ramesh Krishnan did well to reach the last eight of the tournament in the doubles, but eventually lost in the quarterfinals. In 1993, Krishnan decided to retire and the onus of leading the tennis contingent in the 1996 Atlanta Olympics fell on the shoulders of a young Leander Paes.
Atlanta Olympics
As world number 127, Leander Paes entered the singles titles race with minimal experience. He had never won a Grand Slam match before and not many people expected him to win against the best players in the world at the Olympics.
In the first round match, Leander won with his opponent, Richey Reneberg retiring due to injury in the deciding set of the match. It was the second round match that turned out to be the turning point in Leander's Olympic medal race. He outclassed world number 75, Nicolas Pereira 6-2 6-3. It was after this win that Leander's confidence increased and he started believing that he had a chance at the Olympic medal. In the next match it only got better for the Indian as he took out world number 10, Thomas Enqvist in straight-sets 7-5 7-6 much to the delight of his fans. The stars were aligning for the then 23-year-old as he won his quarterfinal match against the 14th seed Renzo Furlan 6-1 7-5.
This set the stage for an epic semi-final clash. The underdog from India was scheduled to compete against one of the greats of the game in Andre Agassi. A win here would have guaranteed India a medal.
Leander Paes started the match really well as he took the first set into a tie-breaker. However, missing a volley at a crucial stage gave Agassi a real chance. Agassi pounced upon it and took the first set 7-6. In the second set, Leander ran out of steam. Andre Agassi cashed in on his experience of competing at major tournaments to win the match 7-6 6-3.
This is how Agassi described this match in his autobiography:
"He's a flying jumping bean, a bundle of hyperkinetic energy, with the tour's quickest hands. Still, he's never learned to hit a tennis ball. He hits off-speed, hacks, chips, lobs — he's the Brad of Bombay. Then, behind all his junk, he flies to the net, covers so well that it seems to work. After an hour, you feel as if he hasn't hit one ball cleanly — and yet he's beating you soundly. Because I'm prepared, I stay patient, stay calm, and beat Paes 7-6 6-3."
But the task was not over for Leander. He had to play one more match, the battle for the bronze medal. Leander entered the tournament with no expectations, but now the entire nation was eagerly waiting for him to win this bronze medal match.
While he was waiting in the locker room, one of his friends said to him "Relax. Just go out and do your best." To this Paes replied : "No, I have to win, I'm too close."
Leander was feeling the heat of the competition and it showed. He lost the first set to Meligeni 3-6. The hopes of a medal was going down, but Leander pulled himself together in time to play some outstanding tennis and brought the nation its first individual medal in more than four decades.
After the victory, he had the following to say : "All I can promise is that every time I go on court I will give my best effort."
Leander also met the late boxing legend Muhammed Ali after his Atlanta Olympics bronze medal win.
"After I had won the bronze at Atlanta, I remember meeting Ali. His voice was a bit weak but he told me that it is your job to inspire each and every young child in your country. He was right. It is my job to motivate that they can also be champions."
Leander has been inspiring us since then and will continue to inspire us in future. When he enters the court at Rio in men's doubles in a few days' time, only one thing will be on his mind – to give his best and to bring India another medal to remember.
Credits: sportscafe.in