Hardik Pandya ecstatic after maiden call-up into India test team, credits Rahul Dravid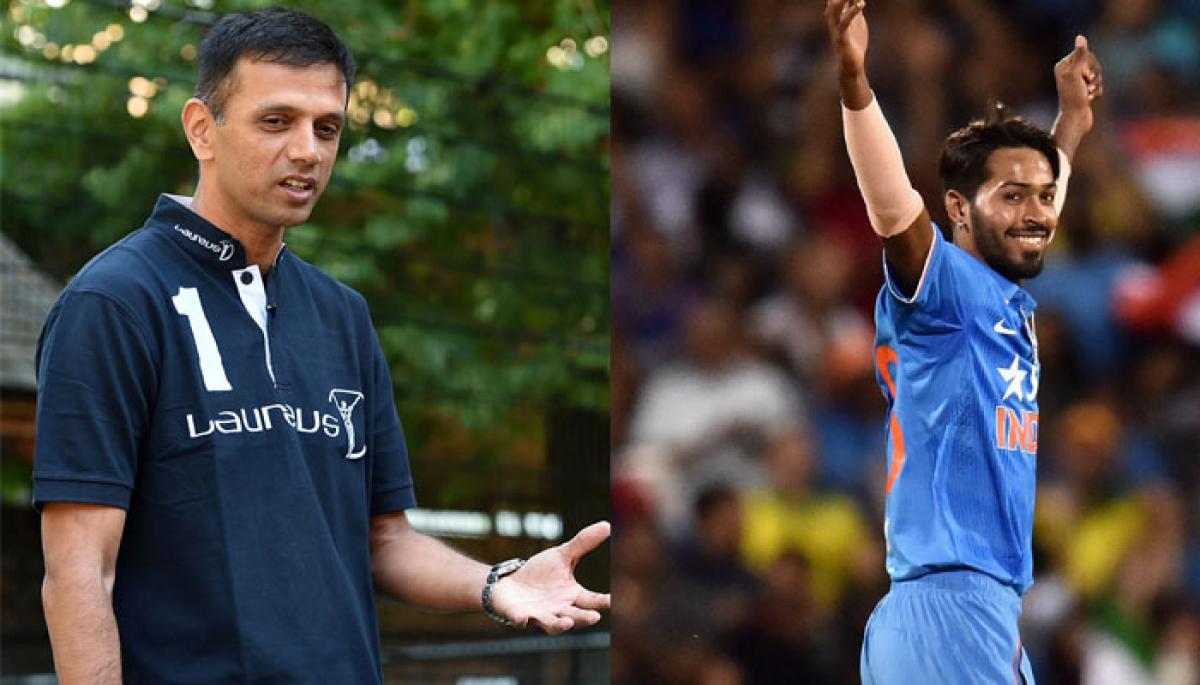 Highlights
Ecstatic after his maiden call-up into the Indian Test team, all-rounder Hardik Pandya said that India A coach Rahul Dravid\'s guidance during the Australia tour has made him mentally stronger.
New Delhi: Ecstatic after his maiden call-up into the Indian Test team, all-rounder Hardik Pandya said that India A coach Rahul Dravid's guidance during the Australia tour has made him "mentally stronger".
"For me, everything changed after my tour of Australia with the India A team. It is a tour that transformed me as a cricketer. I can't but thank Rahul Dravid enough for his contribution. I understood that there is a mental aspect about the game that needs to be worked upon. He (Dravid) made me mentally stronger," Hardik told PTI during an interaction today.
"I don't think I have learnt more than what I did during those one and half months under Rahul sir. He would tell me about things that I need to try out. I was mentally strong but after interacting with him, I understood that I could get even better. If my bowling is being talked about today, it's because of Rahul sir and Paras Mhambrey (India A bowling coach)."
Terming it as the biggest day of his life, Pandya said: "Playing Test cricket is ultimate for anyone and I am no different. Yes, this is my biggest achievement till date. In fact, yesterday the Baroda team was travelling to Raipur for their Ranji game. I told the boys that let me stay back in Mumbai for a day. If I don't get selected, I will join you guys next day. It was the happiest moment."
Talking about his bowling, Hardik said: "The more you practise the craft, better you get at it. I bowled so much in Australia that it yielded results when I was back with the senior team. I became more consistent, hit the right length.
"The increase in pace has got a lot to do with the rhythm. If I am in rhythm, the pace will automatically increase by a few yards. The more I play at this level, the better I will get."
Hardik has played white ball cricket (T20s and ODIs) at the highest level and he is confident that he can also make the red cherry talk.
"The red SG Test does more than the white kookaburra. So, as a bowler, I have more opportunity to use variations. I back myself as a proper new ball bowler and I believe that I can use the reverse swing to good effect also."
Speaking about his batting, Hardik is realistic about his position in case he gets a look-in in the playing XI.
"I used to bat at No. 3 for Baroda and then I have been batting at No. 5 in Ranji Trophy. I have to be realistic that in the Indian team, I can't bat at No. 5. I would be probably batting at No. 8 or No. 9. I am perfectly fine with it. I am ready to bat at any position," Hardik said and there was an element of conviction in his statement.
India A bowling coach Mhambrey also echoed Pandya's sentiments.
"Since me and Rahul go back a long way, it was easy to share the workload regarding Hardik. Rahul focussed on the mental aspect and he gave me a freehand in dealing with the technical aspect of his bowling," Mhambrey said.
"What Rahul told me specifically is to not go for an overhaul of his action as the main emphasis is on performance part. I saw that there were times when his left hand (non-bowling arm) was dropping at the point of release. We fixed that. Also there was a tendency to push the ball through during release," Mhambrey elaborated.
"What he needed for increase in pace was a strong bowling action. We wanted him to get right behind the ball during loading. We also worked that he comes closer to the stumps so that he can bowl the outswinger more effectively.
"At the end of the day, credit goes to Hardik because it is the player who needs to understand his own requirements and work hard on those aspects. A coach can at best help. That's where Hardik scores," concluded Mhambrey.