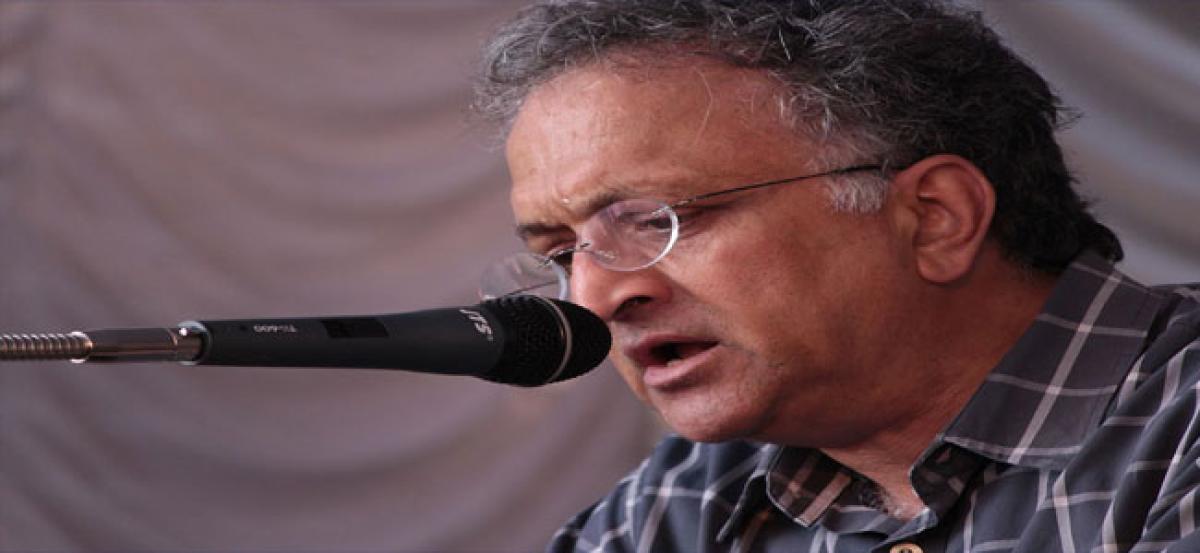 Highlights
It is the new ball game that is being played out by people running the much-maligned Board of Control for Cricket in India (BCCI). In terms of sheer excitement, suspense and mystery, it puts to shade every known on-field sport.
It is the new ball game that is being played out by people running the much-maligned Board of Control for Cricket in India (BCCI). In terms of sheer excitement, suspense and mystery, it puts to shade every known on-field sport.
Mission 'Team India Coach' that began as a Russian roulette is gradually enveloping into a farcical joke on the nation. The dirty linen that has been washed has been so peevish that driven to the wall, the incumbent Anil Kumble has applied for the top job because BCCI is obsessive about a 'democratic' selection prices. Can you beat that jab?
For starters, kudos ought to go to Ramachandra Guha for bringing to light the insides outs of what affects the BCCI and the perils thereof that Indian cricket has been subject to for a long while now.
On the face of it, the historian has actually not made any dramatic or earth-shaking revelations. Most were aware of the ego-ridden clashes that have almost become synonymous with BCCI, whose cupboards are filled with skeletons, one too many. The popularity of the demigods has been used to optimal levels by the power-mongers cloaked in the guise of avowed patrons and passionate administrators.
By bearding the lion in its own den, Guha has quite possibly triggered a cricketing tsunami the likes of which have not been known in the country. In terms of impact, the off-shoot of his diatribe could unshackle the self-obsessed administrators and the players enjoying the blessings of such nefarious godfathers.
As things stand, BCCI has lost its bargaining power, thanks to the rise of a parallel ICC power structure that has virtually clipped the wings of the big three-BCCI, Cricket Australia and ECB.
Of course, Guha missed out on some crucial points in his seven-page submission to CoA. An all-encompassing tell-all makes for a damning report actually and presents a scornfully dreaded scenario, one that will be more despicable than the conflict of interest that he spells out with regard to a handful of players.
Rampant corruption and official nexus go beyond what the Lodha panel exposed and the 'superstar culture' that Guha cautions about. Some years back, two highly respected superstars preferred to shoot for lucrative endorsement deals while ignoring Padma awards function that was underway a few miles away! They got away on the strength of the image they enjoyed in the eyes of fans. Disgustingly appalling!
Favouritism has been one of the reasons why hundreds of extraordinary talents failed to blossom because selectors, who are on BCCI payrolls, and therefore obliged, picked squads that were cleared by the bosses and their henchmen. Talent, minus an influential godfather, has always been compromised, right from the Ranji selection process. Transparency is unknown to the wise men in whose hands remain the careers of hundreds of starry-eyed youngsters.
Taken from a different angle, even as Australian cricketers are fighting for their fair share of money, including from endorsements, their Indian counterparts are born with a silver spoon.One does not know whether Cricket Australia and West Indies Cricket Board (WICB) are in the right or not while not budging an inch to the blackmail tactics of the players, but there is no denying that Indian players have been enjoying the upper hand vis-à-vis the BCCI. West Indies never considered an in-form Chris Gayle for selections when he raised the banner of revolt in the name of money!
The CoA, for all its Big Brother posturing, firmed up Annual Player Contracts, a bone of contention that Kumble raked up and paid the price. Mind you, the bonus a 'performing' Indian pockets from a series or two will be significantly more than what a player from West India, Sri Lanka, Pakistan or Zimbabwe earns in a lifetime.
As for IPL, it has become a by-word for corruption and controversies. How come players accused of match-fixing get life-bans while two former champions are given two-year bans despite the involvement of the promoters in similar sordid deals? If Rajasthan Royals and Chennai Super Kings can be deemed 'rehabilitated' why should someone like S Sreesanth not enjoy a similar luxury? Quite apparently, the 'honourable' promoters and co-owners carry moneybags and pump in loads of them.

Guha will be condemned to shame by the current crop of players and those who have retired from the game, who, nonetheless, make substantial money as coaches, commentators, administrators or by establishing academies. Lest one forgets, they all come with an emotional twist-to give something back to the game.
It is a tragic irony that although parents enroll their children in such academies they are disappointed because the wards will hardly get to see the celebrity at any of the camps except on occasions and that too when they accompany active cricketers who are in town for IPL fixtures. Coaching per se is hardly, if ever, done by the honourable retired high-profile cricketers, which is in contrast to the dedication shown by those who were second rung in their playing days!
Don't be surprised if, at the end of the day, the BCCI magnanimously picks Kumble for the hot seat, all over again. Thanks to the extraordinary chapters that are being added to Indian cricketing folklore, William Shakespeare's Comedy of Errors appears like KG stuff.
By Sridhar K Penna
Subscribed Failed...
Subscribed Successfully...