Doubles tennis gold for Bopanna, Sharan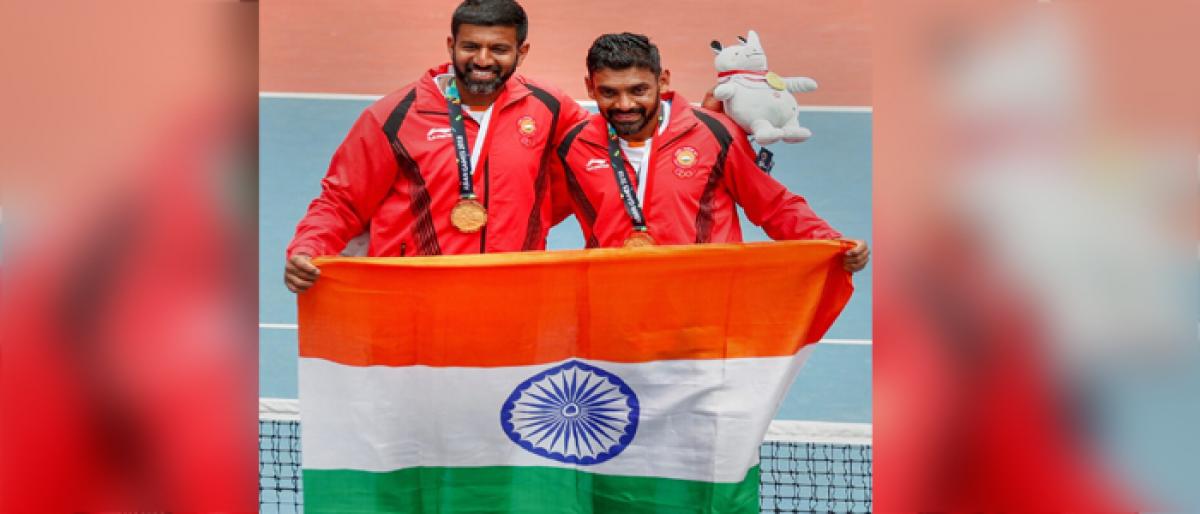 Highlights
Rohan Bopanna and Divij Sharan won the gold medal in the mens doubles tennis event at the 18th Asian Games 2018 in the twin cities of Jakarta and Palembang by winning the gold medal match against Kazakhstans mens doubles pair
​Palembang: Rohan Bopanna and Divij Sharan won the gold medal in the men's doubles tennis event at the 18th Asian Games 2018 in the twin cities of Jakarta and Palembang by winning the gold medal match against Kazakhstan's men's doubles pair.
Bopanna and Sharan, who were the top seeds in the event, played to their billing throughout the tournament and beat Kazakhstan's Aleksandr Bublik and Denis Yevseyev 6-3, 6-4 to scoop the top prize in the event.
With the win, India's medals tally has now swelled up to 22, including 6 gold medals, 4 silver and 12 bronze.It was Bopanna and Sharan's hold on their own serve that did in the pair from Kazakhstan. The power and intelligence of Bopanna's serve was too much to handle for the Kazakhs.
On top of that, Bopanna and Sharan were extremely quick on their feet and strong and smart with the returns that caught the Kazakhstan pair off-guard.
Bopanna and Sharan swept through the first set and took it 6-3 in just 25 mins. One break of the Kazakhstan serve was enough for the top Indian pair to take it through. In the second set, Bublik and Yevseyev showed far more fight and held their serve even as Bopanna and Sharan ran through their own to make it 3-3 at the 16th minute mark.