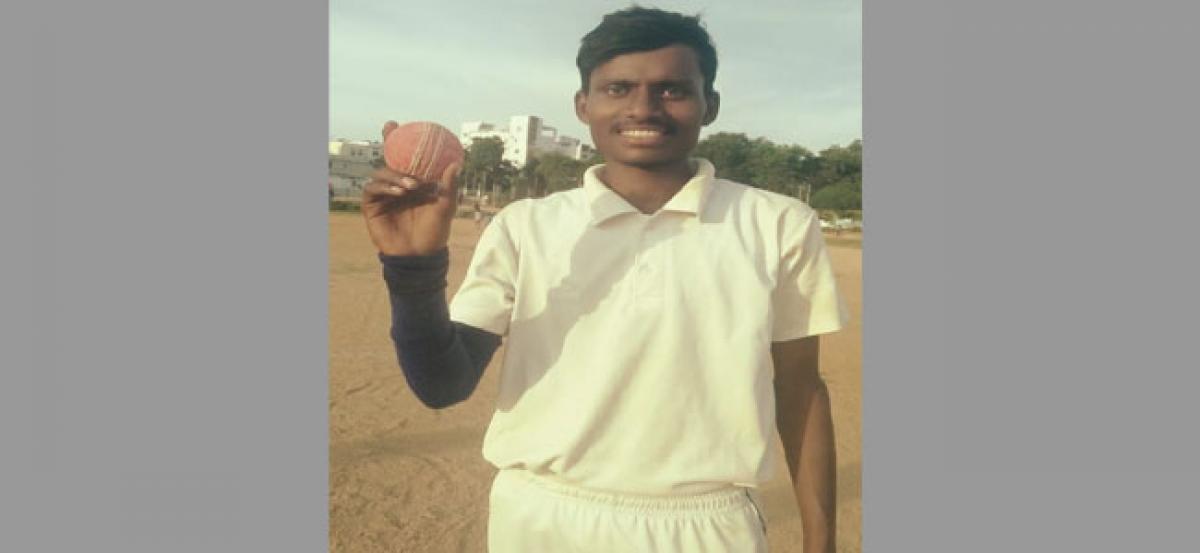 Highlights
A magnificent 729 by host team bowler Jakati Ravi was the highlight of the drawn match between Mahaboobnagar and Shadnagar at Govt Junior College for Boys grounds in the TCAUnder19 twoday interdistrict league here on Sunday
Mahaboobnagar: A magnificent 7/29 by host team bowler Jakati Ravi was the highlight of the drawn match between Mahaboobnagar and Shadnagar at Govt. Junior College for Boys grounds in the TCA-Under-19 two-day inter-district league here on Sunday.
In the match at Indira Gandhi Stadium in Kamareddy, the host thrashed Nizamabad bty five wickets.Brief scores-Day Two at Indira Gandhi Stadium Kamareddy: Nizamabad First innings: 149 in 29.2 overs (Mubashir Khan 28, Istiyaq 22, Md Gouse 22, Naveed 4/31, Akhilesh Goud 3/24); Second innings 155 in 35.2 overs (Fahad Ammer 45, Yaswanth 41, Yaseer Aqib 37, Khaja 4/41, Afroz 2/13, Akhilesh Goud 2/31) lost to Kamareddy First innings 207 in 50.5 overs (Rakesh Goud 52no, Akihilesh Goud 43, Arjun Ch 36, Amir Sohail 4/17, MD Gouse 4/55); Second Innings: 100 for five wickets in 25.2 overs (Sai Lokesh 59no, Md Gouse 2/24, Istiyaq 2/26);
At Govt. Junior College for Boys Mahaboobnagar: Mahaboobnagar First innings: 268; Second Innings: 105 for nine in 25.3 overs (Ganesh 30, Feroz 25, Vamshi Goud 2/11 , Mahesh 2/11) drew with Shadnagar First Innings 103 in 28 overs (Ismail 61no, Jakati Ravi 7/29 , Sathwik 2/0); Second innings 187 for six in 53 overs (Vamshi Goud 59no, Ismail 58, B Sai Kumar 2/31, N Ramesh 2/31).
Interested in blogging for thehansindia.com? We will be happy to have you on board as a blogger.