Sports fest inaugurated at GITAM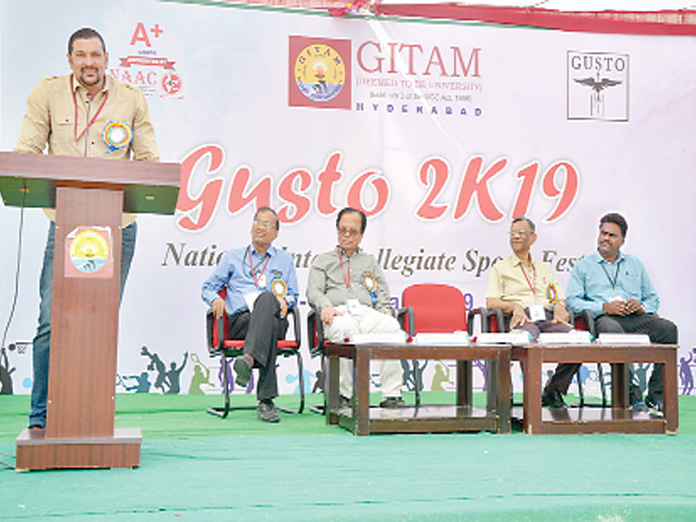 Highlights
The third edition of National Intercollegiate Sports Fest GUSTO2K19 of GITAM Deemed to be University, Hyderabad was inaugurated at its campus on Wednesday The grand opening ceremony was graced by B A Ravi Kumar, International Volleyball Player as chief guest and Prof K Purushotham Reddy, Indias Eminent Environmentalist, Academician as Guest of honor in the presence of the Prof N Siva Prasa
​Hyderabad: The third edition of National Inter-collegiate Sports Fest (GUSTO-2K19) of GITAM (Deemed to be University), Hyderabad was inaugurated at its campus on Wednesday. The grand opening ceremony was graced by B A Ravi Kumar, International Volleyball Player as chief guest and Prof K Purushotham Reddy, India's Eminent Environmentalist, Academician as Guest of honor in the presence of the Prof N Siva Prasad, Pro Vice-Chancellor, GITAM Hyderabad and Prof A Sreeram, Director, Student Affairs.
The inaugural ceremony commenced with the invocation, followed by the oath-taking ceremony and torch relay culminating in the lighting of the torch. The sports teams from various colleges administered the solemn oath. Then, the chief guest Ravi Kumar officially declared the sports meet open.
The torch which was taken round the ground symbolized the vibrant hopes of the sporting students that were flying high. The torch was carried by the team captions K Sowmya Reddy (Volleyball) Tinku Mahesh (Foot Ball) Hussain (Handball) Naga Sai (Basketball) Rahul (Volleyball) and Nikhil Neta (Cricket).
The long- awaited events include Volley Ball, Basket Ball, Table Tennis, Chess and Charms (both for boys & girls); Throw Ball (only for girls); Foot Ball, Kabaddi (only for boys). The organisers informed that about 35 to 40 colleges and 1500 players will take part in the three day fest.
In the march past, teams from different colleges like DRK, Matrusri, ISL, Ellenki, VNR VJIT, JNTU-S, Veltech (from Tamilnadu) Narayanamma, VJIT, Vignan, MVSR, HITAM and the hosting GITAM, Hyderabad team have participated.