Govt College of Physical Education lift crown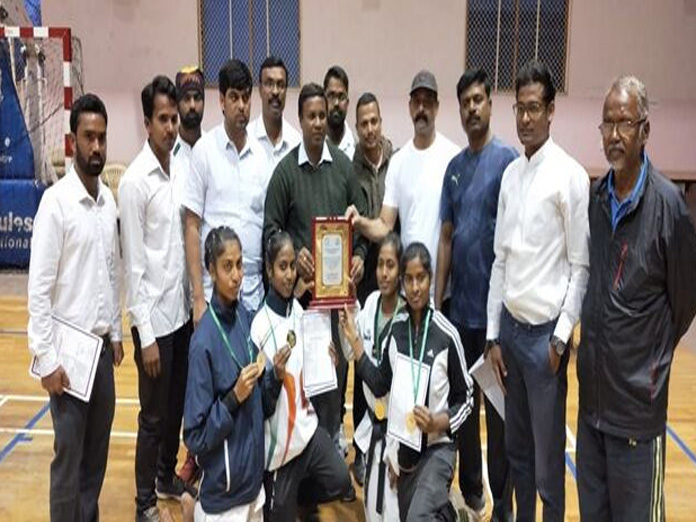 Highlights
The Government College of Physical Education GCPE emerged champions in the Osmania University Taekwondo Inter collegiate Championship held at St Francis College for Women Indoor Stadium on Tuesday
​Hyderabad: The Government College of Physical Education (GCPE) emerged champions in the Osmania University Taekwondo Inter collegiate Championship held at St. Francis College for Women (Indoor Stadium) on Tuesday.
The event was organised by St. Francis College for women, Begumpet, Hyderabad a press release said on Tuesday.
GCPE finished at the summit in the Inter collegiate Taekwondo by clinching gold in four categories - Under 46, Under 49, 49-53 and 53-57. Anusha, Samantha, R. Swarna Latha and M. Anitha respectively sealed first places in their final showdowns and earned their college a well-deserved first place overall.
PRRL Law College bagged the second spot with P. Srilekha and K. Kavya Sree fetching gold in Above 73 and 62-67Kgs respectively, while Nizam and Bhavan's College emerged as joint winners for the third position.
Prof B Sunil Kumar Secretary IUT and ICT for Women was the chief guest for the Taekwondo championship and distributed the prizes to the winners. Organizing secretary Syed Farooq Kamal purposed the vote of thanks.

Results
Under 46 Kgs
1. Anusha (GCPE) (GOLD)
2. Deepasri (SAP College)(SILVER)
3. Mamtha Kumar (Koti Women's) (BRONZE)
4. Niharika (St. Francis) (BRONZE)
Under 49 Kgs
1. Samantha (GCPE) (GOLD)
2. V. Manisha (Little Flower college) (SILVER)
3. Vishnavi Yadav (Bhavan's College) (BRONZE)
49-53Kgs
1. R. Swarna Latha (GCPE) (GOLD)
2. M. Manasa (NIZAM) (SILVER)
3. M.Manasa (Prathibha degree College)(BRONZE)
4. P. Divya(Bhavan's College) (BRONZE)
53-57 Kgs
1. M. Anitha (GCPE) (GOLD)
2. J.Shivani (Nizam) (SILVER)
3. Sumria (Anwaruloom college) (BRONZE)
4. S. Sunitha (GDC) BRONZE
57-62 Kgs.
1. Sai Vaishnavi (St. Pious Degree College) (GOLD)
2. W. Navya Sri Sai (Bhadruka College) (SILVER)
3. Shivani Limboo (Bhavani's) (BRONZE)
Above 73 kgs
1. P. Srilekha (PRRL Law College) (GOLD)
2. Sanga Spurthi Ravi Kumar (Osmania University) (SILVER)
62-67Kgs
1.K. Kavya Sree(PRRL Law College) (GOLD)
2. Swetha Singh (Bhavan's) (SILVER)
3. Nagalaxmi (GCPE) (BRONZE)