Biopics don't inspire Tollywood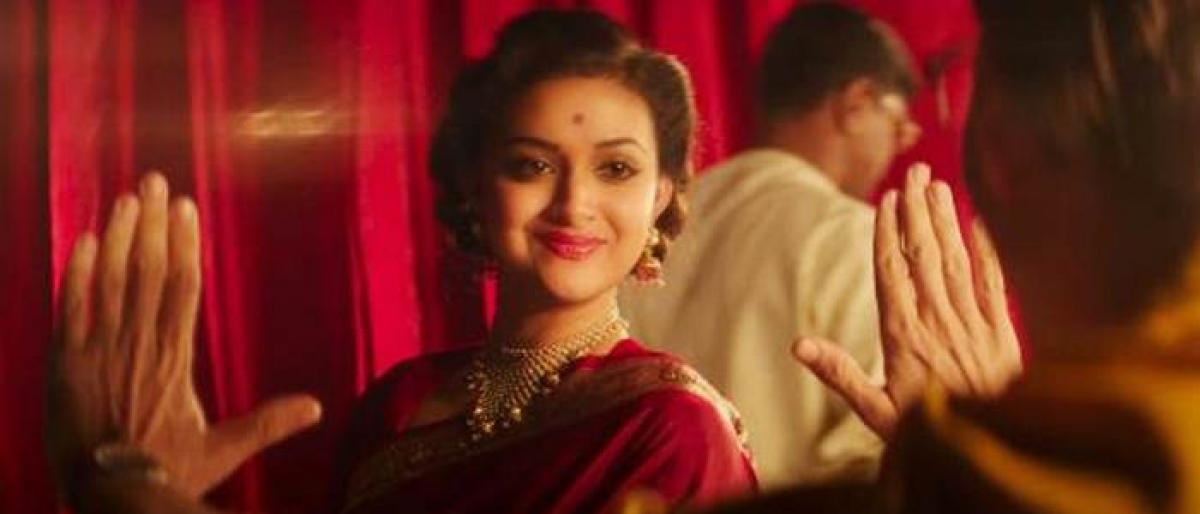 Highlights
There is a scene towards the end in \'The Theory of Everything\', the biopic of Stephen Hawking. As the renowned scientist is answering queries of students in a large hall, he sees that a girl student sitting in the front row drops her pen. 
There is a scene towards the end in 'The Theory of Everything', the biopic of Stephen Hawking. As the renowned scientist is answering queries of students in a large hall, he sees that a girl student sitting in the front row drops her pen.
Even as he is listening to a question on what inspires him as he does not believe in God, Hawking visualises himself getting up from the wheelchair, walking down the steps, picking up the pen and handing it over to the girl, a task quite impossible for him at that stage. As the visual melts, Hawking smiles and says one of his most famous lines "While there is life, there's hope," emphasising that endeavour should never end.
This is one of the most defining moments in any biographical film in any language. Capturing a persona's innermost yearning, his thoughts and fears and aspirations, the very core of a character and not just documented details of his life. And these are moments that either make or break a biographical film.
"Always live your life with your biography in mind," author Marisha Pessl had once advised. If only people followed that advice, biographers would have had their job cut out and the story would have been so easy to tell.
Although dozens of stories have been told and retold on the silver screen, some with remarkable success, biopics still remain a landmine-filled field for most filmmakers as they are fraught as much with self-doubt as with great expectations from the audiences.
As Telugu film industry floats on the euphoric success of what is arguably its first-ever major biopic, 'Mahanati', the whys and hows of making biopics are once again a topic of discussion.
Why have so few biographical films been made in Telugu while Hollywood is old hat at it and Hindi cinema managed its own share, ranging from celebrity stories such as Dhoni and Mary Kom to unsung heroes such as Phogat of 'Dangal'.
"The essence of cinema is drama. When we tell the story of a person, there has to be a certain level of drama in his/her life. Unless we capture the drama, it becomes a documentary, a chronological fact sheet of someone's life. The challenge is to blend the story into a cinematic format and engage the audiences. Not an easy task," says Ramesh Samala, filmmaker and writer.
The other challenge is to recreate the period, Samala, who had written 'Ishq' and directed the movie 'Columbus', says. "The story is only half told unless we are able to transport the audiences into that era and setting, into that context and milieu. It takes a unique set of factors to achieve that," Samala, also a theatre professional, points out.
What is the touchstone for a good biopic? How much licence and liberty, how much fiction and creativity? Authenticity or creative freedom? Palatable falsehoods, glossed over flaws or fearless honesty? How to choose a persona, a story and an era?
Can the context be fictionalised when a person's tale is to be brought into sharp focus or should an individual's story be fictionalised to present a historical perspective? Crucial questions all.
"Telling the good, the bad, the ugly and the sensitive, can we tell the complete story is the question," says Sagar K Chandra, director whose film 'AppatloOkadundevaadu' won critical acclaim for telling a true story, setting it in a select period twenty years back. "We have to develop a story for any film but this is retelling a story, of a person probably well known.
And when it is not fiction, we have to cover a broad time span, an entire lifetime of a person. It requires as much attention to minute detail as to being true to the original," he says. His own film, the story of a cricketer, pushed to extremes, was chosen to be set 20 years backwards in time because of its socio-political context.
"The kind of circumstances that existed at the time this story happened are no longer there. Either the political context or the extremist movement or the police set-up. So I chose to go back to make it authentic," Sagar Chandra explains.
What deters filmmakers from taking up such projects is not just creative reasons but also physical ones. "When you go back in time, authenticity in terms of setting, costumes, hairstyle and so many other things are needed. You cannot borrow sets and props, you have to buy them or make them and it involves big budgets," says Ramesh Samala.
"Yes, creating a setting in pre-CGI days was a major challenge. That also probably served as a deterrent," adds Sagar Chandra.
'Mahanati's success is a landmark for Telugu cinema, which earlier chose to have historical fiction, legend or myth to wrap stories of individuals in films such as Alluri Sitarama Raju, Rudramadevi, Andhra Kesari or Sri PothuluriVeerabrahmendra Swami Charitra.
Telling the story of an actor, contemporary to many people, in a meticulously detailed out narrative, has served not just to open new windows to the viewers but also to clear many misapprehensions for filmmakers. "I think being true to what is there worked for 'Mahanati'. And that should be the benchmark for filmmakers whether it is the story of an icon or an ordinary man with an extraordinary story," says Sagar Chandra.
However, the Telugu biopic scenario has its own storms ahead with the proposed movie on the legendary NTR making waves even before the first frame has been composed. The controversy surrounding the proposal makes one ask if the Telugu film industry will ever become a fountainhead for honest, realistic, authentic storytelling.
"The problem is very fundamental. We do not have directors who dare to get out the set mould and reach out towards new horizons. While there are filmmakers of all hues and genres in all other languages, it is all a matter of mathematics for us here," scoffs Srinivas Challa, senior journalist and a seasoned film analyst.
Except for a few creative people, the industry essentially does not make an attempt to seek new stories, read more biographies and discover untold stories, he says.
'Mahanati', wonderful work it is but worked because of the big backing it got, he feels, but doubts if anyone will ever have the courage to complete the NTR project.
'Mirza', 'BhaagMilkha…', 'Mary Kom' carefully trod the line between a documentary and gripping fiction but 'Dirty Picture' showed that the narrative can be honest and say it like it is, with no pretence or falsification of a person's life. It is important to catch the soul of a life, the essence of a persona and the very crux of a story to make a biopic. That is lacking here," Challa says.
Isn't the problem also with the actors in an industry where leading men are demi-gods in a rigidly set image and stories invariably struggling to accommodate larger-than-life but severely restricted actors? "For biopics, an actor has to undergo method, there is no shortcut. It takes not just commitment but also a deep understanding of the character. That is very fundamental," says Samala.
Telling the story of an unsung, unknown hero allows for creative freedom but when the protagonist is an icon, there is always a point of reference which even the audience knows, he says.
As biopics go, 'Mahanati' may yet mark a departure from cast-in-cement idiosyncrasies of this massive film industry. There are new filmmakers and along with a new approach to the craft, there is also a new sensibility towards filmmaking.
Young filmmakers such as Sagar feel that there is a definite shift in paradigm with audiences more open to new ideas and heroes more willing to explore new horizons.
There are Uyyalawada Narasimha Reddy and KodiRammurthy in the pipeline with big stars playing the protagonist and this may well be the moment in history for Telugu cinema when boundaries are extended beyond the cliché.
By: Usha Turaga-Revelli
Interested in blogging for thehansindia.com? We will be happy to have you on board as a blogger.