Transco goes on a tree felling spree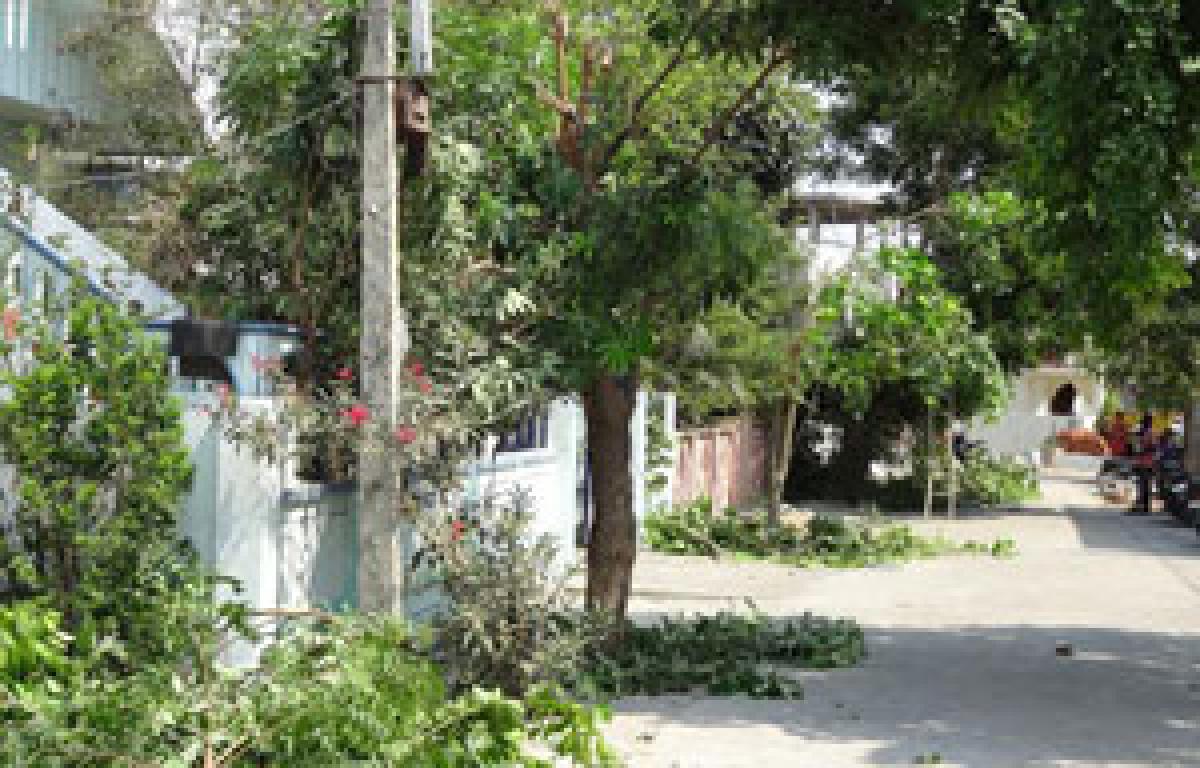 Highlights
Despite the public outcry, the trend is unabated in the city even though the Water, Land and Trees Act (WALTA), 2002, says a tree can only be cut if it endangers life or property and only after getting permission from the Divisional Forest Officer
Warangal: Notwithstanding the efforts of the agencies concerned to increase the greenery in the State to replenish the ever dwindling green cover, the electricity department is turning a blind eye on it by resorting to indiscriminate felling of trees in the city.
Despite the public outcry, the trend is unabated in the city even though the Water, Land and Trees Act (WALTA), 2002, says a tree can only be cut if it endangers life or property and only after getting permission from the Divisional Forest Officer.
At a time when the State is reeling under intense heat wave, whatever the little greenery left around in the city is getting vanished due to the indiscriminate felling of trees by the Electricity department in the name of avoiding short-circuit or tripping of power.
Thanks to the apathetic approach of the Transco authorities who let their staff loose on the streets of Bheemaram area in the Greater Warangal Municipal Corporation (GWMC) area on Tuesday, the staff even trespassed into a private property and cut a guava tree, besides chopping trees in the SBH colony.
"This is not the first time, it happened quite a few times. The staff also behaved arrogantly when objected to the needless chopping of the tree," the owner of the building and tenants said. The staff didn't even care to remove the debris of trees along the street.
When contacted, Transco Assistant Engineer of Chintagattu region said: "We need to take permission of the landlord before entering onto the premises of any private property."
Speaking on the issue, Forum for Better Warangal president Pulluru Sudhakar said, "It's understandable if the authorities take up pruning of the branches that grow into the power lines. But the Electricity department staff is resorting to indiscriminate chopping of trees though there was no dire necessity." He lamented over the disappearance of the green cover in the city either due to road-widening or due to the merciless approach of the Transco authorities.
K Nancharaiah, retired Telecom employee, said the government which was promoting massive plantation through its ambitious programme Haritha Haram needs to focus on urban areas where felling of trees is rampant.
Speaking to The Hans India, the DFO (North) Bhima Naik said: "People can lodge a complaint with the Forest department if any illegal felling of trees is taken up, be it ordinary citizens or any government agency."