Lok Satta Udyama Samstha in expansion mode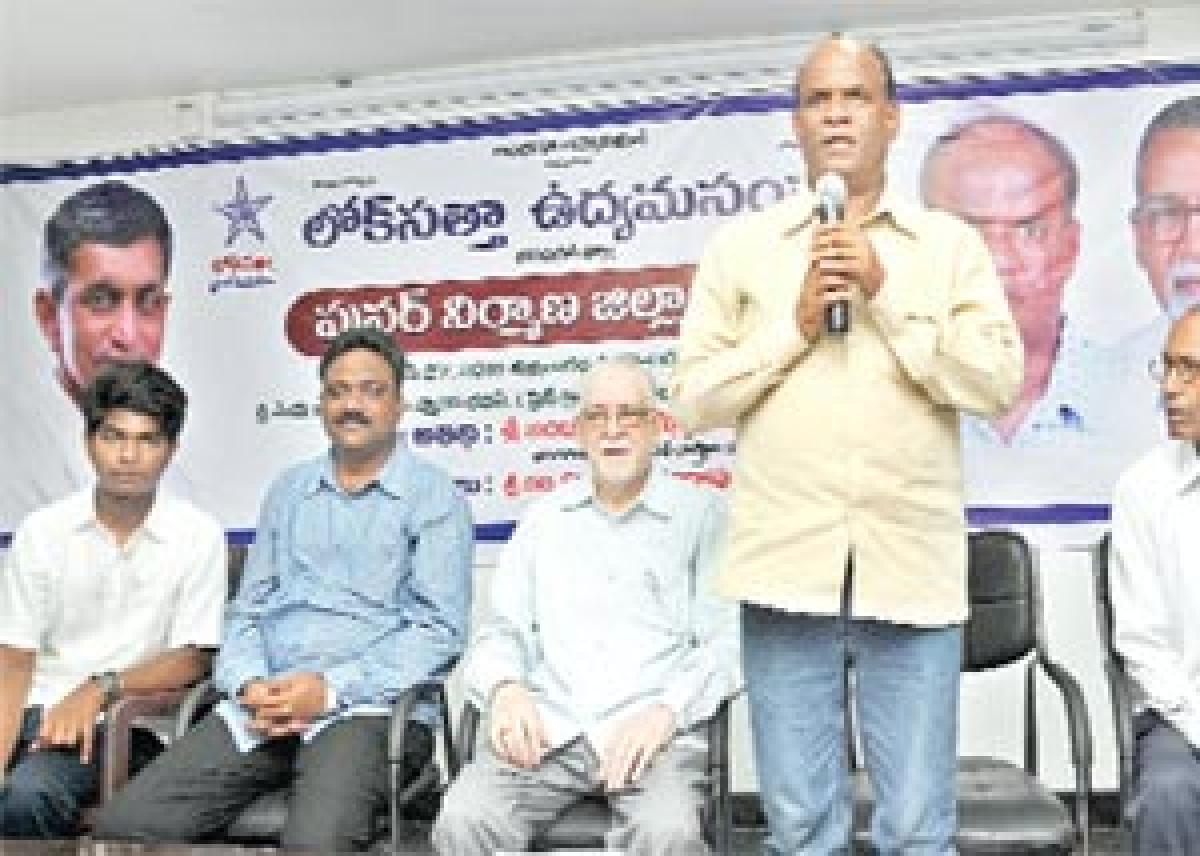 Highlights
Educating the people to bring betterment in their lives has always been the prime goal of the organization, he said.
Warangal: Lok Satta Udyama Samstha aims to create a society where the citizens stand-up in unity to questions rulers, said the organisation's AP-Telanagana State units' convener Bandaru Ramohan Rao. Addressing a gathering at the 'Zilla Punarnirmana Sadassu' organised by the district unit of the organisation in Hanamkonda on Friday, Rammmohan Rao said Lok Satta rededicates and renew itself towards its endeavour of creating a citizen-centric system. In the process the organisation also strives to educate the citizens about their rights and privileges.
He said that the Lok Satta came into existence on August 3 1997 with an objective of achieving transparent administration at all the levels. Educating the people to bring betterment in their lives has always been the prime goal of the organization, he said.
"We never opposed politics but consider it as a sacred act. It is our firm belief that change of regimes every five years could not ensure improvement in the conditions of people living in a state" he noted. The Lok Satta leader said that the basic character and attitude of a government and those who lead it should change towards people and their needs. Intellectuals and good citizens should come forward to question the misdeeds of the rulers for the sustenance of democracy, Rammohan Rao asserted.
Laying focus on finding solutions to the problems during the past decades the organisation succeeded in compelling the governments in bringing out various legislations for the benefit of common man. Strengthening of federal system, holding elections to directly elect chief ministers, civic services as a right, free education and health services to all and making agriculture a profitable activity were the focus points for the future work, he explained. It was being planned to impart leadership training to the youth as part of Lok Satta expansion, he added.
Presiding over the meeting the organisations' state advisor Parcha Kodandarama Rao said efforts would be made to reconstruct the organisation in all the constituencies of Warangal district. Empowering the people and fighting against political corruption were the main objectives.
Lok Satta district convener G Jaganmohan Reddy, Mahila Satta convener V Padmaja Kantha Rao, Yuva Satta president T Pavan, activists Tirupathi Reddy, K Sathish Reddy, Rajanikar Reddy, P Muralidhar, Narsaiah, Forum for Better Warangal president P Sudhakar and others addressed the gathering.