Dinner on Board off RTC menu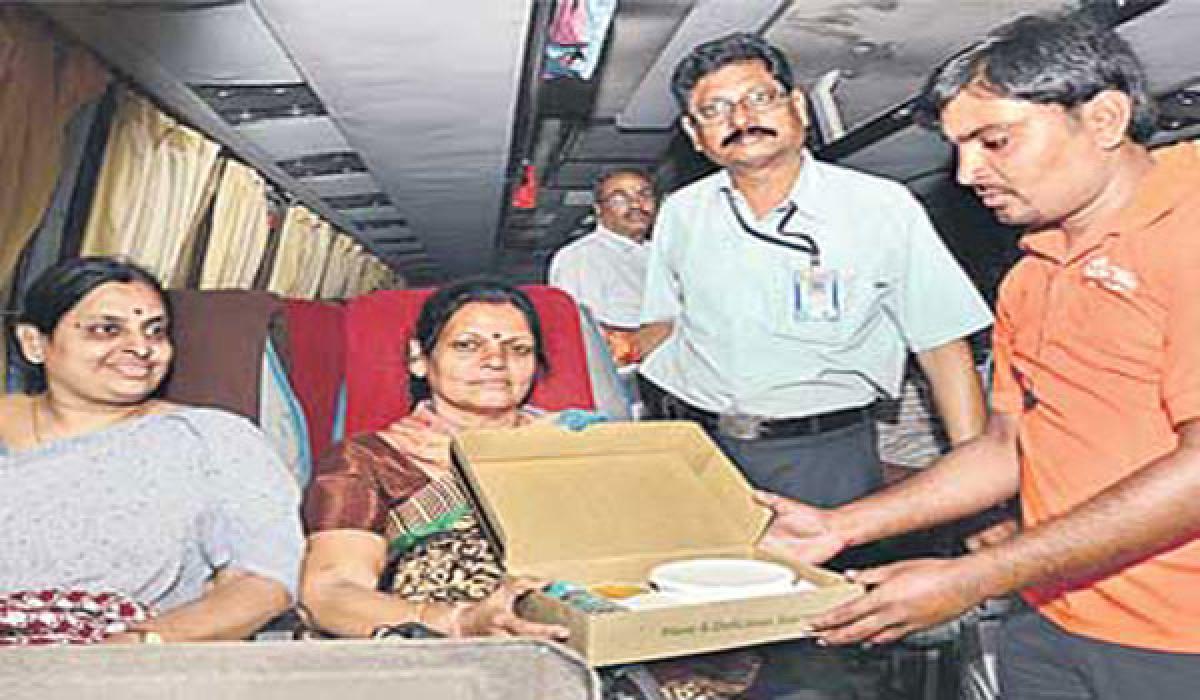 Highlights
The 'Dinner on board' facility initiated by the RTC with an aim to provide passengers on board with their choice of food has been stopped.The facility was started by the Andhra Pradesh State Road Transport Corporation (APSRTC) for the passengers travelling long distance in buses. The idea was to provide passengers with their choice of food, such as Hyderabadi Biryani, Pulla Reddy ghee sweets, Kara
Due to poor response from passengers, the transport corporation has put an end to 'on the board' food facility
Hyderabad: The 'Dinner on board' facility initiated by the RTC with an aim to provide passengers on board with their choice of food has been stopped.The facility was started by the Andhra Pradesh State Road Transport Corporation (APSRTC) for the passengers travelling long distance in buses. The idea was to provide passengers with their choice of food, such as Hyderabadi Biryani, Pulla Reddy ghee sweets, Karachi Biscuits etc, with just a call or online booking.
Highlights:
The facility was started in 2014 by APSRTC in 15 selected AC buses

The idea was to provide passengers travelling long distance with food of their choice

The facility initially received good response from the passengers but slowly the number came down
The 'dinner on board' facility was launched in 2014 in 15 selected AC buses to Bengaluru, Pune, Shirdi, Chennai, and Tirupati. The food was made available before the start of the journey. The order was to be placed before three hours of the schedule time of departure and the items were delivered to the passengers in the bus. The service was made available in Garuda, Garuda Plus and Vennela buses.
The passengers who booked their tickets in advance had the opportunity to order their desired food through a special number (8688931666) or on www.alongtheway.in website which were specifically earmarked for the purpose. The organisation, which started the services, also had a kitchen in the city where they provided complete meal pack (4 roties+ veg curry+ sweet+ curd rice) at the cost of Rs 150.
Officials said that most of the orders were placed for Hyderabadi biryani from the famous city outlets. Presently, neither the special number nor the website is functioning.TSRTC Executive Director M Ravinder said that initially the response was good for the services but slowly the number of orders came down. The organisation must have felt that this was not viable, he added.
Gopa Vinod Kumar, a pharmacist and a frequent traveller, said that with the help of the facility he had ordered food a number of times while travelling and the services were satisfactory but for the past six months the phone number has not been functioning. "It gave good alternative to the dhaba food. The RTC should ensure that they maintain hygienic food in the canteens or there should be services like these," said Vinod Kumar.
P Ramesh Kumar, a businessman from Koti, said that he is a regular traveller, on some of these routes, and was impressed by the service but for the past some time the phone number was not working and the website displayed the message 'Good things take time. We will be back soon.'
By K Chandrashekar
Interested in blogging for thehansindia.com? We will be happy to have you on board as a blogger.