IT Minister K T Rama Rao in cahoots with Talasani to usurp land: Congress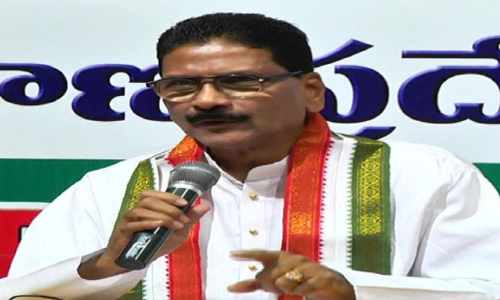 Highlights
Congress senior leader Marri Shashidhar Reddy alleged that IT Minister K T Rama Rao was hatching a conspiracy to usurp Ambedkar Nagar slum land in the heart of the State capital.Speaking to the media here on Monday at Gandhi Bhavan, Shashidhar Reddy said Rama Rao
Hyderabad: Congress senior leader Marri Shashidhar Reddy alleged that IT Minister K T Rama Rao was hatching a conspiracy to usurp Ambedkar Nagar slum land in the heart of the State capital.Speaking to the media here on Monday at Gandhi Bhavan, Shashidhar Reddy said Rama Rao, in connivance with Minister Talasani Srinivas Yadav, conspired to usurp land on Necklace Road by forcibly getting the people of Ambedkar Nagar slum to vacate their houses on pretext of construction of double bedroom houses there.
The slum-dwellers were earlier told by Srinivas Yadav that there was a Supreme Court order not to take up any construction in and around Hussainsagar without SC's permission. Ambedkar Nagar falls under that. In view of this, they were asked to go and see an alternative site at SR Nagar where the Greater Hyderabad Municipal Corporation (GHMC) had taken over seven acres from the State Health Transport Organisation in 2015.
He said that after making an about turn, the local Telangana Rashtra Samithi (TRS) leaders were now trying to get people to forcibly vacate their houses without getting the required permission from the Supreme Court. Rama Rao's complicity in this conspiracy was confirmed by his performing the Bhumi Puja there earlier this month, providing an impetus to their local leaders to resort to threats and coercion.
"My allegation is that Rama Rao has conspired with the original owners for personal gains," Shashidhar Reddy said, adding that Chief Minister K Chandrashekar Rao had announced some time back that cases would be booked if false allegations were made.
"If I am making baseless allegation, I challenge the govt to file a case against me accordingly. There are no guidelines about how the project needs to be implemented. No notices have been served, which is highly irregular," he said.He said the Hyderabad Collector handed over the lands pertaining to several slums to GHMC in August 2016. "Collector maintains that it's up to the GHMC to issue notices etc.
The GHMC, on the other hand, claim that their job is to be simply construct houses on such lands, which have been handed over by the Revenue authorities. Ambedkar Nagar is not the only slum where they are trying to take up housing scheme without land issue getting cleared, the senior Congress leader said.
He demanded that the State government stop forcible evacuations and asked it not to dismantle houses, which were vacated by some people due to political pressure, without any government agency issuing notices to them to vacate. "Notices should be issued to them as per guidelines which need to be evolved after all land and other issues should be settled appropriately,"
he asked and demanded that the government identify beneficiaries in accordance with guidelines issued by the State government to all eligible persons without limiting it to one per family. All irregularities in identifying beneficiaries should also be rectified, he said.

Interested in blogging for thehansindia.com? We will be happy to have you on board as a blogger.