KCR seeks 20K-cr assistance for Kaleswaram project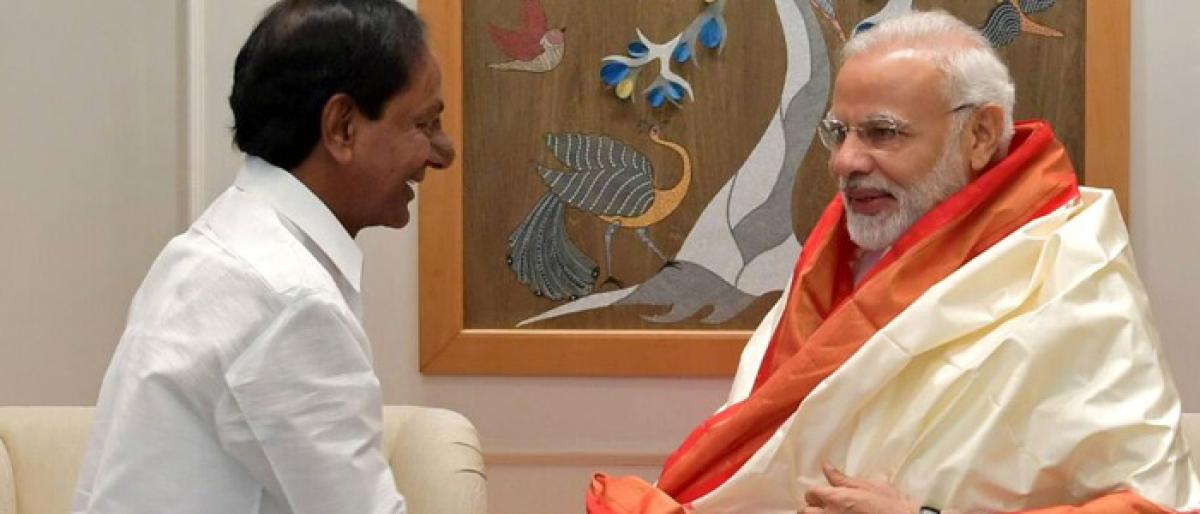 Highlights
Chief Minister K Chandrasekhar Rao has urged Prime Minister Narendra Modi to allocate Rs 20,000 crore more to Kaleswaram project for its quick completion. During a one-on-one meeting with the PM which lasted for 50 minutes here on Friday, Rao thanked the Prime Minister for extending fullest cooperation in securing clearances for the mega project that was destined to change the lives of crores of p
​New Delhi: Chief Minister K Chandrasekhar Rao has urged Prime Minister Narendra Modi to allocate Rs 20,000 crore more to Kaleswaram project for its quick completion. During a one-on-one meeting with the PM which lasted for 50 minutes here on Friday, Rao thanked the Prime Minister for extending fullest cooperation in securing clearances for the mega project that was destined to change the lives of crores of people.
Costing Rs 80,000 crore, the Kaleswaram project would help irrigate 18 lakh acres of land in 20 districts and also meet the drinking water and industrial requirements. The state government had already spent Rs 25,000 crore on it and had also borrowed Rs 22,000 crore from various institutions and sought the fresh assistance from him.
Referring to the zonal system in the State, KCR reiterated his demand for creation of new zones in view of bifurcation and urged for early orders to the effect.
On High Court, the Chief Minister, urged the Prime Minister to intervene and ensure bifurcation of the same which was still pending for the last four years. Out of the 29 judges of High Court, only six were from Telangana and whereas it should have been 60:40, he said.
On new railway lines, Rao said Manoharabad- Kothapalli and Bhadrachalam Road- Sattupalli railway lines had to be completed at the earliest. Similarly, Kazipet- Vijayawada third line, Raghavapuram- Mandamarri third line, Armoor- Nirmal- Adilabad broad gauge line construction, double lane for Secunderabad- Mahbubnagar, Secunderabad- Zahirabad had to be speeded up. He also sought survey of Kazipet- Karimnagar railway line via Huzurabad line.
Reiterating his demand for allocation of Bison Polo Grounds for new Secretariat complex, the Chief Minister, sought early clearance for handing over of the Defence land on National High Way No 44 for the expansion of the State Highway work. He sought early release of pending Backward Districts development fund for the year 2017-18.
As for the other pending promises of the Bifurcation Act, the Chief Minister said the Centre was yet to sanction IIM for Telangana. On the reported decision of the Centre to withdraw the Information Technology Investment Region (ITIR) project sanctioned to the State, KCR briefed the PM that it would deal a blow to the credibility of the Centre as the project was sanctioned some five years ago.
Subscribed Failed...
Subscribed Successfully...