KCR's diplomacy at NITI yielding results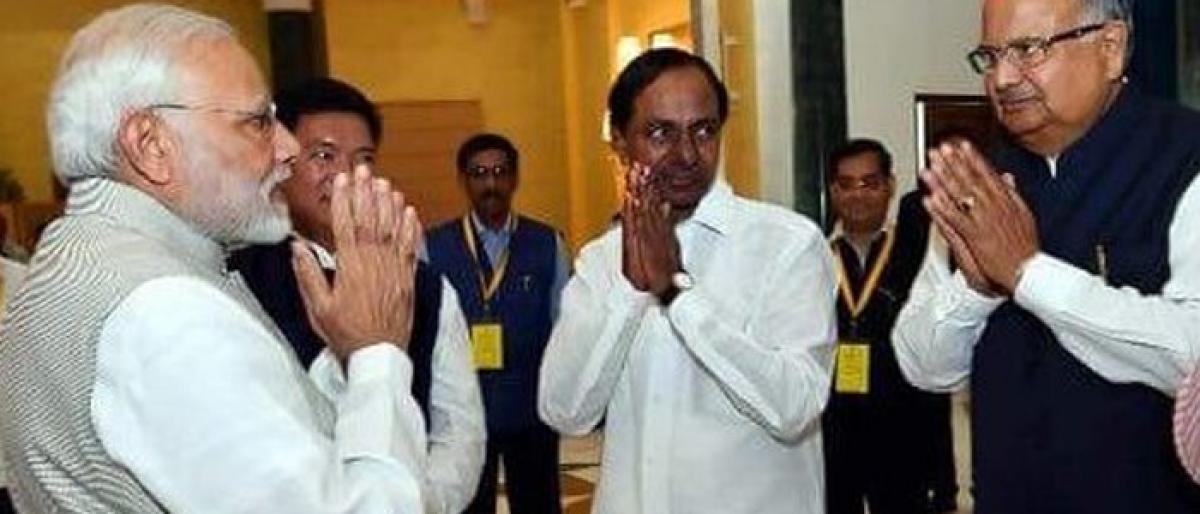 Highlights
The recent meeting between Telangana Chief Minister K Chandrashekhar Rao and Prime Minister Narendra Modi in New Delhi seems to be yielding positive results. An official delegation led by Union Finance Secretary (expenditure) AN Jha will hold a meeting with TS government officials in Hyderabad on Wednesday. The meeting is likely to finalise the funds flow to the T state from the Centre in 2018-19
​Hyderabad: The recent meeting between Telangana Chief Minister K Chandrashekhar Rao and Prime Minister Narendra Modi in New Delhi seems to be yielding positive results. An official delegation led by Union Finance Secretary (expenditure) AN Jha will hold a meeting with TS government officials in Hyderabad on Wednesday. The meeting is likely to finalise the funds flow to the T state from the Centre in 2018-19 financial year.
In the wake of KCR's repeated pleas to the Centre to sanction funds for Kaleshwaram project, Mission Kakatiya and Mission Bhagiratha schemes, the Central officials will ascertain the requirement of funds to the state in the meeting. Jha will hold a day-long conference with state Finance Secretary K Ramakrishna Rao and other financial officials.
It may be mentioned here that KCR requested the Prime Minister at his one-on-one meeting held on June 15 to allocate Rs 20,000 crore exclusively for Kaleshwaram project taken up by his government at the cost of nearly Rs 80,000 crore. The government also has sought Centre's assistance to complete Mission Kakatiya and Mission Bhagiratha.
The officials said that the issues, particularly financial matters raised by KCR before Modi in the meeting will be discussed in detail by the central officials with their counterparts in Telangana. The Chief Minister also brought to the notice of the Prime Minister the delay in the release of Rs 450 crore Central funds for the development of nine backward districts last year.
The Central official will hold meeting with state finance department and discuss in detail the demand for Central funds from Telangana mainly for Kaleshwaram project.
The Central official will also review the utilisation of funds given by Union government under different centrally-sponsored schemes. Following reports that state had diverted the funds released by the Centre under centrally-sponsored schemes, the officials of the Union Finance ministry will also review utilisation of funds.
The state government was has already been asked to submit a report on the utilisation of funds and also sought an explanation on the delay in the submission of utilisation certificates to the Centre in 2017-18 financial year.