BJP will expose 4-year misrule of TRS: Laxman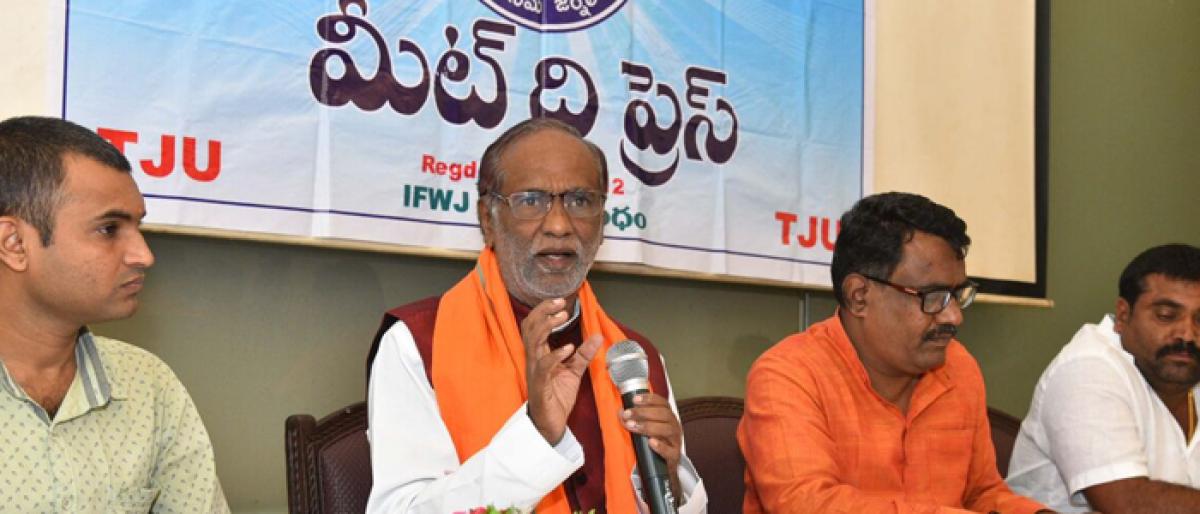 Highlights
BJP State president Dr K Laxman said that his party would further intensify its Jana Chaitanya Yatra JCY until it brings political change in Telangana Speaking at Meet the Press programme organised by the Telangana Journalists Union TJU here on Tuesday, he said as part of this, the party would be drafting a peoples manifesto for the ensuing general elections Besides, the party is also pre
​Hyderabad: BJP State president Dr K Laxman said that his party would further intensify its Jana Chaitanya Yatra (JCY) until it brings political change in Telangana. Speaking at 'Meet the Press' programme organised by the Telangana Journalists Union (TJU) here on Tuesday, he said as part of this, the party would be drafting a people's manifesto for the ensuing general elections. Besides, the party is also preparing a charge sheet against the four-year TRS party rule and its failure in delivering on its electoral promises.
He said that the Yatra had focused mainly on creating awareness about various development and welfare schemes of the Central government headed by Prime Minister Narendra Modi. Secondly, it focused on the four-year TRS rule in Telangana, the growing corruption, its misdeeds and its dynastic politics. Lastly, the Yatra had also focused on the misrule of the 40-year rule of the Congress in the State, its opportunistic and dynastic politics.
He said that the saffron party was focusing on its single agenda of 'Mission 60 plus' to come to power in Telangana and will contest all Parliament and Assembly constituencies in the ensuing general elections.
The BJP leader added that it was due to the negligence of the State government that the Telangana had lost the opportunity to set up the coach factory. He expressed fears that setting up a wagon workshop at Kazipet might also meet the same fate due to the State government's negligence.
Laxman said that the government was in a helpless situation that it was not in a position to forward to the Centre nearly three lakh applications it had received from people in Hyderabad under Prime Minister Awas Yojana (PMAY).
Dismissing that BJP is team B of TRS, he reminded the role of TRS, TDP and Congress in Karnataka and said, "Voting to Congress and TRS is nothing but voting for MIM. People are realising the real face of the opportunistic politics of all these parties."
Later, the State party leaders held a meeting with the party leaders from Hyderabad, Ranga Reddy, Medchal and Vikarabad on the arrangements to be made on the occasion of party national president Amit Shah's visit to the State on July 13.