Move afoot on Hyderabad night safari park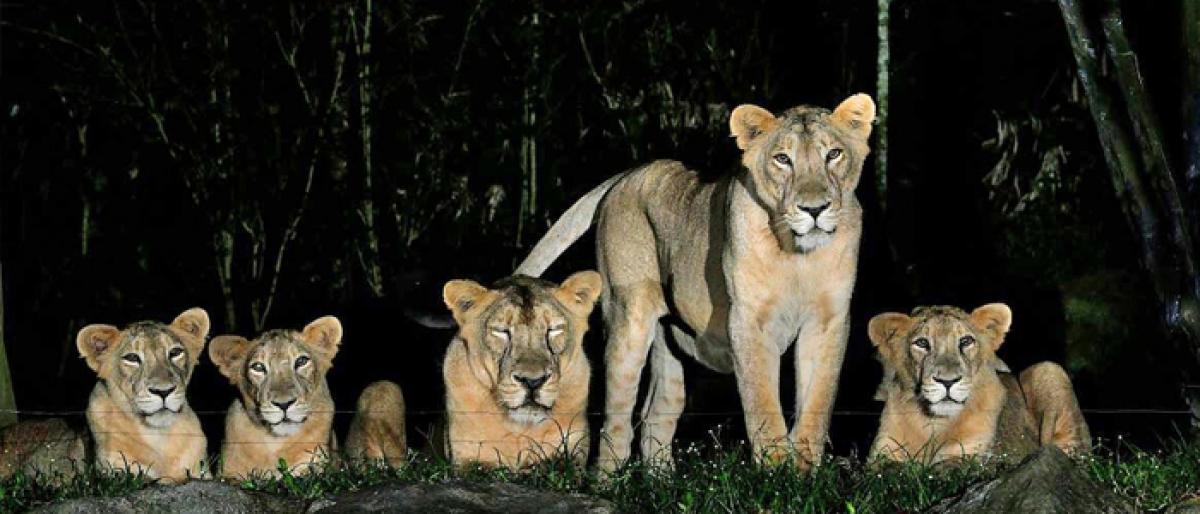 Highlights
Night Safari Park, a zoo that comes alive at night, location in Hyderabad is an ambitious project of Municipal Administration and Urban Development Minister K T Rama Rao The government wants to set up this nocturnal wildlife park at Kothwalguda, adjacent to Himayat Sagar lake on city outskirts A sprawling 85 acres of land is in possession of HMDA, where the safari park is proposed to come up
​Hyderabad: Night Safari Park, a zoo that comes alive at night, location in Hyderabad is an ambitious project of Municipal Administration and Urban Development Minister K T Rama Rao. The government wants to set up this nocturnal wildlife park at Kothwalguda, adjacent to Himayat Sagar lake on city outskirts. A sprawling 85 acres of land is in possession of HMDA, where the safari park is proposed to come up.
To study feasibility of the project and to estimate budget, operation costs involved etc, a high-level delegation led by Principal Secretary (MAUD) Arvind Kumar and including HMDA Commissioner T Chiranjeevulu left for Singapore on Thursday night. It will visit the famous Night Safari Park in Singapore, which has become a major tourist destination there.
"The Night Safari park will have nocturnal animals. However, unlike an ordinary zoo in which visitors walk around, this facility would have a tram ride. Visitors will get to watch nocturnal wildlife as the tram makes its way around the entire park.
"We will go around the Singapore park and then sit with its designers and officials to get a clear understanding of the project," Chiranjeevulu said ahead of departure. Opened in 1994, the Night Safari Park in Singapore is world's first safari park for nocturnal animals. Home to over 2,500 animals of over 130 species, it spans across 35 hectares of forests. TS officials are hopeful of finding different local animal species which can get acclimatised to Indian climate, to be housed in the proposed park.
The Telangana government is keen to promote tourism in the state and make Hyderabad a recreational and tourism hub. Previously, HMDA planned an eco-tourism Park at Kothwalguda village in Gandipet mandal.
It may be mentioned here that KTR recently held talks with Bernard Harrison and Alexander Stingal from Bernard Harrison & Friends Limited (Singapore) about setting up his pet project in Hyderabad.
The Singapore firm was associated with developing the existing park in about 40 hectares. The Minister wants TS delegation to learn all they could about night safari park in Singapore, so that their inputs would help turn Hyderabad park a unique one in the country. The proposed site is strategically located near ORR and Himayat Sagar. A Singapore team also visited the site and expressed satisfaction over the site.
It is learnt that the Minister has directed officials to prepare concept and designs by September-end and prepare proposals to make the park financially viable and a novel recreational project. On Singapore firm's involvement in the project, Chiranjeevulu said that they would call for technical inputs from the foreign experts.
Kothwalguda site is in bio-conservation zone and the government of the united state had planned an eco-tourism project there in 2013, but the project could not take off due to paucity of funds. The Telangana delegation will also visit Kuala Lumpur to visit a logistics hub facility. The TS government is planning one in a big way at various locations off the Outer Ring Road.
Interested in blogging for thehansindia.com? We will be happy to have you on board as a blogger.