Doctors at war cast cloud on recruitment drive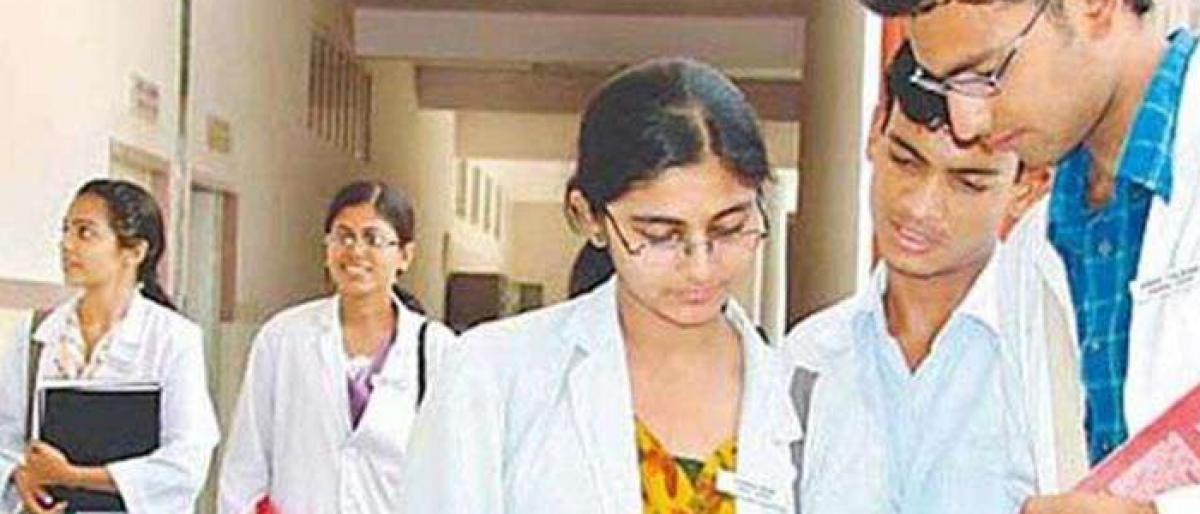 Highlights
After the mass recruitment of over 900 doctors to work in area and district hospitals as well as CHCs community health centres through Telangana Vaidya Vidhana Parishad, the Health department has shifted its focus towards filling of over 500 posts in Primary Health Centres in rural areas that come under Directorate of Public Health and Family Welfare However, it is bogged down by legal rift be
​Hyderabad: After the mass recruitment of over 900 doctors to work in area and district hospitals as well as CHCs (community health centres) through Telangana Vaidya Vidhana Parishad, the Health department has shifted its focus towards filling of over 500 posts in Primary Health Centres in rural areas that come under Directorate of Public Health and Family Welfare. However, it is bogged down by legal rift between junior doctors and contract doctors already in service.
It may be mentioned here that the government took decision towards end of 2017 to fill 521 Civil Assistant Surgeon posts (MBBS qualification with no specialisation required) in Directorate of Public Health by giving weightage to doctors presently working in PHCs in districts based on number of years of service.
However, Telangana Junior Doctors Association took objection to this weightage condition, which they felt was loaded in favour of already working doctors, and hence went to High Court. With the matter still pending in court, efforts are on to get it resolved amicably between both parties paving way for recruitment.
There are nearly 350 contract doctors working in PHCs with seniority up to eight years. In addition, there are nearly 700 MBBS doctors from the State working in co-ordination with PHCs in all districts, especially in TB, HIV campaigns, as part of NRHM (National Rural Health Mission) project of Central government.
The merit list was proposed to give 75 per cent weightage for MBBS marks, five marks at 1 mark per each completed year after acquiring requisite qualification (MBBS) and finally 20 marks given to candidates who are working as Civil Assistant Surgeons on contract basis. The final condition was strongly opposed by junior doctors in the court.
With no major recruitment by government from 2013 onwards, the junior doctors did not wish to let go any opportunity and understandably they were very upset with decision to give weightage to working doctors as it would deprive them of jobs straightaway.
Health Minister Laxma Reddy and top officials of the department held a series of discussions with representatives of contract doctors and junior doctors associations in the last two weeks. Citing the fresh recruitment by TVVP in which 919 doctors, majority of whom are junior doctors completing PG or in their final year, the department and contract doctors association have appealed to the former to withdraw the case and pave way for recruitment process to fill doctors in PHCs in all districts.
"TVVP recruitment has benefitted junior doctors and they are a relived lot now. Hence, we requested them to cooperate and do not oppose service weightage condition of 20 marks," a contract doctor said. Meanwhile, members of TJUDA (Telangana Junior Doctors Association) stated that they have to sit and discuss and arrive at a consensus before announcing final decision.
"As a special case and on humanitarian grounds, the contract doctors association have requested us to cooperate. They said they have left families and staying in rural and remote areas to render service to public. All stakeholders from junior doctors association will sit and arrive at a decision," TJUDA chairman Dr PS Vijayender Goud said.
Interested in blogging for thehansindia.com? We will be happy to have you on board as a blogger.