MIM eyeing 3 TRS Assembly seats to widen base in Hyderabad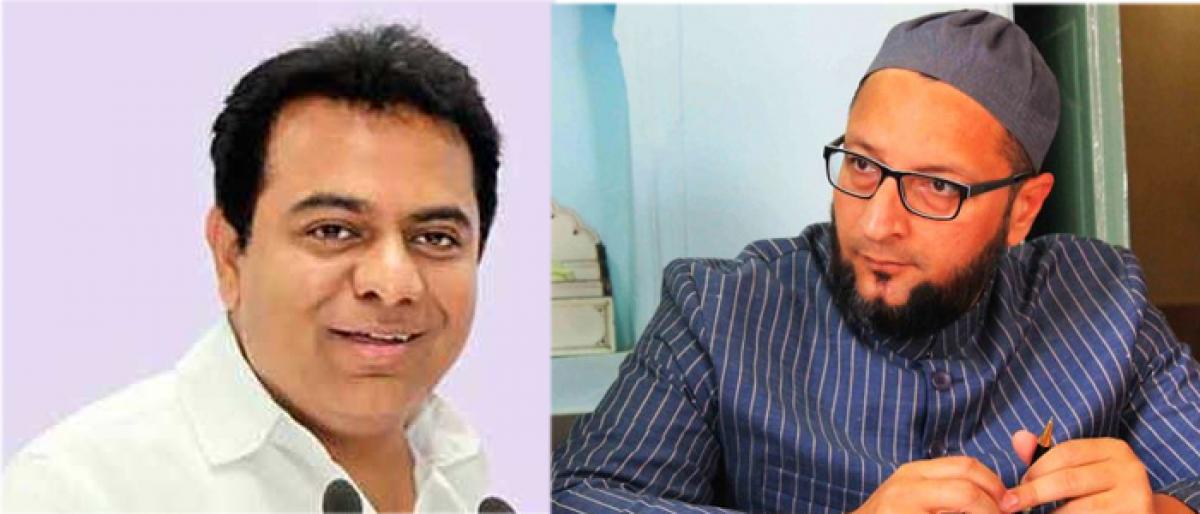 Highlights
The MajliseIttehadul Muslimeen, apparently with the intention of expanding its presence in the city, is understood to have urged the ruling Telangana Rashtra Samiti to leave three more Assembly seats for it to contest, apart from the seven Assembly constituencies held by the party
​Hyderabad: The Majlis-e-Ittehadul Muslimeen, apparently with the intention of expanding its presence in the city, is understood to have urged the ruling Telangana Rashtra Samiti to leave three more Assembly seats for it to contest, apart from the seven Assembly constituencies held by the party.
In the Old City, which has been the bastion of the Majlis over the years, the party presently holds seven seats. Now the party is planning to expand its base in other parts of the city. The party feel that results of the Greater Hyderabad Election Municipal Corporation elections indicate that the party has substantial support in certain other parts of the city.
According to sources, MIM chief Asaduddin Owaisi had a meeting with Municipal Administration Minister K T Rama Rao.
During the meeting, the former is learnt to have sought three Assembly seats. The MIM chief's reasoning is that TRS is either weak or not strong in these three constituencies; and, hence, the seats are better left to MIM for the next elections. Sources said that the MIM chief had sought Jubilee Hills, Amberpet and Rajendranagar.
The MIM has been eyeing the three seats ever since the party fared well in most of the divisions in GHMC polls. The party has either won or stood second in the election.
The Rajendranagar constituency is represented by Prakash Goud, who won on TDP ticket and later joined TRS. The Jubilee Hills constituency is represented by Maganti Gopinath, who has also made entry into TRS from TDP.
The MIM candidate from Jubilee Hills Naveen Yadav stood second and Zakeer Hussain Javid secured just over 49,000 votes in the 2014 elections in Rajendranagar. Amberpet is represented by G Kishan Reddy of BJP. Here the MIM has won a substantial number of voters. Leaders of the ruling party said that they may consider the MIM's request because the TRS had left one division (Jambagh) in GHMC for the MIM on the latter's request.
At a recent party meeting, Rama Rao disclosed that based on senior Owaisi's request it had left the Jambagh seat. In the GHMC elections, the TRS had not insisted on recounting for the Jambagh seat when the MIM had asked it to leave it to them. Therefore, the TRS could leave three seats for the MIM as the TRS is anyway not strong in those segments.
When a reporter raised MIM's plan at a recent interaction with journalists, Rama Rao said that there was nothing wrong if a party draws up plans for expansion. Every political party wants to increase its footprint, he reasoned.