Telangana inching towards Golden State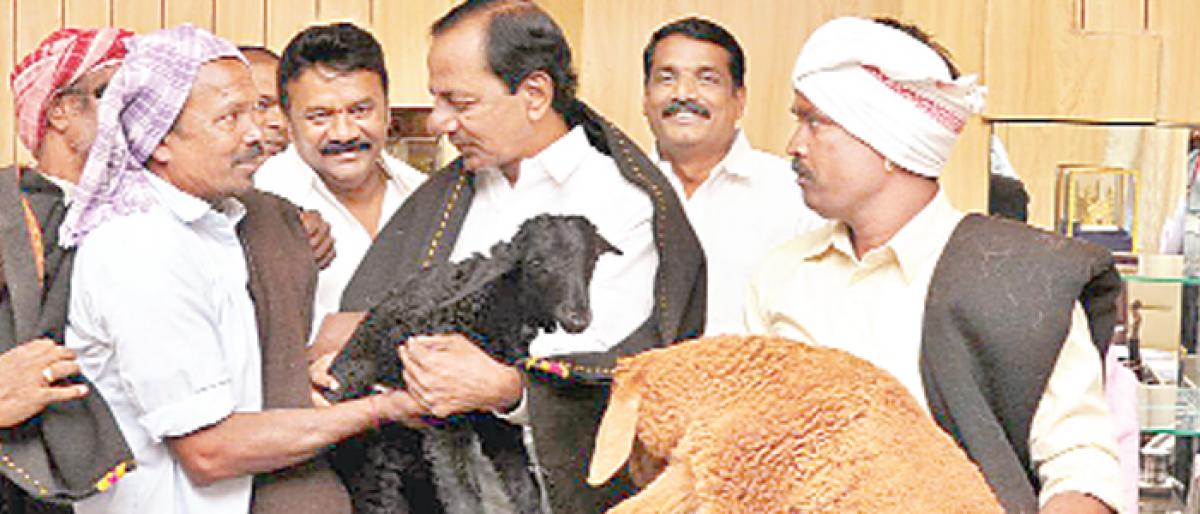 Highlights
Telangana State is moving ahead of other States in providing social and economic security to the poorer sections in the State Aiming to achieve Bangaru Telangana Golden Telangana Chief Minister K Chandrashekar Rao has accorded top priority to the welfare of all sections, mainly Backward Classes, Scheduled Castes, Scheduled Tribes, Minorities through many schemes under which they are provide
​Hyderabad: Telangana State is moving ahead of other States in providing social and economic security to the poorer sections in the State. Aiming to achieve "Bangaru Telangana" (Golden Telangana) Chief Minister K Chandrashekar Rao has accorded top priority to the welfare of all sections, mainly Backward Classes, Scheduled Castes, Scheduled Tribes, Minorities through many schemes under which they are provided financial assistances and educational opportunities.

On the pension scheme alone meant for different sections, mainly people in old age, widows, toddy-tappers, weavers, beedi rollers, single women, AIDS and filariasis patients, government spent Rs 5,300 crore in 2017-18. The total number of beneficiaries under the pension schemes is nearly 40 lakh.
The Kalyana Laxmi-- Shaadi Mubarak scheme introduced to provide Rs 1,00,116 for performing marriages of girls belonging to the poorer sections of the society has become a big hit welfare programme in the country as many other States emulated Telangana State to contain the growing incidence of female foeticide. Under the scheme launched in 2014, a total of 4,02,000 beneficiaries got the government's assistance. One lakh each from Minorities and SCs and 1.35 lakh from BCs and 63,000 from the ST community were among the beneficiaries.
Six kgs of rice per head per family scheme helped the poor families to avail themselves of food grains at cheaper price. The State government is supplying 1.74 lakh metric tonnes of rice at Rs 1 per kg to 2.74 crore beneficiaries through 17,200 ration shops to 85,28,031 lakh ration cardholders. For this, the government is bearing the Rs 5,413.41 crore subsidy burden every year.
Aiming to provide more educational and employment opportunities in the government sector in proportionate to the populations, KCR government already adopted resolutions in the Assembly demanding increase in reservations to the underprivileged sections. The government is fighting with the Centre in support of its demanding 10 per cent reservation for the STs, 25 per cent to BCs (BC A-7 percent, BC B-10 per cent, BC C- 1 per cent and BC D-7 percent) and 12 per cent for Muslims under BC (E) category.
The government is taking all proactive measures for comprehensive development of BCs who constitute 52 per cent (1.82 crore) of the State's population in Telangana State. The allocations for their welfare has been increased for the last four years. A total of Rs 2,172 crore was allocated for BC welfare in 2015.16, Rs 2,537 crore in 2016-17, Rs 5,070 crore in 2017-18 and Rs Rs 5,918.83 crore has been earmarked in the current year.
The Government has also given permission to bring in special schemes for the most Backward Classes at a cost of Rs 1,000 crore. Sheep distribution scheme, supply of fingerlings free of cost, Netannaku Chyutha saving scheme for weavers and other community based financial assistance schemes targeting the communities who adopted traditional occupations for their livelihoods brought a big change in the lives of the beneficiaries. During 2018-19 budget the government has allocated 250 crores for Nayi Brahmin Federation to set up modern saloons.
For Brahmin welfare Rs 200 crore was allocated in the State budget. The opening of new residential schools exclusively for SC, ST and Minorities in every mandal to ensure educational opportunities for the children from elementary to college level. The decision to open 190 residential schools for BCs was part of the government's target to achieve 100 per cent literacy in the State.
Aiming to make Telangana State a 'Complete Healthy State' for the good health of the 'Mother and Child,' KCR kits (worth 15,000) distribution scheme was launched in 2017.