Balka Suman's poll campaign turns gory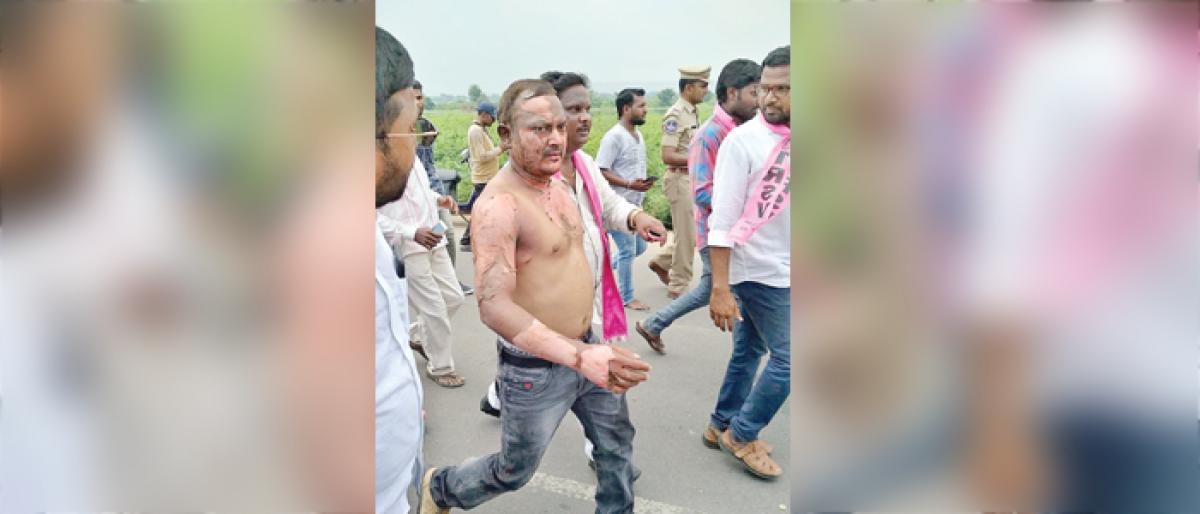 Highlights
A follower of former MLA Nallala Odelu, Regunta Gattaiah, allegedly attempted suicide on Wednesday at Indaram village of Jaipur mandal in the presence of Balka Suman, who has been nominated for the TRS ticket in the upcoming Assembly elections ignoring Odelu
​Mancherial: A follower of former MLA Nallala Odelu, Regunta Gattaiah, allegedly attempted suicide on Wednesday at Indaram village of Jaipur mandal in the presence of Balka Suman, who has been nominated for the TRS ticket in the upcoming Assembly elections ignoring Odelu.

Gattaiah poured petrol on his body and also some others standing nearby and set himself on fire. The incident occurred as some women activists were about to welcome Suman along with MLC Puranam Satish for the launch of poll campaign. TRS activists, leaders and followers of Suman were present on the occasion. Following the suicide bid, the gathering ran helter-skelter. Several activists were injured in the incident. Circle Inspector Narayana Naik, who was on 'bundobast' duty for Suman, pushed him out ensuring his safety.
The CI himself sustained burn injuries on hands. Among those injured were Rajeshwari, wife of MPTC member Srinivas, who was about to welcome Suman, two photographers and a videographer. The injured persons were rushed to the government hospital here. Those with serious burns were shifted to Yashoda Hospital, Hyderabad.
Party activists Chekurthi Satyanarayan Reddy, Jakkula Venkatesh, Sunkara Vimala, Nikhita, Thogari Srinivas, Zainuddin, Jakkula Gangamani, Chunchu Rajaiah, Bhaskarla Srikanth and MPTC member Srinivas were injured in the incident.
The injuries were caused after Gattaiah allegedly threw petrol on others, while making suicide attempt. Odelu was learnt to have left for Hyderabad after the TRS president and caretaker Chief Minister K Chandrashekar Rao gave him appointment on Wednesday.
Meanwhile, Balka Suman told press persons that he would continue his campaigning. Referring to the suicide attempt, he alleged that a bid was made to murder him, while reiterating his resolve to remain in the fray.