Swaroopa unanimously elected as Bellampally civic chief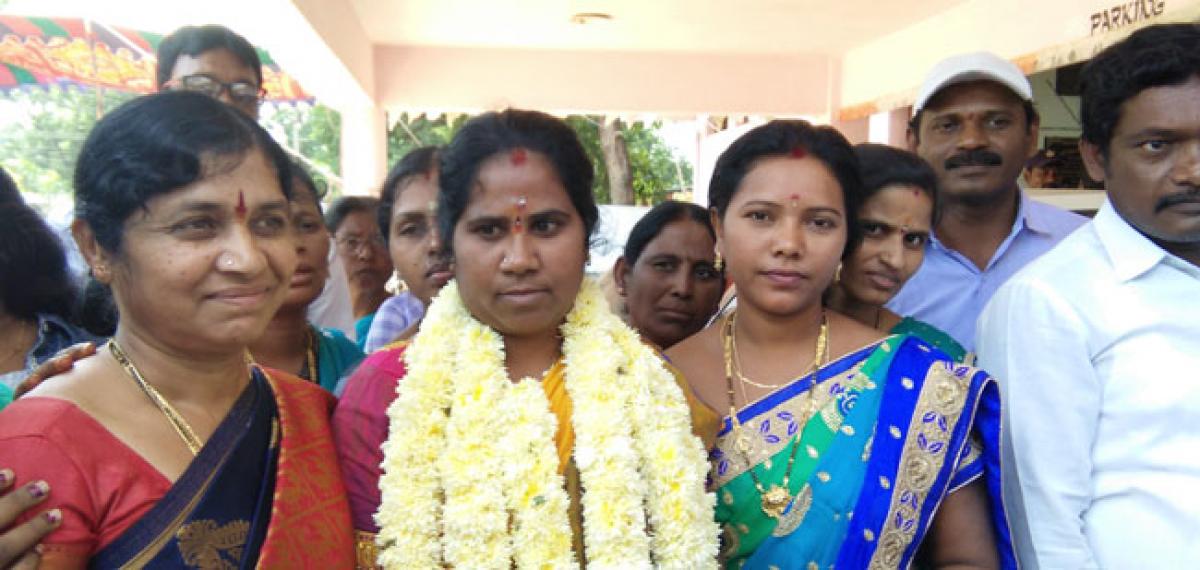 Highlights
Manimanda Swaroopa Rani was unanimously elected as Bellampally Municipal Chairperson thereby ending the twomonthlong political drama
Mancherial: Manimanda Swaroopa Rani was unanimously elected as Bellampally Municipal Chairperson thereby ending the two-month-long political drama.
The councilors moved no-confidence motion against former municipal chairperson Pasula Sunita Rani and set up a special camp. 21st ward councilor Munimanda Swaroopa Ramesh allegedly took the responsibility of unseating Sunita Rani and reportedly brought 30 councilors on a single rope by taking them to various secret places in about one month.
The councilors didn't obliged the advices of MLA Durgam Chinnaiah, MP Balka Suman and other ministers against no-confidence motion. Finally they submitted no-confidence letter to Joint Collector and Sunita Rani lost her chairperson post.
The Election Commission announced that the chairman election will be held on September 17. Following this, Sub-Collector Rahul Raj organized a special meeting on the day, where 24 councilors had unanimously elected Swaroopa Rani as the chairman. The Sub-Collector handed over the certificate to her.
Several Cis and Sis, under the guidance of Bellampally ACP Balu Jadav, arranged security to ensure no untoward incidents to take place during the election.
Supporters of Swaroopa Rani burst crackers outside the municipal office soon after her election was announced. Speaking on the occasion, the new Chairperson thanked the councilors for electing her and promised to strive for developing the civic body.
Ramesh had managed to bring together 30 councillors after taking them to various areas during a month, holding camps. He did not relent although MLA Durgam Chinnayya and MP Balka Suman had advised the ruling party councilors not to press the no-confidence motion.
Chinnayya also suffered humiliation for getting involved on the unsavoury episode. The disgruntled councilors handed over the motion to the Joint Collector. Following its approval Sunitarani was unseated.