Philosophical Harish spurs debate on TRS politics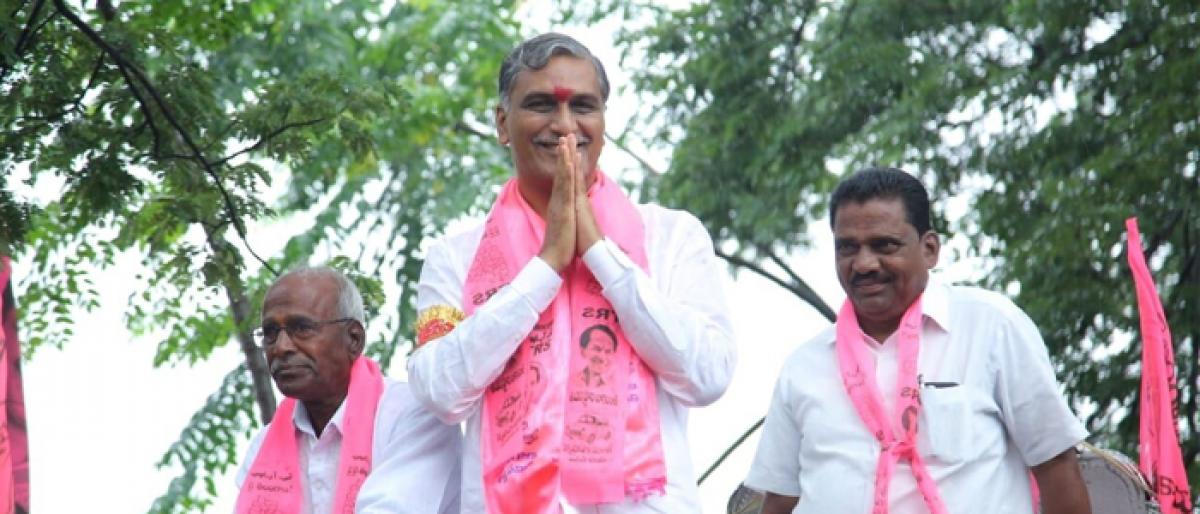 Highlights
Irrigation Minister T Harish Rao on Friday took everyone by surprise when he suddenly became philosophical about the transient nature of political power and the process of elections
​Hyderabad: Irrigation Minister T Harish Rao on Friday took everyone by surprise when he suddenly became philosophical about the transient nature of political power and the process of elections.
Even as the people, who attended a meeting in his adopted village of Ibrahimpur in Siddipet Assembly segment, were wondering what had prompted him to turn philosophical, Harish Rao kept saying that he valued the support of the people of his constituency more than anything else, including political power. Though it was raining, a number of people had gathered at a place in Ibrahimpur to listen to Harish Rao who came to the village on a horse carriage for campaigning.
With village after village declaring that there was no need for anyone to visit them for votes since they had decided to support Harish Rao, he turned emotional and said: "I will be indebted to you forever for the love and affection you are showering on me. At times I feel that this is the time for me to leave public life when your love for me is still intact rather than doing it later.
What does one need in one's life? This satisfaction is enough for me. All my life, I will not forget the respect and love you have shown. I don't think I can ever repay your debt and I don't think I could be happier ever than now." Rao said that he wondered if he was dreaming when he heard about the entire village resolving to vote for him. "Generally, leaders visit people during elections but here people are calling on the leaders and extending support," he said.
Later, Harish Rao's comments triggered a debate on whether he was disenchanted with the TRS dispensation or whether he was really overcome by emotion.
A few TRS leaders felt that Harish Rao has of late been sidelined in the party. They said that at a time when villages are adopting resolutions declaring support to him, not much coverage is being given in the media close to the ruling party.
When the party organised a mammoth public meeting at Kongara Kalan, no major responsibility was given to Harish Rao, an important leader in the party. "It was KTR's show all the way," one leader said. The leaders said that till now there has been a healthy competition between Harish Rao and K T Rama Rao. But lately, the party is entrusting more responsibilities to KTR than THR. In the past too, he was given the responsibility of GHMC elections.
In this backdrop, Harish Rao's comments have become fodder for thought for TRS activists whether there was more to it than what meets the eye. They argue that if important leaders of the likes of Harish Rao are marginalised, it might affect the party's fortunes in elections.
Interested in blogging for thehansindia.com? We will be happy to have you on board as a blogger.