Mahakutami inches towards deal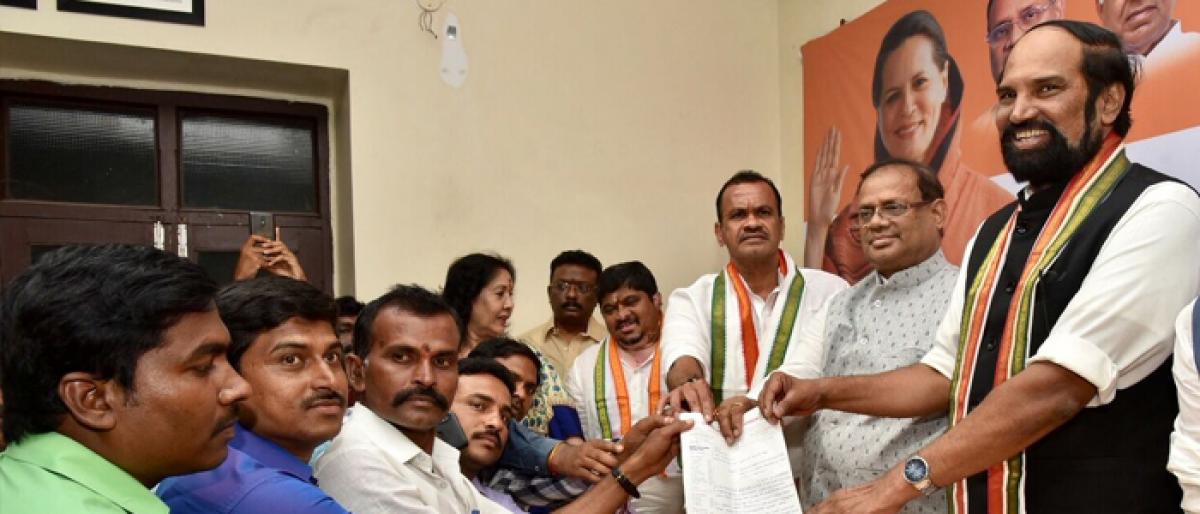 Highlights
The process of seat sharing between Telangana Congress and the alliance partners seems to be inching forward The emergency meeting chaired by TPCC president N Uttam Kumar Reddy is learnt to have come to a decision that they should sacrifice some of the constituencies to the alliance partners if need be
​Hyderabad: The process of seat sharing between Telangana Congress and the alliance partners seems to be inching forward. The emergency meeting chaired by TPCC president N Uttam Kumar Reddy is learnt to have come to a decision that they should sacrifice some of the constituencies to the alliance partners if need be.
The meeting, which was also attended by TPCC office-bearers, committee members and DCC presidents at Gandhi Bhavan, discussed in detail about the demands being put forward by the alliance partners like TDP, CPI and Telangana Jana Samiti headed by Prof Kodandaram. The party in-charge RC Khuntia also attended the meeting.
The meeting felt that since the main aim of the Congress was to defeat the TRS and they being the major partners in the alliance, they should adopt the policy of give and take and accommodate the partners' demand to the extent possible. With a kind of agreement among Mahakutami partners, the Congress is likely to announce a list of about 40 seats on October 5.
If the Congress has to forego some of the seats where it perceives that it is stronger than other parties, it may lead to disappointment of the party rank and file in those seats. Hence, to avoid any rebel trouble, the TPCC chief appealed to the leaders to be restraint during the allotment of the seats.
Those who may have to sacrifice their seats need not get disappointed as the party will reward them with plum posts in the party and government after it comes to the power. It may be mentioned here that the TDP is demanding 15 seats, Telangana Jana Samithi - 12, and the CPI five seats.
Leaders said that Uttam and Khuntia will meet the ticket aspirants before finalising the seats to the poll partners. The three-member screening committee headed by Bhakta Charan Das will zero in on the candidates' names after the seat sharing between the partners is finalised. The committee will sort out the issues regarding the allotment of the tickets to the leaders if the number of aspirants are more.