Prisoners told to introspect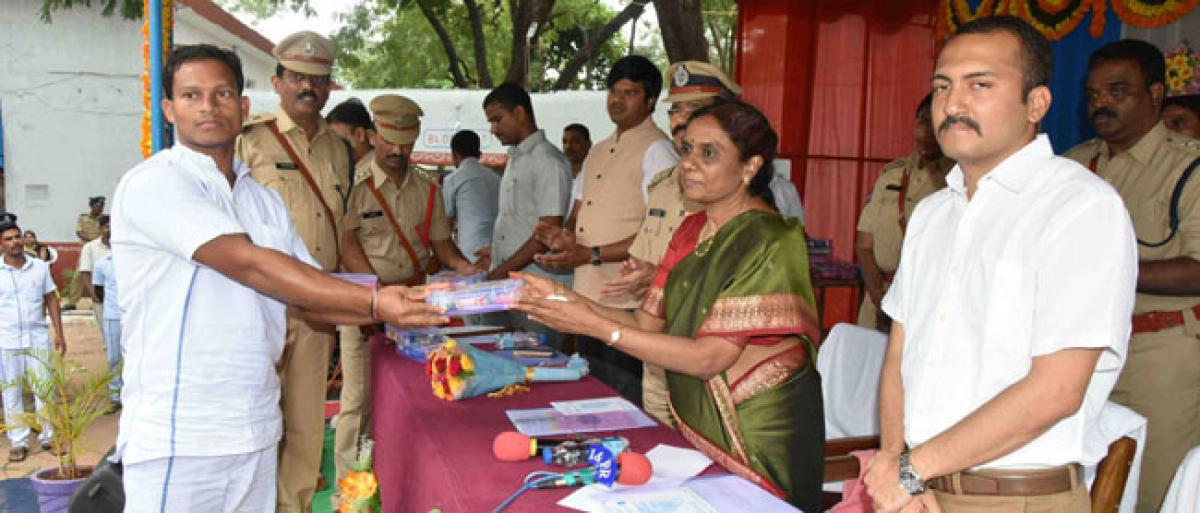 Highlights
District Sessions Judge E Tirumala Devi here on Tuesday exhorted the convicts to go for introspection about their life while they were outside and inside the jail She was participating in the Prisoners Welfare Day programme held to mark the birth anniversary of Mahatma Gandhi at Warangal Central Jail here on Tuesday
Warangal: District Sessions Judge E Tirumala Devi here on Tuesday exhorted the convicts to go for introspection about their life while they were outside and inside the jail. She was participating in the Prisoners' Welfare Day programme held to mark the birth anniversary of Mahatma Gandhi at Warangal Central Jail here on Tuesday.
Addressing the prisoners, Tirumala Devi said, "The Warangal Central Prison is working on the lines of the statement given by Mahatma Gandhi "Hate the crime not the criminals". The atmosphere in the jail is pleasant and the place turned out as a training centre for these prisoners.
The talent and discipline among the prisoners is evident from the products they produced, she said and advised the prisoners to forget about the mistakes committed in their earlier life and pave a golden way for their future by taking necessary training in the prison.
A person who has responsibility towards his family will not resort to wrongdoing, she said, asking the prisoners to think about the victims' families besides their own. The judge recalled that she too faces lot of mental stress while punishing a criminal as a judge. However, she has the responsibility towards society to punish the criminals.
Urban District Collector Prashanth Jeevan Patil said every individual after serving a jail term has to think about earning good name in the society. They should think twice about their family and children and their future. They too are planning to admit the children of the convicts in social welfare hostels and Gurukul schools to provide quality education to them.
He felt that there is good demand for the products prepared by the convicts and the district administration would help them to set up self-employment units after completion of their sentence.
"Those who are working on looms and preparing handloom clothes would be provided the benefits all the government schemes," he said. Commissioner of Police V Ravinder and Municipal commissioner V P Gautham were among others present.
Later, prizes were distributed to the winners in various sports and games as part of Prisoners' Welfare Day. The mimicry, orchestra and other cultural activities enthralled the audiences on the occasion.
All the remand prisoners collectively participated in the Haritha Haram programme. Later, the judge inaugurated the 'Kanti Velugu' programme for the prisoners. Earlier, she garlanded the statue of Mahatma Gandhi.