KTR rips into Congress for aligning with TDP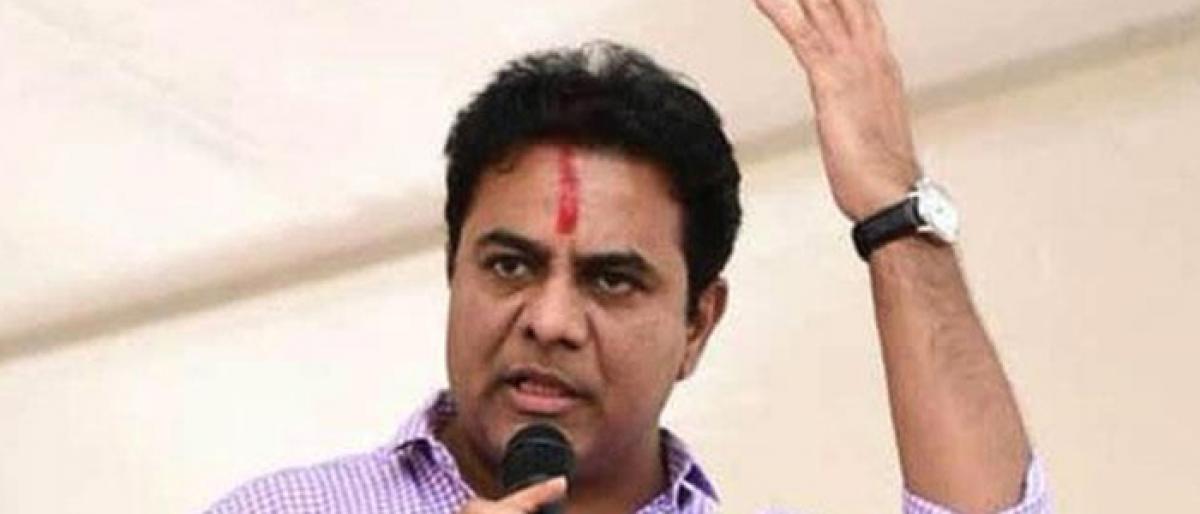 Highlights
Caretaker Minister for Municipal Administration K T Rama Rao here on Saturday launched an allout attack on the Congress and Mahakutami parties He said he had fully agreed with the statement made by the State Congress leaders that forthcoming Assembly election is a battle between people and a family Elaborating on statement, he said battle lines are drawn between Gandhi family vs Telangana peopl
​Hyderabad: Caretaker Minister for Municipal Administration K T Rama Rao here on Saturday launched an all-out attack on the Congress and Mahakutami parties. He said he had fully agreed with the statement made by the State Congress leaders that forthcoming Assembly election is a battle between people and a family. Elaborating on statement, he said battle lines are drawn between Gandhi family vs Telangana people.
Rahul Gandhi family took the people of Telangana for a ride from 1956 to 2014. The Congress is pitted against the people of the State now. In no-holds barred speech at TRS student union extended meeting held at Telangana Bhavan, KTR said the Congress leaders are stooping so low in their comments and criticism and called upon people to teach a fitting lesson to them with the help of their vote. TPCC chief N Uttam Kumar Reddy and other leaders are terming KTR as "baccha" whenever they are cornered, KTR said, adding that it is these "bacchas" (referring to student leaders in the gathering) who fought actively and ensured statehood dream was achieved.
"Uttam Kumar Reddy calls himself a "Sainik." But where was this "Sanik" at the peak of Telangana agitation when students and youth sacrificed their lives for the cause," he asked. He was highly critical of election promises being made by TPCC. These promises, KTR said, would be difficult to fulfil even if budget of all South Indian States was put together. Uttam's words are "uttuthhi maateley" (empty words) and difficult to implement, he added.
KTR minced no words in criticising Mahakutami, which he labelled as "Jaffa Kutami". " Some leaders are asking why TRS aligned with Congress in 2004 and and TDP in 2009 elections. They should remember that the TRS entered into pact with those parties only after they agreed to support statehood demand and voice aspirations of Telangana people.
Interested in blogging for thehansindia.com? We will be happy to have you on board as a blogger.