Mahakutami Hatao, Telangana Bachao, says Harish Rao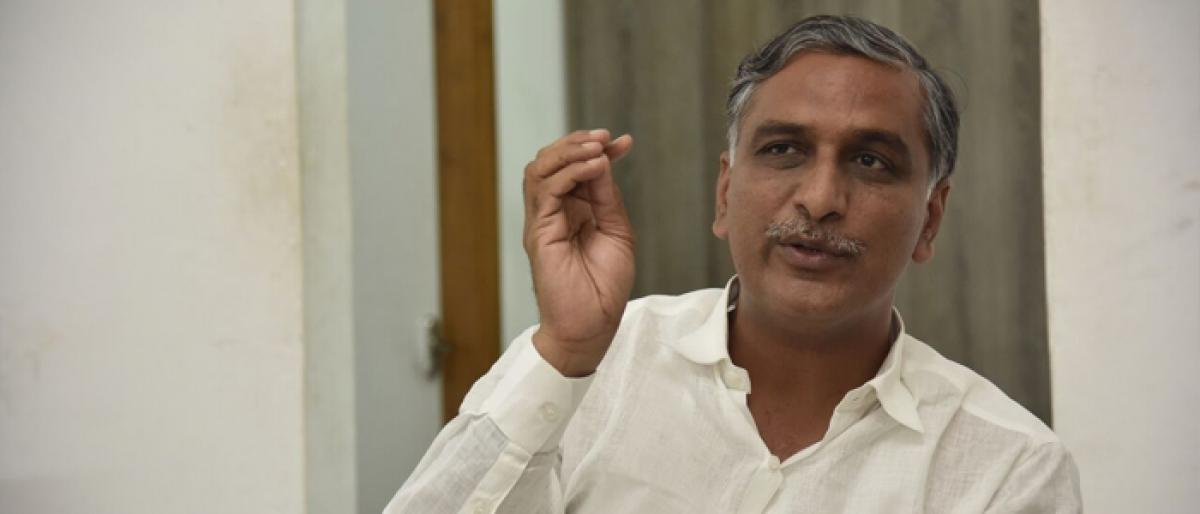 Highlights
Caretaker Irrigation Minister T Harish Rao, an important functionary in both TRS and the government, sees the ensuing Assembly elections as a contest between those who are committed to development and those who want to derail the process He wants the people to kick the Mahakutami out and save Telangana with the slogan, Mahakutami Hatao, Telangana Bachao
​Hyderabad: Caretaker Irrigation Minister T Harish Rao, an important functionary in both TRS and the government, sees the ensuing Assembly elections as a contest between those who are committed to development and those who want to derail the process. He wants the people to kick the Mahakutami out and save Telangana with the slogan, "Mahakutami Hatao, Telangana Bachao".
Excerpts
How is the campaign going on and how many seats the TRS is going to win?
The TRS leaders are in the field for the last one month and Chief Minister K Chandrashekar Rao has announced 105 candidates, which shows the strength of the party. Definitely we are going to win more than 100 seats and going to come to power again. KCR's graph is highest in the country. When people come to vote, they will have to make a choice between KCR and Uttam. Who will they favour? Answer is obvious, it's KCR.
Will you restrict yourself to Siddipet or will you tour the entire State?
Whatever Chief Minister KCR says and whatever my party orders, I will do. If party wants me to campaign in other places, I will do it.
You are talking about 1 lakh majority in Siddipet this time and what it takes to get villages adopting resolution in your support?
These are blessings of people. I always feel my constituency people as my family. The majority has increased every time I have contested from Siddipet. This is because, whether it is elections or not, I work every day in my constituency. I worked for the people in the last the five years and I will be with be them in their good and bad times.
There has been a lot of difference between Harish Rao of Telangana movement and Harish Rao of government. Why is it that Telangana movement spirit is lacking now?
That was a movement and this is government. Telangana movement means 'josh', and government means administration.
The Mahakutami has given a call for 'KCR Hatao, Telangana Bachao'. What do you have to say?
It is more applicable to them. The slogan should be, "Mahakutami Hatao, Telangana Bachao". Because, Mahakutami will be in the Andhra Babu's hands, we will lose our self-respect. We will again go into the hands of people who want to defeat Telangana. If people think that Telangana should not go into the hands of these leaders, then they will have to defeat Mahakutami.
Do you really think Mahakutami as a threat? Why there is all out attack when TRS is slated to win over 100 seats as claimed by your party leaders?
Whatever it may be, definitely TRS is going to win. But, there is a responsibility on us to explain to people why they have to vote for TRS and why they should not vote for Mahakutami. KCR is trying to make people stand, whereas Chandrababu Naidu wants to defeat people of Telangana. Naidu wants to prove that Telangana is a failure story. We are proving Telangana is success State with fastest growth rate, highest welfare activities etc.
The Congress party leaders are saying that it is a battle between KCR's family and people of Telangana. What do you have to say?
The Congress party has no subject to talk and hence, it is bringing the family issue to the fore in the elections. It is not KCR's family vs people of Telangana. The Congress leaders have no courage to talk on development. They will not come for a discussion on the four years of development during TRS regime and 10 years rule of Congress. The charge of family rule applies to Congress more.
Telangana was fought on tagline of water, funds and appointments (Neelu, Nidhulu, Niyamakalu), has your government addressed these?
We have achieved all three. The Congress party had ruled from 2004 to 2014. In 10 years, the Congress gave water to 4 lakh acres, whereas TRS within four years gave water to 12 lakh acres. Apart from these, under Mission Kakatiya and rejuvenation of tanks, another 12 lakh acres were stabilised. Kaleshwaram has been completed to an extent of 90 per cent. In few months, another 37 lakh acres will get irrigation waters. We are targeting next June and by that time, another 37 lakh acres will come under irrigation. The change is already evident in Mahbubnagar where 8 lakh acres were irrigated and this has resulted in reverse migration. We can see real change in Mahbubnagar today.
The JAC leaders say that Kaleshwaram project is a big re-design blunder, what do you have to say?
There is no clarity with JAC. They are only involving in mudslinging. Our plans are approved by Central Water Commission (CWC) and 18 directorates have approved. Initially, Kaleshwaram was Pranahita Chevella during Congress rule. Why it could not get permissions even though there were Congress governments in State and at the Centre? They said they would construct in four years, but there were no permissions.
The same CWC sent a letter stating that the water availability at Tummidi-Hatti is less and it would require artificial reservoirs or the government should increase capacity of existing reservoirs. On the recommendations of CWC, we have done changes and that is why we got all the clearances like forest, environmental and others. There is BJP government at the Centre.
There is a sense of unhappiness in unemployed as they allege the government did not even take up DSC? And employees also seem to be unhappy?
It is wrong to say employment is not given. We have started hundreds of residential schools and made thousands of teacher appointments in these residential schools. As far as employment is concerned, already 34,000 posts were filled and another 84,000 posts are under process. Recently, zones were approved and this is a big process. We are almost nearing one lakh posts as promised.
We would have achieved the target during the last six months. With regard to employees, majority of them are happy. Telangana employees get maximum salary in the country. The employees here get even more than Central government employees. There are no harassments against employees in Telangana. We have increased salaries of contract, Anganwadi, outsourcing and others. The temple employees were also given salaries through treasury.
On allegations of opposition parties that the government failed to implement promises like drinking water, double bedroom etc?
There is nothing left with them except for these two issues. We agree that the progress of double bedroom houses is slow. We did not keep Mission Bhagiratha in our manifesto. However, 90 per cent of Mission Bhagiratha is completed, and soon will be reaching houses.
In double bedroom housing scheme, there were some issues and there was impact because of some decisions of Central government and also the cost of steel and cement prices which had gone up. However, construction of 1.5 lakh houses are under advance stage and at many places 'Gruha Pravesham' is also going on. We are working on some better policy in our new manifesto.
The Congress manifesto seems to be attracting. What is in store in TRS manifesto? Will there be another loan waiver?
Let our manifesto come, it will be more attractive. Regarding loan waiver, how can I tell at this moment? It is our party men who will be taking the decision and will be known after the manifesto comes out.