Kutami raring to queer pitch for MIM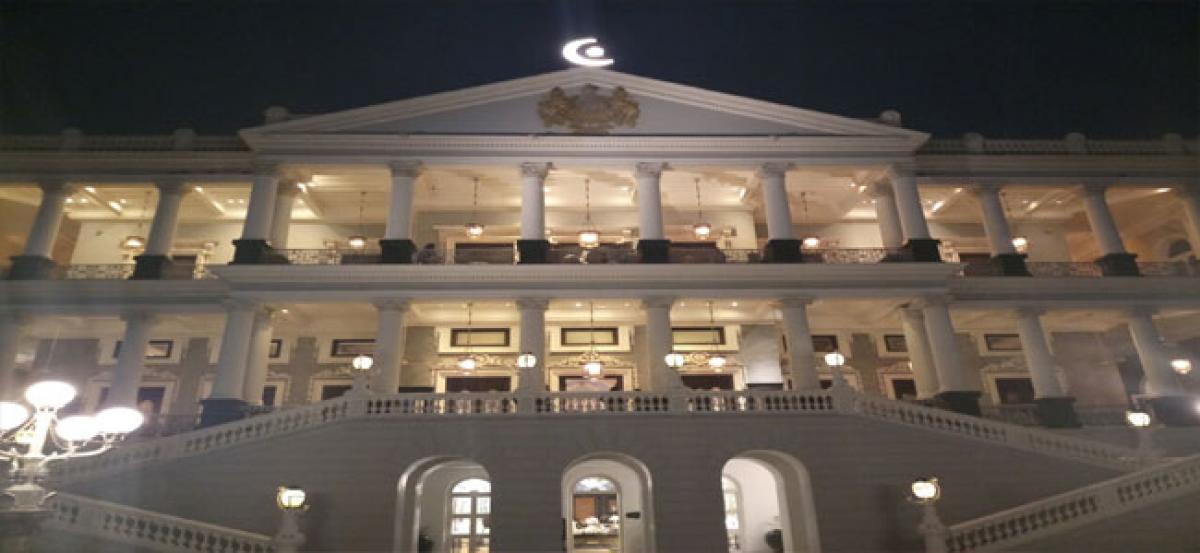 Highlights
Even as Mahakutami is yet to finalise its candidate for Bahadurpura, the MIM Majlis Ittehadul Muslimeen has geared up to rewin the constituency without much effort, unlike other constituencies
Hyderabad: Even as 'Mahakutami' is yet to finalise its candidate for Bahadurpura, the MIM (Majlis Ittehadul Muslimeen) has geared up to re-win the constituency without much effort, unlike other constituencies. Even though BJP and TRS have officially announced their candidates, according to sources, the battle will be most likely fought between the MIM and Mahakutami's Congress probable Esa Misri. Recently, the incumbent has shown intolerant attitude towards any contender who could be strong enough to eat into some of MIM's traditional vote-bank.
Bahadurpura Assembly constituency is one of the 15 constituencies that come under Hyderabad Lok Sabha constituency. Bahadurpura is named after Sarwar Ul Mulk Bahadurpura, who was a political advisor and master of Salar Jung I (Mir Turab Ali Khan). He is considered to be one of greatest Prime Ministers of erstwhile Hyderabad state. The main areas of the constituency are Aliabad, Jahanuma, Tadbun, Falaknuma, Bahadurpura, Doodh Bowli and Hashamabad and as per the estimates, the constituency has about 3 lakh population.
Moazam Khan began his political career as a giant-slayer by defeating Congress MLA Danam Nagender, who wrested power in Asifnagar constituency, prior to delimitation, from 1994 till his defeat in 2004 byelections. There has been no looking back for Moazam Khan after he became an MLA for the first time by winning with a margin of 2,110 votes in 2004. Sources say, with a non-controversial and an educated family background, it was a cakewalk for Moazam, who was later fielded from Bahadurpura constituency in 2009 and 2014 elections. Moazam Khan won the seat for the second time in 2014 with a record majority of 95,045 votes after which the constituency is considered to be one of the top strangleholds of the MIM.
This will be Moazam's tryst for fourth win in the polls and a hat-trick from Bahadurpura Assembly constituency. The constituency with an electorate of 2,29,136, as per the voter list of 2017, witnessed a voter turnout of 55.85 per cent in 2014. However, the incumbent was in the news for wrong reasons in the recent days. Following a veiled attack against his adversaries during his speech in Osmanbagh meeting, he drew criticism from different quarters. The video footage of his speech was also widely shared over the social media.
Considered to be a best bet for MIM, the three-time MLA, Moazam Khan mostly remained non-controversial, but his recent speech addressing his party workers, where he indulged in veiled attack on detractors drew media attention and criticism. In his 10-minute speech while talking about development, he quoted Late Salauddin Owaisi, revered as Salar-e-Millat, "Koi hamarku chedna nai', chedeto hum chodtey nai" (None should prod us, if anyone does, he will have to face the consequences). Later, he went on to say, "MIM agar apney pe aajayegi to kisikey khandan ko bhi nahi chodegi" (If the party takes a stand, then the entire families will have to bear the consequences).
Reacting to this alleged attack on opposition, the social media went abuzz with comments over the 'change in tone' from a person who was considered as a gentleman. Some of them alleged that this was an open warning from the MIM ex-MLA to the people of Hyderabad. It was also interpreted as a warning to those who were against MIM and that he would unleash all his powers against the opponent and would not spare even their families. Some observers felt that his words were directed against probable Congress candidate and the 'history-sheeter' Ayub Khan, who surrendered before the court after his bail was cancelled by the High Court recently.
Earlier, the High Court had granted him bail in the case of acquiring of passport fraudulently. After obtaining bail, Ayub Khan had joined Congress and was reportedly planning to contest elections from Bahadurpura Assembly constituency. The police had approached the High Court and sought cancellation of the bail. However, Ayub Khan alleged that the police was foisting false cases against him at the behest of MIM in view of elections. Following this development, Esa Misri, a professional bodybuilder's name started doing the rounds as Mahakutami candidate from Bahadurpura.
The other major political parties which have announced their candidates are TRS and BJP. Mir Inayath Ali Baqri, chairman of SETWIN and a contestant from the pink party in 2014 from Charminar constituency, has been officially announced, while BJP has recently declared the party Minority Morcha chief and state executive member Haneef Ali as its candidate.
Interested in blogging for thehansindia.com? We will be happy to have you on board as a blogger.