New political outfit launched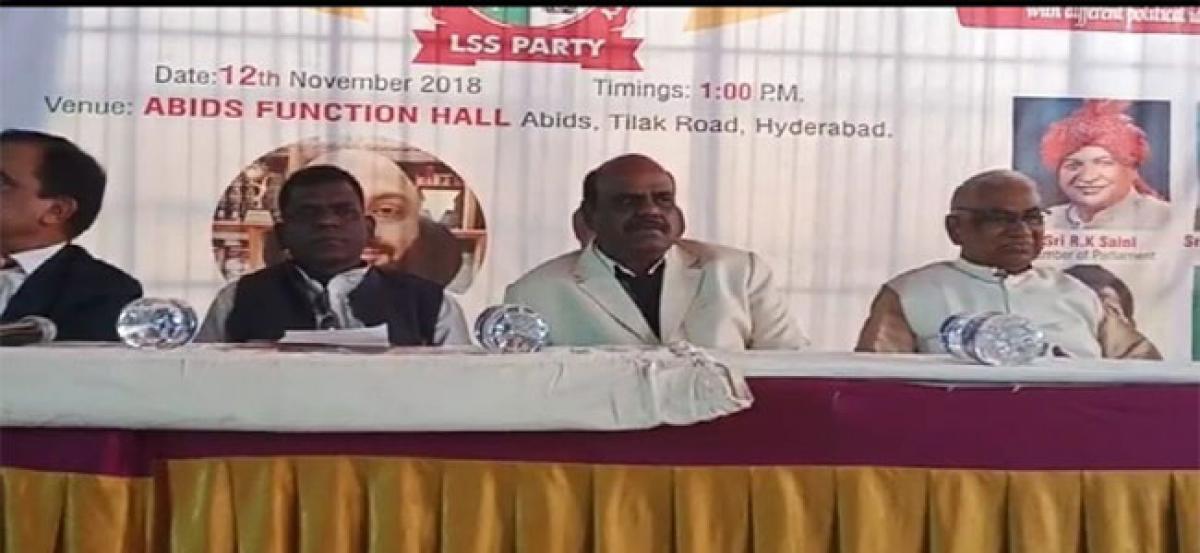 Highlights
With the motto of countering corrupt and communal politics, a new political outfit Loktantrik Sarvjan Samaj LSS Party has been launched on Monday
Hyderabad: With the motto of countering corrupt and communal politics, a new political outfit Loktantrik Sarvjan Samaj (LSS) Party has been launched on Monday. Speaking on occasion of the party's formal launch at Abids, its president S Nadeem, vice-president Lenin Babu and general secretary K Ramesh announced that they have decided to contest in the Assembly elections, which are going to be held in December. "Our main agenda and motive is to uproot corruption and communal politics in the newly formed State of Telangana," they informed.
Nadeem felt that following bifurcation of Andhra Pradesh, people of Telangana State could not fulfil their aspirations and no political party was thinking about the common citizen who remained at the receiving end of the politics played by different political parties, even after formation of Telangana. "Following bifurcation, the people rested their hopes with the Telangana Rashtra Samithi (TRS), given its history in the movement for the separate Statehood, but the political party and its leaders failed to fulfil its promises and betrayed the people who had voted it to power," he added. Lenin Babu said that earlier Congress and all other political parties deceived the people under the garb of secularism and let down the weaker sections of the society like Minorities, SC, ST and BC and used them as their vote banks.
Ramesh held that at the national level, people who were fed by the grand old party (Congress) understood its tactics and decided to vote Bharatiya Janata Party (BJP) in 2014 and voted the party to power in the general elections. "BJP came in power with development agenda but they did not succeed due to ideology compulsions and political mindset of its cadre. We are here to provide better alternative against all those forces who are exploiting the people of India, particularly in Telangana. We assure all the sections of the society about religious freedom and rights which are guaranteed by our constitution," said General Secretary. "In our agenda we have planned to develop every section of community and in our manifesto we included the welfare of Government Employees, 4h Class," he added.