Works at DRDO flyover pick up pace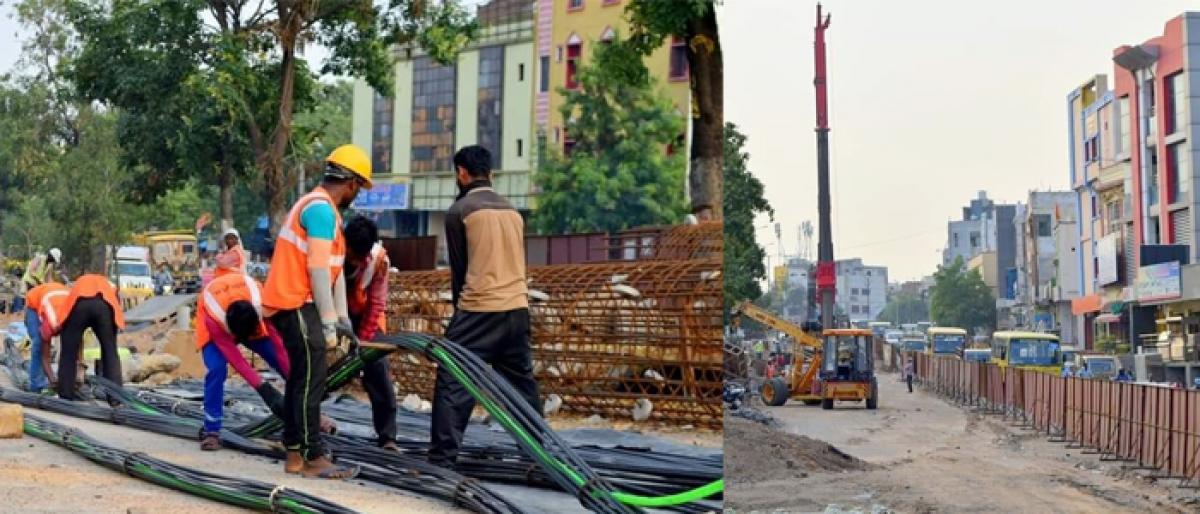 Highlights
The works of flyover bridge that connects Bairamalguda to Phisal Banda on Inner Ring Road IRR, taken up to ease traffic congestions near DRDO in Kanchanbagh, has picked up pace
The flyover is expected to be completed by the end of 2019.
It will enable commuters to avoid Owaisi Hospital and Midhani Junctions.
It connects Bairamalguda to SBI Bank in Phisal Banda.
The estimated cost of the bridge is about Rs 63 crore
Phisal Banda: The works of flyover bridge that connects Bairamalguda to Phisal Banda on Inner Ring Road (IRR), taken up to ease traffic congestions near DRDO in Kanchanbagh, has picked up pace.
The flyover is expected to be completed by the end of 2019 and will enable commuters to avoid Owaisi Hospital and Midhani Junctions and connects Bairamalguda to SBI Bank in Phisal Banda.

The construction of fly over started about three months ago and will have a length of about two kilometers. With 36 piers, it crosses two junctions. The estimated cost for the bridge is about Rs 63 Crore.
The work is expected to be completed by December 2019. The project construction work is undertaken by B Seenaiah & Company Projects Limited Infrastructure Ltd (BSCPLIL).
"The project was sanctioned in the year 2015, but due to some issues the work didn't move forward. Finally, the work started three months ago in a fast phase", said Dattupant, Superintendent Engineer at GHMC.
Local corporator has given credit to incumbent MLA Akbaruddin Owaisi for representing the government on the traffic issues on the stretch.
"Because of the continuous representation in Assembly by the MIM floor leader for improving the road connectivity in parts of Old City, particularly in Chandrayangutta constituency, the authority has taken up the flyover construction," said Mirza Saleem Baig, a local corporator.
The constituency will have a flyover with a free flow of traffic.