Devotees throng temples on Bhogi day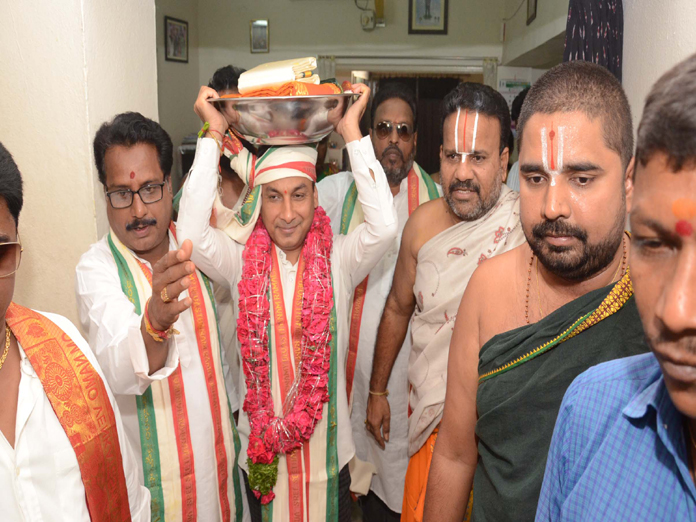 Highlights
Devotees thronged the temples in Nalgonda, Suryapet and YadadriBhongir districts on Monday on the occasion of Bhogi festival
Nalgonda/Bhongir/Suryapet: Devotees thronged the temples in Nalgonda, Suryapet and Yadadri-Bhongir districts on Monday on the occasion of Bhogi festival.
As part of Bhogi celebrations, the celestial wedding of Goddess Goda Devi and Lord Sri Ranganatha was performed in all Vaishnavite temples in erstwhile Nalgonda district.
In Suryapet, Former Minister and Surypapet MLA Gunthakandla Jagadish Reddy and his wife participated in Goda- Sri Ranganatha celestial wedding performed at Lord Venkateshwara temple in Suryapet. They offered Mutyala Talambralu and silk clothes to the deities.
In Nalgonda, District Collector Gaurav Uppal on behalf of district administration presented Mutyala Talambralu and silk clothes to Goddess Goda and Lord Sri Ranganatha for their celestial wedding held at the historic Sri Ramachandra Swamy temple in Nalgonda. Nalgonda MLA Bhupal Reddy, Yadadri- Bhongir DCP Ramchandra Reddy also took part in the event.
Respective temple authorities made elaborative arrangements for the convenience of devotees and the local police made security arrangements at temples to avoid any untoward incidents during the celebrations.
As part of rituals, people lit bonfire in the early hours and took part in 'Bhogi Pandlu' event. While women were busy drawing Rangolies, the kids spent the day busy with kite flying.
Kite competitions were also held in some places in the erstwhile Nalgonda district. Meanwhile, a large number of devotees visited the Yadadri shrine on the occasion.