Second phase of sheep distribution after polls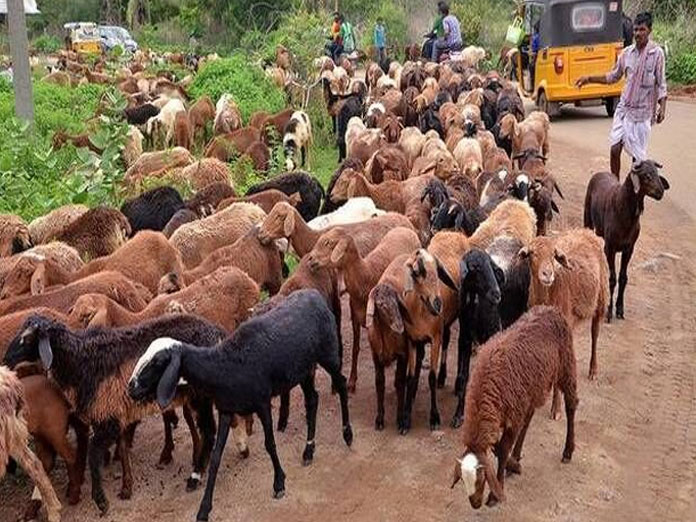 Highlights
The State government has issued orders to the Vikarabad district administration to be ready for the second phase of distribution of sheep after the panchayat elections Officials of the Animal Husbandry department as also those of the Chief Ministers Office CMO, who have been touring the district, have asked the officialdom to make arrangements for the sheep distribution, which is a prestigious
Parigi: The State government has issued orders to the Vikarabad district administration to be ready for the second phase of distribution of sheep after the panchayat elections. Officials of the Animal Husbandry department as also those of the Chief Minister's Office (CMO), who have been touring the district, have asked the officialdom to make arrangements for the sheep distribution, which is a prestigious programme of the TRS government.
The orders to take up the second phase of sheep distribution comes in the wake of its successful implementation of earlier. It helped the ruling party to retain power in the just concluded Assembly elections. The welfare scheme was aimed at winning over the Golla Kuruma community.
With the first phase becoming successful, the government wants to repeat the success once again. It had taken up the scheme one and a half year back with a view to reducing the import of sheep from other States.
Sheep were provided to every member of the Golla Kuruma community on subsidy (75 per cent subsidy), with each unit comprising 20 animals. Each beneficiary had to remit Rs.31,250, with the government paying the balance amount. It has spent Rs.1.25 lakh on each unit.
During the first phase of sheep distribution in the district 10,954 Golla Kurumas were given 2.3 lakh animals. For this purpose, the government had allotted Rs.136 crore to the district. There are 311 Golla Kuruma organisations in the district, with 22,000 members. The government has decided to extend the scheme to these members. Of them, 11,071 are to get the benefit during the second phase for which the government is likely to allocate Rs.140 crore.
The sheep to be distributed in this district were purchased from Yadgir and Bijapur areas of Karnataka. Animals for the second phase are likely to be procured from the two places. The scheme hit a note of controversy with some beneficiaries alleging that many of the purchased sheep had died because of lack of supply of fodder and water during their transportation over hundreds of km in vehicles.
Such complaints have been received from several parts of this district. Keeping this in view, it remains to be seen whether sheep are to be purchased from the neighbouring State or procured from local markets.