Kapra blast:Investigation reveals no other material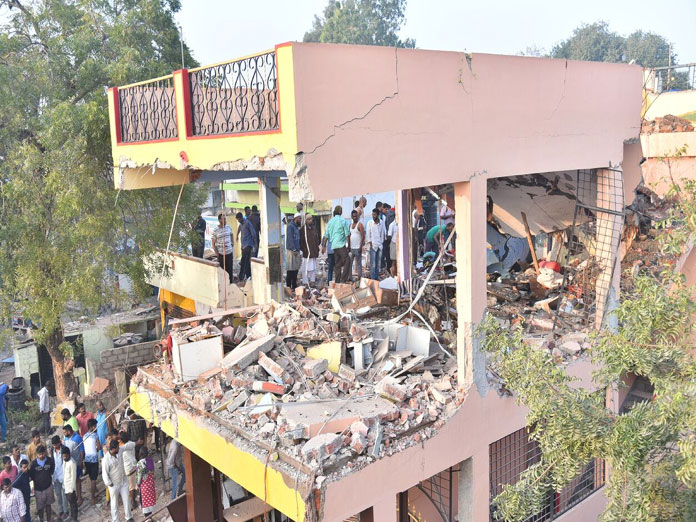 Highlights
The investigation by the police into LPG cylinder blast at Kapra on Friday morning revealed no other material to substantiate the claims of locals that some suspicious material was stored on the ground floor of the house The blast claimed two lives and injured five others, who are currently undergoing treatment
Hyderabad: The investigation by the police into LPG cylinder blast at Kapra on Friday morning revealed no other material to substantiate the claims of locals that some suspicious material was stored on the ground floor of the house. The blast claimed two lives and injured five others, who are currently undergoing treatment.
Speaking to The Hans India, Kushaiguda Inspector K Chandrasekhar refuted the rumours which are afloat in the neighbourhood that some explosives material had allegedly triggered the blast. He said that investigation so far has revealed that the blast was caused by gas cylinder and no other material, claims that some blast material was stored at the site, could not be established.
"Forensic experts who are probing the matter found nothing suspicious at the site. It is a clear case of cylinder blast and no explosive material was found at the spot," he said.
Meanwhile, the locals are wondering as to how the cylinder blast caused such massive damage to the concrete structure, even as the part of the debris was cleared on Saturday.

The locals, who are yet to come to terms with the damage, are of the opinion that if the blast took place a bit later then it would have taken more lives, as the activity in the locality would have increased within an hour or two.
Amongst those who were injured were Mohanlal's wife Leela Devi, whose condition remains critical with more than 50 per cent burns, while children Govind (12) and Nikitha (10) remain in a state of shock, even as their father's final rites were completed.