No governance in State: CPI State Secretary Chada Venkat Reddy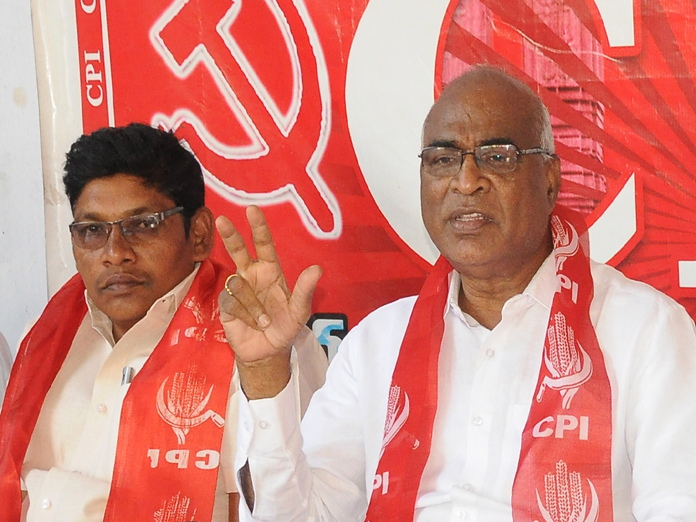 Highlights
He criticised the State government for snatching away the lands of Podu farmers in the name of Haritha Haram He threatened to launch agitations if the government fails to rescue the Podu farmers
Hanamkonda: Without a full-fledged Cabinet in place, development has come to a nought in the State, the CPI State Secretary Chada Venkat Reddy said. Speaking to media persons in Hanamkonda on Thursday, he found fault with Chief Minister K Chandrashekar Rao for his failure to induct Cabinet even after two months of elections.
"It's no surprise even if KCR carries administration like this including tabling the budget with just the two-member Cabinet," Reddy said. It's all chaos in State departments without the supervision of Ministers, he added.
Reddy said that it's ridiculous to see that KCR, who was also responsible for dilution of local bodies, talking about good governance and transparency in the functioning of gram panchayats.
It's high time for the government to allocate funds and transfer the power to local bodies for effective administration, he said. "There is a mismatch in words and deeds," Reddy said, accusing KCR of not providing funds and powers to gram panchayats.
He criticised the State government for snatching away the lands of Podu farmers in the name of Haritha Haram. He threatened to launch agitations if the government fails to rescue the Podu farmers.
Training guns against Prime Minister Narender Modi, Reddy accused him of subverting institutions like CBI and Enforcement Directorate. He alleged that the Centre is using CBI to settle terms against its political rivals.
He found fault with the Centre for not allocating substantial funds for Telangana. CPI State Secretariat Member Thakkellapalli Srinivasa Rao, former MLA Sariah and district secretary K Bikshapathi were among others present.