On a mission to spread Swachh Bharat message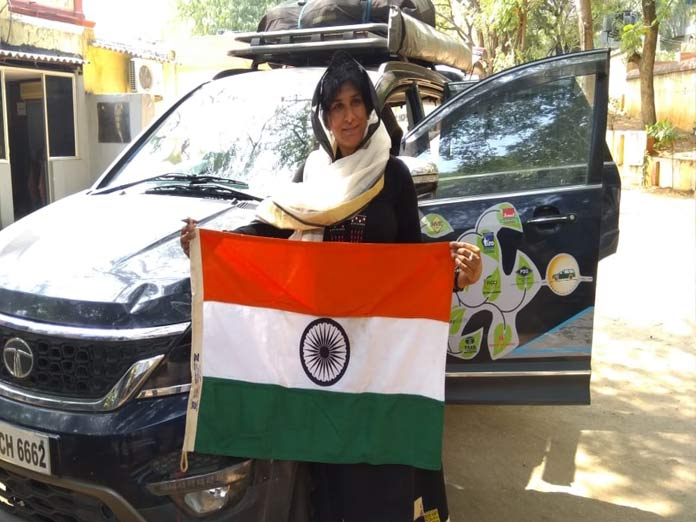 Highlights
The customised Tata Hexa SUV bore the stickers of Incredible India, Worlds longest trail, Swachh Bharat, Women Safety, Road Safety, Make in India and Green Road Trip
Hyderabad: The customised Tata Hexa SUV bore the stickers of Incredible India, World's longest trail, Swachh Bharat, Women Safety, Road Safety, Make in India and Green Road Trip.
It was named 'Shexa' by its owner Sangeetha Sridhar, a 52-year-old from Coimbatore, who hit the road on August 12 from the Gateway of India in Mumbai in her SUV to travel across 310 cities of India spreading the message of cleanliness, Swachh Bharat and Safe India.
Sangeetha reached the city on Monday from Nanded. She lived abroad for 27 years and is well accustomed to the camp-and-drive lifestyle. She started started from Huzur Saheb Gurudwara in Nanded at 4.00 am and reached the city of minarets by 1.00 pm.

Sangeetha has been travelling for the last 176 days and covered nearly 39,500 km. She visited some 28 states and 310 cities. Indian Ambassador to the United Arab Emirates (UAE) Navdeep Singh Suri has sponsored an amount of Rs 12.5 lakh to cover her expenses, such as fuel and food.
Along her journey, she stopped at some 150 places visited by Mahatma Gandhi and at other important places where leaders, such as Subhas Chandra Bose and Dr BR Ambedkar, had visited. She said, "It was a lovely experience to stop and meet people at the Incredible India and UNESCO sites." Adding further, she said, "Wearing 34 different traditional costumes were great fun."
Sangeetha also visited the 24 Indian border posts by crossing 10 mountains and top 8 bridges of India. She slept at toll booths and police stations and travelled close to 15-20 hours a day surviving on just Rs 100. Her food comprised of rice, a curry, tea, a banana and nuts.