Mouth-watering recipes battle for top honours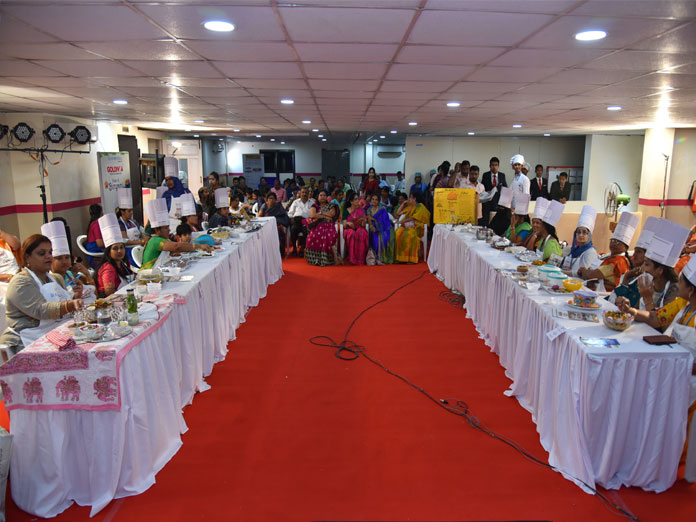 Highlights
The over twomonth unique food festival, first time ever held in the entire country, The Hans Indiaorganised Ghar ki Biryani contest drew to a close on Saturday Participants themselves winners in previous rounds cooked biryanis veg and nonveg and the area sent out best aromatic flavours for food connoissuers to savour, at Regency College of Hotel Management and Catering Technology, Khairatabad
The over two-month unique food festival, first time ever held in the entire country, The Hans India-organised "Ghar ki Biryani" contest drew to a close on Saturday. Participants themselves winners in previous rounds cooked biryanis – veg and non-veg – and the area sent out best aromatic flavours for food connoissuers to savour, at Regency College of Hotel Management and Catering Technology, Khairatabad.
The uniqueness of the contest was that it was conducted at 20-gated communities spread over twin cities. Each round gave a rare opportunity to housewives and cooking enthusiasts. The colony residents took it as an opportunity to make the Ghar Ki Biryani contest a social get-together event with activities like singing, dancing and frolicking. The winners – 20 veg category and 20 non-veg category - from the earlier contests showed their presence along with their families and friends and made the finale a big successful event. The contests provided a good platform to the women to showcase their hidden culinary skills.
As the participants were taking part in the competition, cooking a variety of mouth-watering biryanis, their families and friends were around to encourage them. A festival of sorts prevailed at the venue.
The 40 winners along with family and friends participated in the keenly contested in the battle of favours and made the finale a keenly fought one. As the grand finale required live cooking in front of the judges, along with rich aromoas and sounds of clattering of utensils filled the air. The contestants vied with each other for winning prizes worth Rs 6 lakh in the finale.

Cumin and mustard seeds popping as the cooks put in hot oil or curry leaves filling the entire hall with enchanting aroma or the sizzling of biryani masalas and tadkas, or the marinated chicken, mutton pieces, prawns or mixed vegetables, sliding into the hot cooking vessel, all these tingled the senses of foodies and judges standing by.
The dignitaries were all praise for the preparedness of the housewives and for displaying skills like professionals. It was the first experience of its kind for many of participants.

The Hans India General Manager B Sai Reddy, profusely thanking the participants, noted that, "The response the Hans India received from various sectors of the society has been overwhelming and I assure that we will soon come back with the second edition of 'Ghar Ki Biryani.'
The principal of Regency College of Hotel Management and Catering Technology, Ramesh Kumar Reddy, said, "This is the first time where we had housewives coming and cooking at our college. This is a very new and interesting concept. I would like to thank The Hans India, Goldivia, Vacations Exotica and Hometown for giving our college a chance to host this contest. Today we learned that we create a lot of variety with just a single dish biryani and we will definitely try out new varieties."

Ramesh was also a judge for the contest, along with the faculty. Chef Karunakar K, who thanked the principal for being the co-judge and helping him out in selecting the best biryani, said, "The surprising part was cooking a non-veg biryani with proper 'dum' takes 2 to 3 hours but some participants here cooked that in just one hour, which is very commendable, and this shows that if given proper chance, housewives will excel in such contests."
Navin Kumar of Goldivia said, "It's like a sense of achievement for us to gather so many housewives here for the contest. The aim of conducting this contest was to give the housewives a chance to come together and compete with one another, which will also give them a lot of confidence." Uma Mahesh, regional manager of Hometown Furnitures, said, "It Is a big honor for me to associate with such an amazing women-oriented initiative. Giving housewives such a platform to showcase their hidden skills and that too for biryani, a favourite delicacy, is really appreciable. After tasting so many biryanis today, I would definitely say that women in kitchen have huge talent and it was a very good opportunity for them."
Anand from Vacation Exotica said, "I am always fond of biryani and after tasting so many lip-smacking biryanis here, from now onwards I will also have homemade biryani, instead of simply going out and eating them. The housewives have shown their cooking talents and we are looking forward to the next edition of this."