2-day meet on Telangana Sahityam underway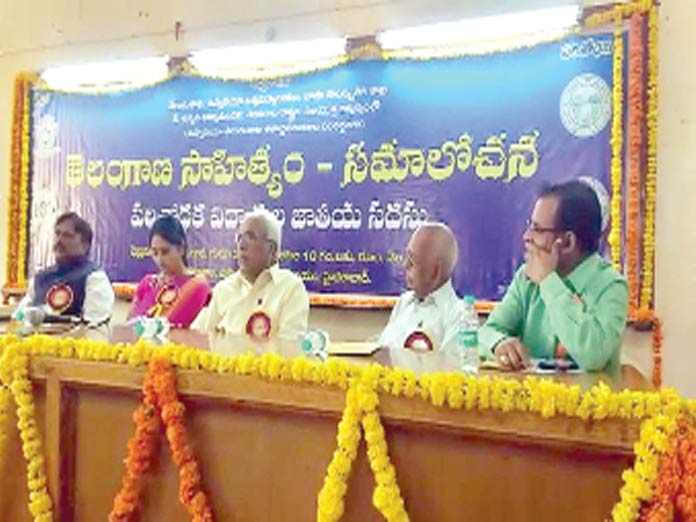 Highlights
Research scholars on Wednesday began a twoday national symposium on Telangana Sahityam Samalochana Telangana literature review in Room no57, Arts C College Telangana Sahitya Academy chairman Dr Nandini Sidha Reddy, Telugu University ViceChancellor Prof S V Satyanarayana, Telugu departments former head Amareswara Rajeswara Sarma attended
Osmania University: Research scholars on Wednesday began a two-day national symposium on 'Telangana Sahityam—Samalochana' (Telangana literature—review) in Room no.57, Arts C College. Telangana Sahitya Academy chairman Dr Nandini Sidha Reddy, Telugu University Vice-Chancellor Prof S V Satyanarayana, Telugu department's former head Amareswara Rajeswara Sarma attended.
Delivering the inaugural address, Dr Sidha Reddy observed that the life of Prof. Surya Dhananjay was praiseworthy and historic from his early days of a 'Banjara bidda' to rise to become Telugu department head. He quipped that the room 57 had a historic connection and that students could do research on it.
Dr Reddy recalled that Jnanpith Awardee Dr C Narayan Reddy had also begun his academic days from the Telugu department. He advised students to take Dr CNRe as a model, while commenting that receiving PhD was not a big deal, but to do research which is always recognised by society. He observed that a person's understanding of Telugu literature would enable him to survive in a competitive world.
Dr Reddy asserted the agitations staged in Osmania University would generate confidence among students who are mostly from rural areas that they would be successful. He advised such students to take up research on rural history and the university itself. "You should study for not receiving a degree, but to get knowledge and learn everything so as to ensure that life blooms. There would be none to beat you'. He told the research scholars that their work should bring a good name to their faculty."
Among those present were Prof Surya Dhananjay, Board of Studies chairman Prof Veludanda Nityananda Rao, Prof V Padmavathi, Prof Quasim, Dr P Varijarani, lecturers and students.