Nano-biotechnology conference begins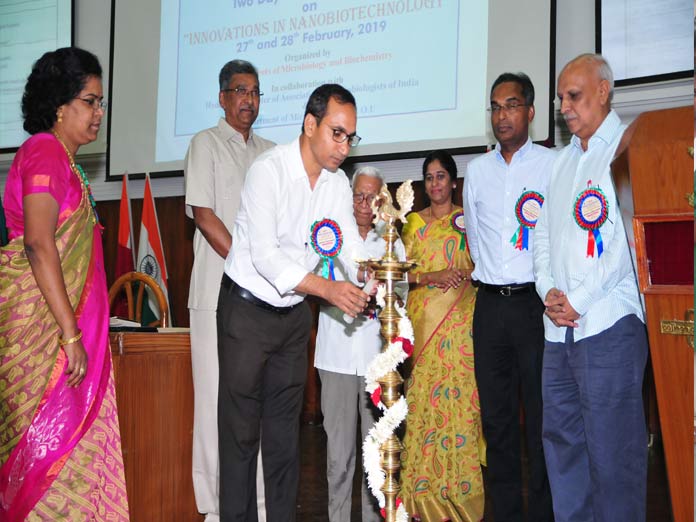 Highlights
A twoday national seminar on Innovations in Nanobiotechnology being organised by the departments of Microbiology and Biochemistry was inaugurated at the Bhavans Vivekananda College of Science, Humanities and Commerce, Sainikpuri, on Wednesday

Sainikpuri: A two-day national seminar on 'Innovations in Nano-biotechnology' being organised by the departments of Microbiology and Biochemistry was inaugurated at the Bhavan's Vivekananda College of Science, Humanities and Commerce, Sainikpuri, on Wednesday.
The seminar is being organised jointly with Hyderabad Chapter of Association of Microbiologists of India and the Department of Microbiology, UCS, OU.
The event was inaugurated by Dr S Chandrasekar, Director of IICT, Hyderabad, the chief guest on the occasion, and guest of honour Dr Bhima B, Head of Department of Microbiology, OU, and Chairman Bharatiya Vidya Bhavan, IYR Krishna Rao, vice-chairman of BVC, Air CMDE JLN Sastry, Principal Prof. Y Ashok, Conveners Dr. K Anuradha and Dr. A Sai Padma.

Addressing the gathering, Dr. S Chandrashekar highlighted the significance of science and technology in the development of a nation. He stressed on the need to face the current challenges in the areas of medicine and other fields using the advanced tools of nano-biotechnology. He motivated the students to pursue a career in science and stressed on the importance of research.
The inaugural session was followed by technical sessions that included speakers Dr. Chittranjan Patra, Principal Scientist, IICT, Hyderabad, Dr. Prasad Ernala, Research Scientist, Dr. Reddy's Laboratories, Hyderabad and Dr. K Hanumanth Rao former Dean and In-charge Director, Rajiv Gandhi University of Knowledge Technologies, Nuzivid
As a part of seminar, poster presentation, paper presentations, scientific writing and quiz were organized for which students from various colleges participated. There were 64 Research papers presented in various fields of Enzyme, Food and Nutrition, Plant, Environmental, Microbial Biotechnology and Nano-biotechnology.
As many as 118 students from various other colleges and research institutes participated in the seminar.