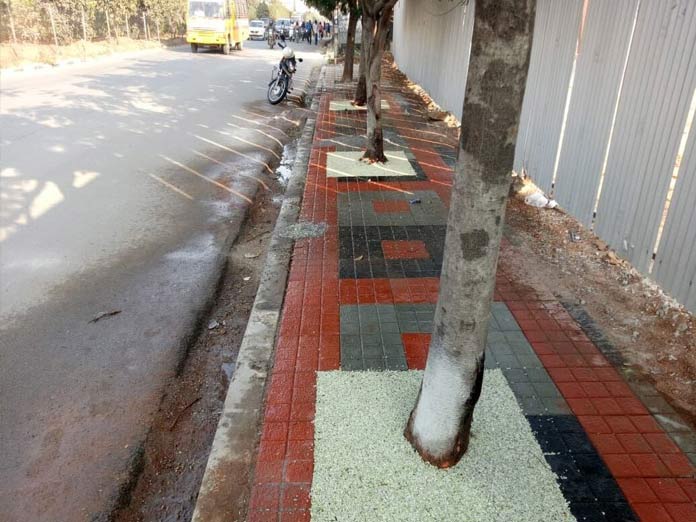 Highlights
Under the flexible pavement option, a flexible surface is created around the tree by spreading rubber chips or small paving stones that have been bonded together with a high quality clear resin or urethane binding agent, on the soil surface It results in a flexible, porous surfacing material, which is resistant to cracking
Under the flexible pavement option, a flexible surface is created around the tree by spreading rubber chips or small paving stones that have been bonded together with a high-quality clear resin or urethane binding agent, on the soil surface. It results in a flexible, porous surfacing material, which is resistant to cracking. The products are mixed on-site and applied to coat the particles prior to laying the material on the ground. The material is easily cut to enlarge the hole around the trunk as the tree grows. The pavement material is usually not re-usable. Further, paving allows water to freely drain through the surface. This is non-skid, 50 per cent rubber content and 50 percent stone aggregate surface along with a hard urethane binder ensuring good traction even when wet, lessening the chance of slip and fall accidents.
In addition, the rubber content allows the product to flex with trunk growth, or with any roots that come to the surface. This flexibility resists cracking and heaving commonly found with concrete sidewalks. The porous and flexible rubber content prevents soil compaction but allows air and surface water penetration, which encourages the tree roots to grow deeply. The paving products comes in several custom colors such as gray-black, tan-black, brown-black, cypress-black, red-black, brown-tan, green-brown and blue-gray. The surface is easily cut to enlarge the hole around the trunk as the tree grows. Porous paving, Resin Bonded Surfacing and Hoggin are the various products used in paving. Accordingly, GHMC is trying to install paving for all trees in the west zone.
Subscribed Failed...
Subscribed Successfully...