Pressure and comparisons don't affect me anymore: Shruti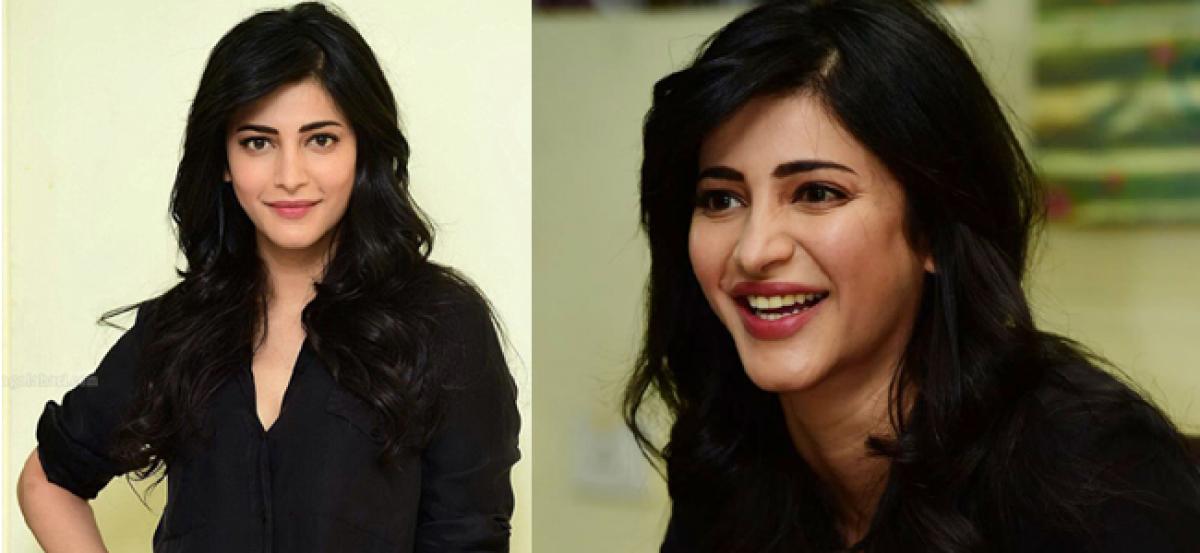 Highlights
The doe-eyed beauty on romancing Pawan Kalyan again, 'Premam,' dad Kamal Haasan's recovery and why she wants to work with same people multiple times
Shruti Haasan drove directly to the press interaction about 'Premam' after finishing the day's shoot for Pawan Kalyan-starrer 'Katamarayudu' on Thursday evening. But the Haasan girl doesn't show any sign of fatigue and with little touch up, still looks million bucks.
So, how does it feel to be back on the sets of Pawan Kalyan's film? "It feels great. I'm happy and honoured to work with him again. My career took a turn for good after 'Gabbar Singh,' so working with him is always special," Shruti begins.
But would she have been happy had she did an original script with him unlike the present one which is a remake of Tamil hit 'Veeram'? "I've done so many remakes in my career that I don't hesitate calling myself a Remake Rani," she chortles.
But for now, Shruti is happy with the way her role in 'Premam' has been received. She reprised Sai Pallavi from the original and though there were nasty memes against her after the song "Evare" was unveiled, the girl with the husky voice had the last laugh. But was there any extra pressure on her since both Anupama Parameswaran and Madonna Sebastian have proved their worth in the original and were retained for the remake? "I don't know if you realise that my surname is Haasan, making me to deal with pressure since I was young.
Both pressure and comparisons don't affect me anymore," she thunders, admitting that she was blown away by the original and liked the way Malar (Sai Pallavi's part) was presented. "She was graceful, dignified and calm unlike me. That's why I felt it was a challenging part to essay."
Shruti's next release was supposed to be 'Sabash Naidu' but as her celebrated father and director of the film, Kamal Haasan, fractured his shoulder and leg in a mishap at his home in Chennai, the film's shooting has been delayed. She reveals that dad is on the road to recovery.
"He's been as strong as always. It's a very physical role that he's playing in the film, so we want him to be fighting fit and he's reaching there," she confides, adding that it was initially scary to work with him. "Later, I've realised that I approach my job the same way as he does… genes I guess. 'Sabash Naidu' has been an amazing experience so far."
Is he a tough taskmaster?
She informs that she doesn't have a problem if people extract hard work from her. "I like working hard and knowing what's happening on sets. The only time I worry is when people don't know what's happening or there is some sort of chaos or disorganisation on sets. But if there's a tough taskmaster and things are on time, I'm like a solider ready to fight. I like going home and feeling exhausted. That's my perfect day as an actor."
'Sabash Naidu' is a trilingual being shot in Telugu, Tamil and Hindi simultaneously and Shruti admits that the process has been difficult. "It's for the first time I'm saying lines in three languages back to back. And when they run into pages, you feel like you are going to some mathematics or physics exam. It was challenging but nonetheless a learning experience," she whines.
With 'Sabash Naidu' being her home production, is she limiting herself to acting or she is helping out dad on the production front? "When you are acting with Kamal Haasan, its better you limit yourself to acting," she keeps it short.
While she says that she has a signed a new Telugu film, the details of which "I will reveal soon", Shruti is gung-ho about teaming up with her '7th Sense' co-star Suriya again for 'Singham 3'. She plays a scribe in the adrenaline-pumping actioner, being directed by Hari.
Shruti earlier teamed up with Hari for 'Pooja'. "I really like working with people again and again as it makes me feel film industry is one big family," she signs off.