India can beat China, If TRS schemes implemented across nation, says Dy CM Ali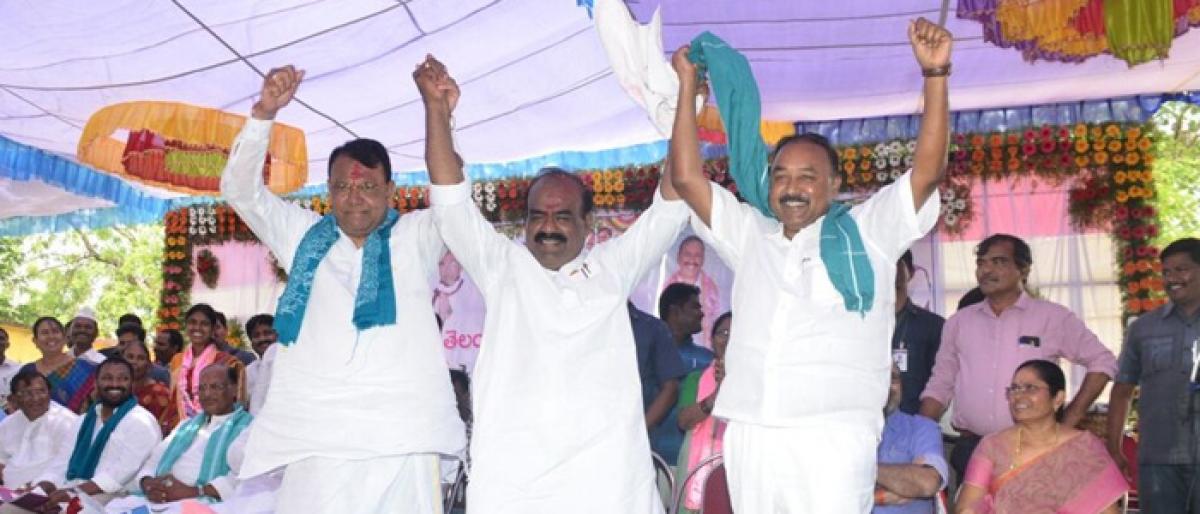 Highlights
Deputy Chief Minister Mohammad Mahmood Ali has come up with a solution that would be just right for India to beat China in development.
​Bhupalpally/Jangaon: Deputy Chief Minister Mohammad Mahmood Ali has come up with a solution that would be just right for India to beat China in development.
What the Deputy CM suggested is to implement the TRS government's development and welfare programmes across the nation so that rapid progress could be achieved, and India could surpass China in terms of development.
Ali said this at Kompelli in Bhupalpally mandal of the district where he along Assembly Speaker S Madhusudhana Chary, Agriculture Minister P Srinivas Reddy and Tribal Welfare Minister A Chandulal distributed crop investment cheques and pattadar passbooks to farmers on Thursday.
The Deputy CM said the State government has been implementing numerous welfare and developmental programmes, which no other government in the past 65 years could come up with. The innovative initiatives by the Chief Minister, K Chandrashekar Rao, have placed Telangana at top in the country in all fields.
Ali accused the successive governments in the united Andhra Pradesh of neglecting Telangana region by not providing irrigation and drinking water. But the CM has introduced many welfare measures for farmers in just four years and everyone in the country was appreciating them.
The 24-hour power supply and the irrigation projects were receiving accolades from the central ministers and officials as well. Revenue officials have toiled a lot to update the land records, Ali said adding farmer passbook, which in the past had 36 columns, now contains 17 and all steps were taken to prevent making of fake passbooks.
Speaker Madhusudhana Chary said though Kompelli village was nearby River Godavari and close to KTPP power station, the farmers struggled to find water to irrigate their fields and lacked proper electricity supply. Now the village was getting all facilities with the formation of separate Telangana.
Agriculture Minister Srinivas Reddy informed that as part of Rythu Bandhu Scheme, crop investment cheques were being distributed without any partisan approach. Another Rs 6,000 crore would be spent for the coming Rabi season, he further informed.
State FCC coordinator G Sukhender Reddy objected s Congress leader's comments on RBS cheques, which they said were meant to have beer biryani. They later attended a similar programme in Mahabubabad district.
Deputy Chief Minister K Srihari, who attended RBS programmes in Warangal Rural and Jangaon districts, accused the previous Congress and TDP governments of troubling farmers by failing to provide proper supply of power, water, seeds and fertilisers.
Discussions were going on at ministers and officials-level to introduce an insurance scheme to cover farmers' families against accidental death of their bread winner. The government was reaching out to every section in the State fulfilling their needs, he said.
Subscribed Failed...
Subscribed Successfully...