5 TSRTC buses gutted in fire mishap at Warangal Bus Depot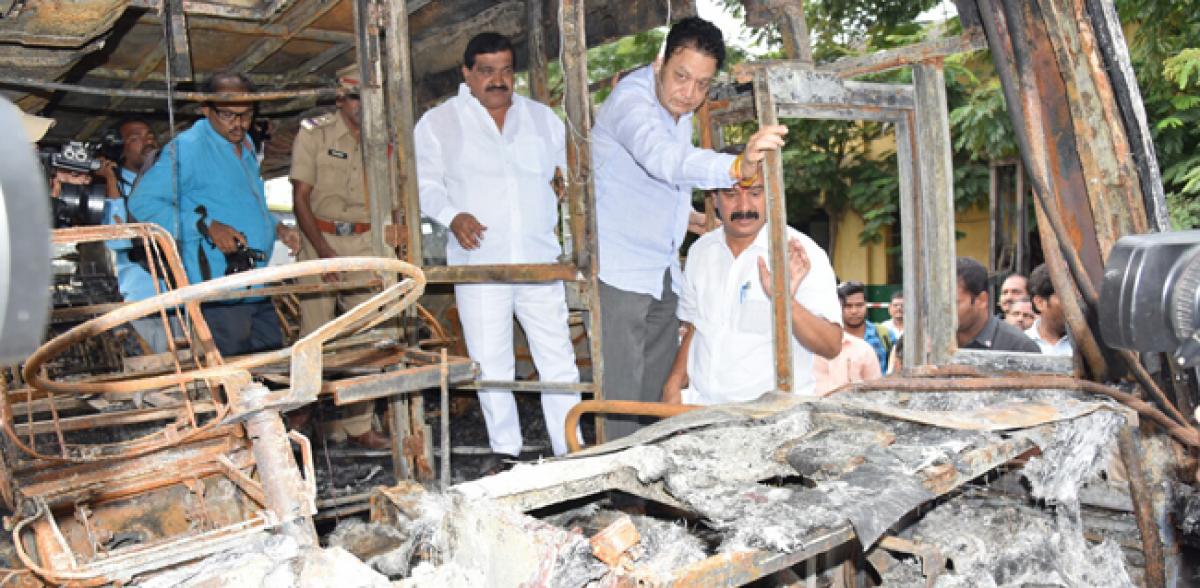 Highlights
Fire tenders rushed in and doused the flames It would have been a major fire mishap had the flames spread to fuel station, which is just about 10 yards from the burning buses The incident occurred at around 2 am
Hanamkonda: A major fire mishap was averted in Warangal Bus Depot-1 when five buses caught fire in the wee hours of Thursday. According to the employees, fire broke out in an under repair Rajdhani bus parked inside the Warangal-1 bus depot. It's learnt that mechanics replaced a battery in the bus a few hours before the fire broke out. Before the staff got into act, flames spread to four other buses.
Fire tenders rushed in and doused the flames. It would have been a major fire mishap had the flames spread to fuel station, which is just about 10 yards from the burning buses. The incident occurred at around 2 am.
Transport Minister Patnam Mahender Reddy, who inspected the depot, ordered an inquiry into the fire mishap. He directed the officials to take necessary measures to avoid such incidents in the future.
RTC in-charge Managing Director Sunil Sharma said that efforts are on to clear technical snags in the designing of buses. Warangal West MLA Dasyam Vinay Bhaskar was also present.
Earlier, TSRTC Chairman Somarapu Satyanarayana, who rushed to the spot in the morning, put the loss at around Rs 30 lakh. He said that while Rajdhani bus was reduced to ashes, the others were partially damaged in the mishap. There was no casualty or injury to anybody in the bus depot.