Treading a tasty path to success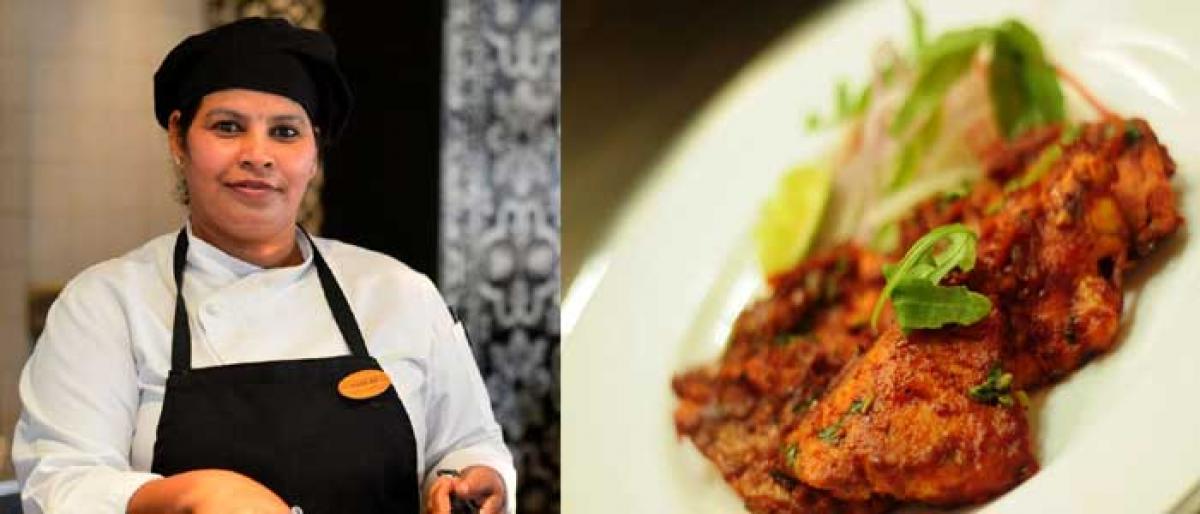 Highlights
Chef Tanuja from Park Hyatt Goa is visiting Hyderabad as part of 'The Portuguese Touch', a Goan food fest to share her special curated menu infusing Portuguese and Konkan flavours. Hailing from Ribandar in Goa, chef's Tanuja's secret homemade recipes
Chef Tanuja from Park Hyatt Goa is visiting Hyderabad as part of 'The Portuguese Touch', a Goan food fest to share her special curated menu infusing Portuguese and Konkan flavours. Hailing from Ribandar in Goa, chef's Tanuja's secret homemade recipes are a favourite among her guests there and she is excited to bring in this fusion experience to 'The Dining Room' at Park Hyatt. "I feel elated to present the Goan Cuisine to the people of Hyderabad. My mom has been my inspiration for cooking. My growing up in Goa has exposed me to learning various techniques of cooking Goan dishes."
Tanuja's menu at the food festival (which is on till January 21) at Park Hyatt boasts lip-smacking dishes like Chicken jire mire, Goan masala fried fish, Fenugreek vegetable cutlet, Pork vindaloo, Goan prawn curry, Chicken cafreal among others and classic desserts like Bebinca, Mangane, Dodol and Alle belle.
"I always cook from the heart. No matter how the mood is that day I just do not cook as it is my job, I believe when you are making food for others you should cook from the heart," shares a modest Chef Tanuja, who has mastered the art of blending the exotic spices and Portuguese traditions resulting in a potpourri of some of the most delightful culinary flavours.
The journey of becoming a specialised chef was not an easy one. Tanuja studied till Class VIII before she quit school, "I was very young when I got married. I was around 20 years and when my husband used to work, I would get bored at home. I felt the need of doing something and I started a tailoring course. However, I felt that it was not my calling and then I joined Mom's Kitchen at Miramar, Panaji."
"There I started from the scratch and I did odd jobs there like sweeping the floor, cleaning toilets, etc. Seeing my dedication, I was promoted to butchery section and then later to the kitchen, where I got a chance to cook. I just put my heart out and worked there for 8 years and then I went to the Middle East for a couple of years before joining Park Hyatt. Since then, I have been with the group," she shares.
Chef Tanuja feels that girls should not stay at home after marriage and must continue to pursue their career. "Nobody asked me to work, however, my boredom at home made me venture out. And, sadly after a few years, my husband passed away and the responsibility of my only child and household fell on me. But, as I was already working, I did not find it that difficult. However, if I would not have worked; I wonder what the situation would have been now."
"I urge girls to get good education and work after marriage too. One should be financially independent. And what is the use of having degrees if you sit at home?" she asks.