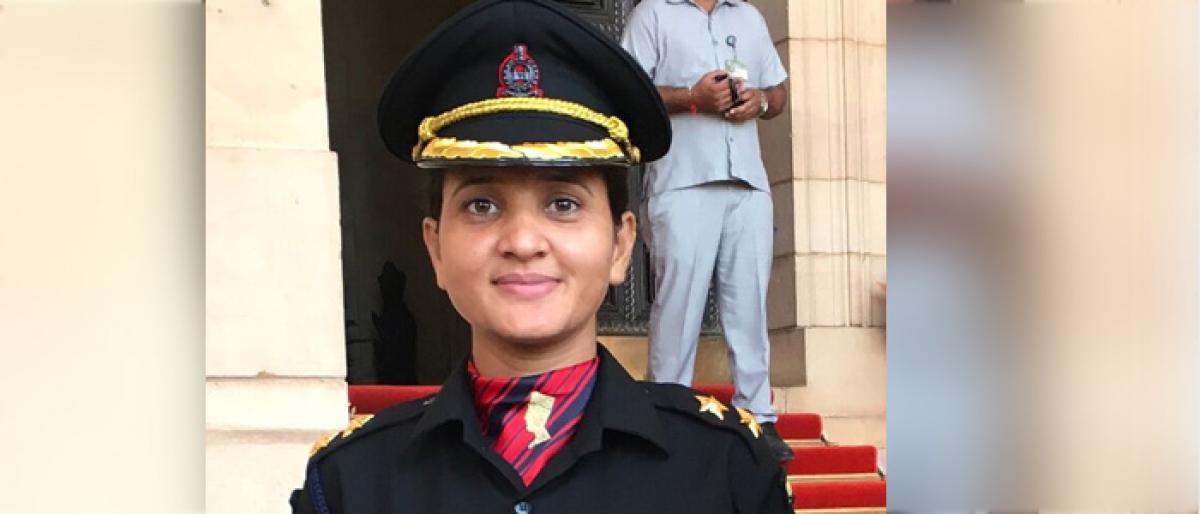 Highlights
Supriya Choudhary belongs to a small village of Jhunjhunu, Rajasthan. Her parents are school teachers in Rajasthan government school. She has done her ...
Supriya Choudhary belongs to a small village of Jhunjhunu, Rajasthan. Her parents are school teachers in Rajasthan government school. She has done her schooling from Churu district and Post-Graduation from MLSU, Udaipur.
She would have been another employee of ONGC if she did not hear about Territorial Army from her husband Varun Singh Poonia, who is also a senior executive officer with ONGC. After clearing interview and medical examination, she was Commissioned in July 2017 into Territorial army, the second Indian woman to join it.
After the training, Lt Supriya Choudhary felt a sense of achievement and became conscious of her new status as 'TA Officer'.
"We have undergone lot of physical training, exercises, running, camps, range work etc. to become a soldier. The training makes difficult jobs easy for us. Meeting with the President of India Ramnath Kovind and Chief of Army Staff of the Indian Army General Bipin Rawat on Territorial Army Day in the year 2017, was a dream come true for me. Leading all the nine platoons of ONGC as a Parade Commander on Republic day was a great experience," she shares.
"It gives me an opportunity to serve the nation as Territorial Army Officer in a military environment without sacrificing primary profession. So, I can serve the nation in two capacities – as a civilian (working in ONGC) and as a Territorial Army Officer," she relates.
Highly motivated, confident, disciplined, strong and physically more active Supriya says there is nothing which women cannot do.
Excerpts
What inspired you to join Territorial Army?
My family and my husband motivated me to join Territorial Army. Serving the nation is dream of my life. I like lifestyle and work culture of Indian Army. Those brave soldiers who sacrificed their lives while protecting the country are the true inspiration for all of us.
What was your family reaction, when you shared the news?
They give me freedom to fulfil my dream. My mother always supported me in every situation in life. When my family came to know about my commissioning in Territorial Army, they were very happy. It was very proud moment for my parents.
Was it a challenging experience during the training?
Though the journey was initially challenging, but gradually it became a part of my life. Senior officers of Army encouraged and guided me during the training. Because of rigorous military training, I found myself more confident and strong. As I belong to non-army background, each task of military training was a new challenge for me but "Never Give Up" is motto of my life and I accepted all challenges and became more tough and disciplined.
Our training is same, our mission is same so, it does not matter if it is a man or a woman. The consequences are equal for both of us. So, we are well trained for it. I realised that there is nothing which women cannot do.
Can you tell us about your daily routine?
Physical fitness is mantra of my life. As a Territorial Army Officer, I know very well that healthy and fit life plays a key role in our profession as well as in personal life. My daily routine focusses on time and work management so, I work accordingly. Sports activities are part of my daily life. I play badminton, golf and lawn tennis.
Is there any advice for women who want to join army?
I would like to say to all Women that Army provides us a great opportunity to serve our country. Also, from the perspective of women empowerment, military training strengthens the lady officers both physically and mentally. By sensitising them about role and aim of Army and how it helps in strengthening women, we can encourage more to join. l wish, Indian army nurtures many more individuals like me to realise their true potential. I believe in living a 'big' life instead of a 'long' one.
The life as a civilian is different from life in the defence. Our training is well structured and properly defined. We are confident enough and competent enough to tackle any situation due to training. Now, I feel empowered as an Army Officer. The Army mould the officers into future leaders capable of leading from the front. This journey has been very enriching for me.
Subscribed Failed...
Subscribed Successfully...