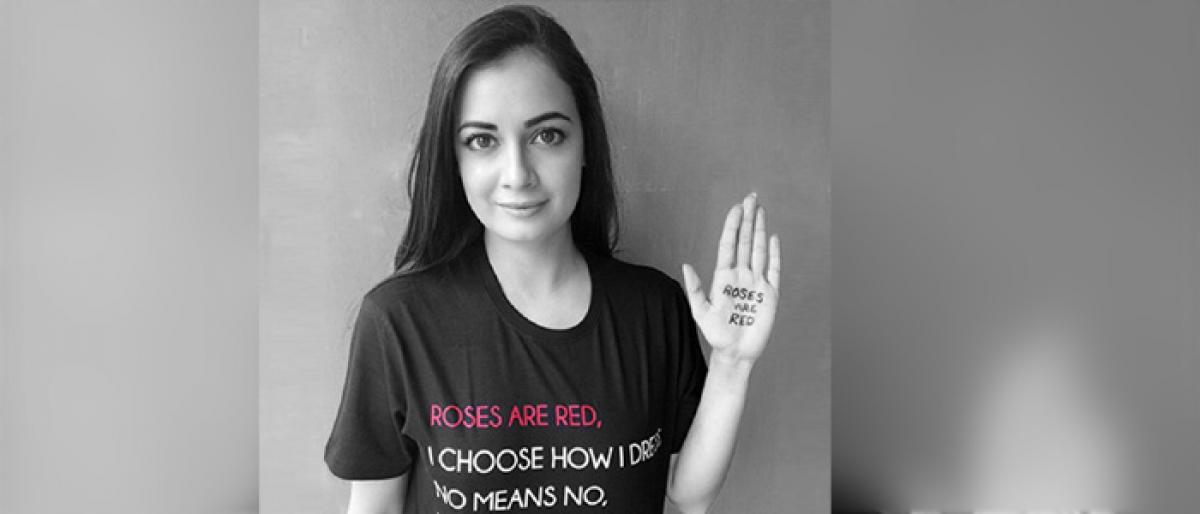 Highlights
Menstrual hygiene is every woman's right, But sadly, it's available only to a few. The Souled Store invites people to join in its "Roses Are Red" campaign to help women get access to menstrual hygiene supplies
Menstrual hygiene is every woman's right, But sadly, it's available only to a few. The Souled Store invites people to join in its "Roses Are Red" campaign to help women get access to menstrual hygiene supplies
Around 80% of women in India do not have access to sanitary napkins making it very difficult for them to participate in daily activities while menstruating. This leads them to miss around 5 days of school or work monthly. In some cases, young girls drop out of school due to this.
To tackle this nationwide issue, 'The Souled Store', an online store that sells pop-culture themed merchandise came up with an innovative campaign called 'Roses Are Red' in collaboration with GiveHer5 a social initiative that has developed Saafkins™- the world's first antibacterial, reusable, washable period underwear, that's also affordable.
The site sells T-shirts and each T-shirt sold covers the price of one woman's yearly requirements of pads. The package, along with the T-shirt also includes a tiny guidebook that simply and succinctly explains feminism and feminist concepts through simple activities.
Quite clearly, the strongest feature of the campaign is that it is innovative, relatable and quirky. On the conception of the idea, Rohin Samantey, director and co-founder of 'The Souled Store' says, "When we came across 'GiveHer5' and learnt about this startling fact of young girls who have no access to menstrual hygiene, we were shocked by how high the number is and also, how unaware most of us are.
'The Souled Store' has a strong online presence with our strength being marketing. We wanted to use this strength to contribute to the cause. To create awareness about something like this among the urban population, we needed to give it a quirky touch that people could relate to. 'Roses are Red' poems have been around for the longest time, everyone knows about them, they are still used online for funny rhymes. We thought coming up with short, effective poems that essentially talk about women empowerment, that could be put on tees would be the best way to raise awareness about this issue and would get people to support these women."
This campaign, launched on March 8, 2018 includes a limited range of t-shirts with Roses Are Red poems on them. These poems highlight gender issues and instances of misogyny that women face on a daily basis. It thus, combines the women empowerment movement as well as helping women get access to menstrual products. "The idea was to spread the message of women empowerment and help women along the way. We wanted to create short, effective content that was fun, easy to understand, and impactful. We spent a lot of time refining the content to make it as hard hitting as possible, something that the youth of the country can relate to," shares Rohin.
He adds, "All t-shirts had to look the same so that whenever you see one, you'll know it is part of the campaign. The idea had to be very simple - you buy one t-shirt and support one woman for the entire year. That's all it took for someone to contribute. When you wear that t-shirt you help the second goal of our campaign, to create awareness about the basic issues that women face on a daily basis which they shouldn't be. The challenge for something like this is always getting the message right and making is relatable for people to understand. Therefore, a lot of work went into creating these poems that would cover all issues and at the same time be short, effective, and fun and the same time to get the message across."
The campaign seems to have created an impact as seen by the number of posts the #RosesAreRed Instagram search reveals. On the impact and reach of the campaign, he says," The campaign has been immensely effective. We've got support from people from all corners of the country and also from various celebrities (Dia Mirza, Rahul Bose, Tanmay Bhat, Miss Malini, Kim Sharma etc.), bloggers and influencers (Aranya Johar, Alicia Souza, Roshni Kumar, Supriya Joshi), women-centric organisations and other NGOs who work in the space of women empowerment.
We've seen great word of mouth for this campaign, loads of people have posted about it online and others have seen it and wanted to contribute to the campaign. We've currently raised enough money to provide yearly sanitary protection for 1000+ women." The effectiveness of the campaign is also evident by the fact that it was supposed to end on April 30, but is still going strong.
"It feels great that we as an organisation can now create impact. As we grow, we want to give back to society in any way we can. There are various issues we are facing and we need as many people as possible to help improve who we are and what we stand for as a country," Rohin remarks and it is indeed pleasant to see such efforts being made for social causes. 'Roses Are Red' is an incredible way of not only subverting the way social campaigning is done but also creating awareness about two important feminist issues.